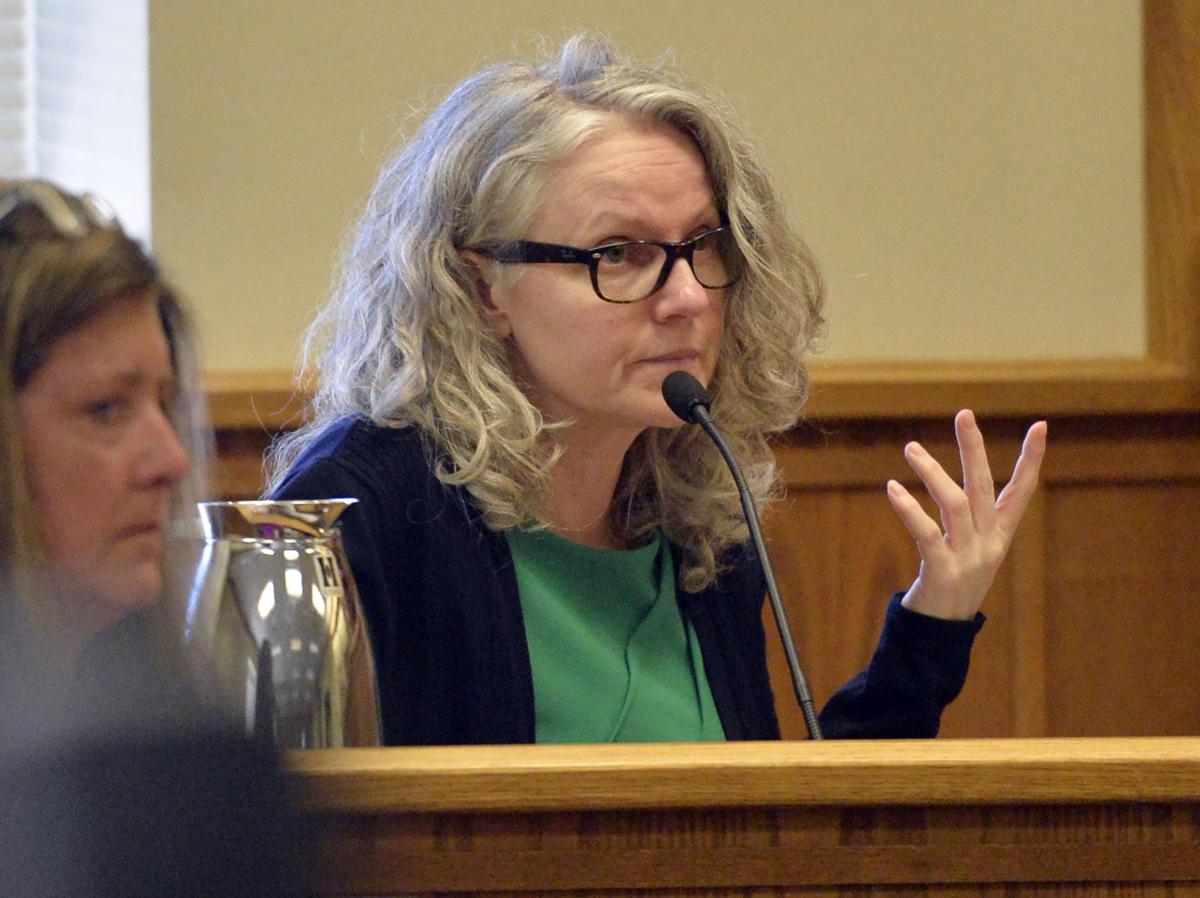 Donna Matthews was not the first person whom Michael Gayan is alleged to have had an abusive relationship.
Matthews, 52, is in the second week of a jury trial, accused of first-degree intentional homicide for the shooting death of Gayan, her former boyfriend, on July 4, 2016.
The state alleges that Matthews killed Gayan because she was angry and embarrassed about explicit photographs he was posting of her on social media. Matthews has testified that she killed Gayan in self-defense, saying she believed she needed to act to kill him because he had threatened to kill her, her children and brothers.
During her own testimony, Matthews said she had learned from Jamie Holmes, Gayan's former girlfriend and the mother of his son, that he had been violent to her in the past.
Holmes testified on Friday. But her testimony was limited by a previous legal ruling by Judge Jodi Meier, with Holmes only allowed to confirm things she had told Matthews in the past.
She said she had never met Matthews in person, but said she spoke to her by phone eight to 10 times at the suggestion of her son, Cole Gayan. She said she believed the phone conversations happened between April and June 2016.
"Did you ever discuss in those conversations whether or not Michael Gayan abused you?" defense attorney Jeffrey Urdangen asked.
"Was that a large part of your conversations?"
"Can you explain what you told her?" Urdangen asked.
"I told her that he beat me and I had to be hospitalized. He struck me in the head with objects, punched me," she said, adding that Gayan had "choked and strangled her."
Judge imposes rules
With that statement, Meier stepped in, stopped the testimony, and sent both Holmes and the jury out of the room. She said because Matthews had not directly testified that Holmes had used the words choke and strangle, Holmes could not say those words in her testimony. She said Holmes would only be allowed to continue to testify if she gave only one-word "yes" or "no" answers to Urdangen's questions, and that he could only ask questions about what Matthews had directly testified she heard.
"I'll tell you if she blurts out one word, I'll strike her testimony and I'll strike it in front of the jury," Meier said. When Holmes came back into the room, Meier told her there "could be sanctions" if she said more than "yes" or "no" to questions.
"During the time you knew Michael Gayan did he ever bend your fingers back?" Urdanagen asked.
"Did he threaten to kill your son Cole?"
Additional testimony
Several of Matthews' friends and family members also testified Friday, saying they had witnessed or overheard incidents in which Matthews appeared to be terrified of Gayan. A friend from Maui testified that when Gayan went there to see Matthews, she witnessed what appeared to be incidents of stalking. A former boss testified that Gayan had to be asked to leave the bar where Matthews worked, then refused to leave her work parking lot.
Shelbie Degener testified via a taped deposition that Matthews had called her at midnight sometime in the summer or fall of 2015 "panicked and asking for help" because Gayan was trying to break into her home. "I could hear pounding on the door or the window, it sounded more like pounding on glass," Degener said. She said Matthews asked her to call Gayan, whom she had met in the past, and ask him to leave her alone. "She said, 'I think he's going to kill me,'" Degener testified.
She said she did call Gayan and he answered the phone. "He was enraged, he was very angry that I called," Degener said.
Degener said she offered Matthews a place to stay in Colorado in 2015, and Matthews went there. She testified that she distanced herself from Matthews when she learned she had gone back to spending time with Gayan. "I saw a very toxic relationship," she said.
The defense called back to the witness stand Detective Vincent Correa, who had testified during the state's case that he did not find any evidence that there was physical abuse in the relationship between Matthews and Gayan. Defense attorney Patrick Cafferty then pointed out text messages between Gayan and Matthews that included descriptions of incidents that were descriptions of physical abuse.
During her testimony Matthews testified she knew Gayan had threatened shootings and that she knew he had a handgun. Correa had testified for the state that, during the search of Gayan's home after his body was discovered, officers had found a gun in the house, but that the gun was unloaded.
Cafferty showed a photograph of the gun, along with a magazine of ammunition and a holster. All three items were in a bag in Gayan's home. Under questioning from Cafferty, Correa admitted that while the gun was unloaded, the ammunition was stored with the gun in the bag.
A 'very creepy' bag found
At one point Friday, before the jury returned to the courtroom, the defense also requested permission from the judge to ask Correa in front of the jury about another item found in Gayan's house during the search.
Cafferty told the judge there was a "very creepy" bag in the house that contained duct tape, rope, two knives, mace, and a black jack or flexible club.
"There is evidence on the record that (Gayan) repeatedly threatened her (Matthews) with death," Cafferty said. "He could have easily used the contents of this bag to accomplish that … what is relevant is that he threatened to kill people and he had the accoutrements to do that."
He said, "I think the jury is entitled to hear it."
The state argued against that. Deputy District Attorney Angelina Gabriele said Gayan could have gathered the items in the bag "to go camping."
Meier ruled that the jury could not hear about the bag, saying there was no evidence Matthews knew about it.
The trial will resume Monday and is expected to last at least through Tuesday.
Get local news delivered to your inbox!
Subscribe to our Daily Headlines newsletter.