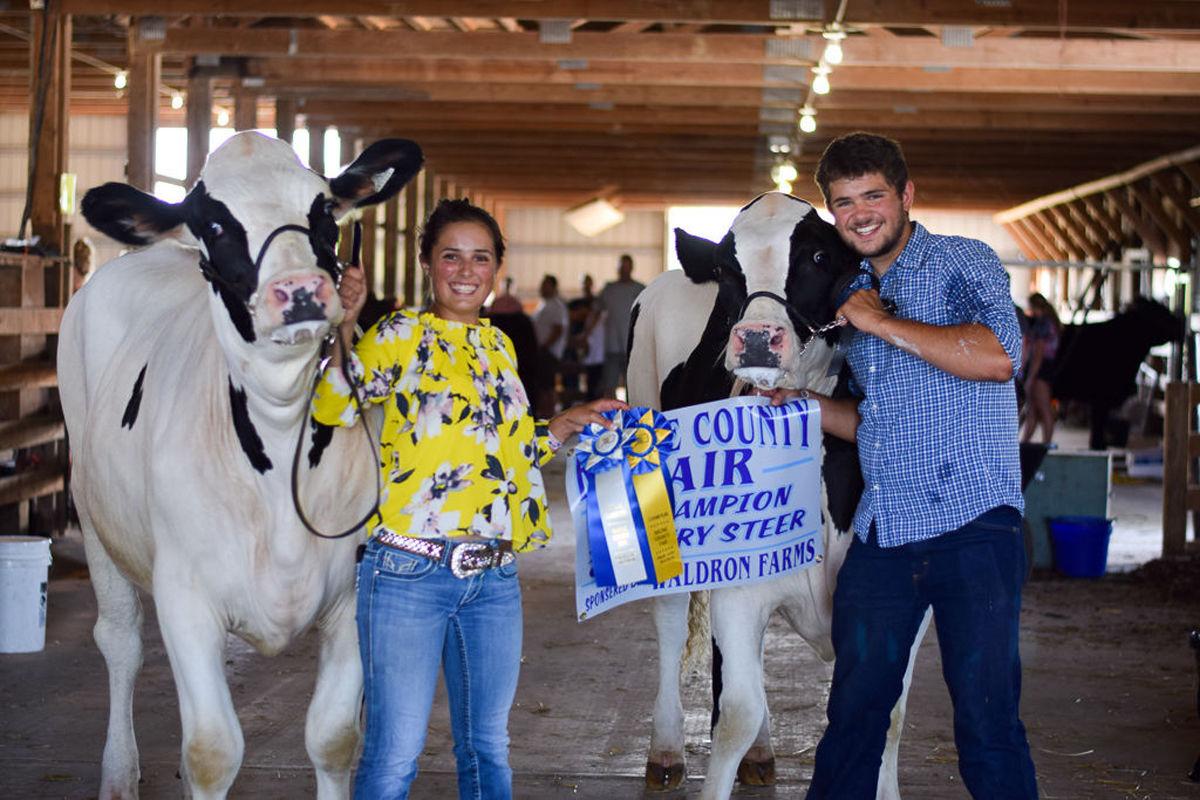 YORKVILLE — Racine County Fair Junior livestock exhibitors on Wednesday began showing their animals with sparsely occupied stands and a mostly vacant fairgrounds.
While the Fair Board on June 15 decided to cancel the public part of the fair amid COVID-19 concerns, the Junior Animal Livestock Show and Sale were allowed to go on, so "youth can exhibit their hard work."
The shows remain closed to the public, as well as the media, but exhibitors and their family members are allowed at the fairgrounds during designated showing times. The fair is also streaming show events live on its Facebook page.
Wednesday kicked off the showings, with rabbit, dairy and sheep judging and Thursday dedicated to the beef show.
Family experience
Ean Noble, who is 16 and has been showing for seven years at the fair, won Champion Purebred Cow Wednesday, showing a 2-year-old Jersey cow by the name of Delilah. Delilah is a part of the herd Jessica Noble, Ean's sister and 2019 Fairest of the Fair, started herself a few years ago.
Jessica, who is a University of Wisconsin senior studying dairy science, began her herd a few years ago and now boasts 8 head of Jerseys on the family farm in Dover. The Noble family farm, Jessica said, milks about 100 cows a day.
"I think it was an amazing thing to come and be able to see and watch him be able to show and help him through showing," Jessica said of her brother. "Because the fair really is all about family and the learning process that goes along with it."
Ean said he is unsure what degree education will play in his future, but knows he will end up going back home to work on the farm, saying, "it always comes back to home."
Jessica and Ean were both grateful to be on the fairgrounds this year, despite the "different atmosphere" resulting from the lack of attendees and vendors.
"I feel very lucky to be able to show this year because of all the craziness that is going on," Ean said. "I feel really lucky that so many people pushed for this — it's just a really great experience to have."
Ean returned to the fairgrounds Thursday and won Champion and Reserve Champion Dairy steer.
The schedule
The horse and pony project are scheduled to host its English and Western show Saturday with the Gymkhana show scheduled for Sunday. The Livestock Auction, which is virtual, is scheduled to start at 6 p.m. today and end at 10 a.m. Saturday. The online Fur and Feather sale is set to begin at 6 p.m. Saturday and end starting at noon Sunday.
Other nearby fairs
While the Walworth County Fair continued planning for its traditional September fair well into the summer, a cancellation announcement was made July 23. The Walworth County Fair is also planning to host junior exhibits.
"Junior exhibits featuring the work of young people, including livestock, photography, gardening, woodworking and arts and crafts, will still take place on the fairgrounds," read an announcement from the Walworth County Fair Board. "The Meat Animal Sale will take place. Details regarding these activities are being worked on and announcements will soon be made."
The Kenosha County Fair would have celebrated its 100th year, but was also canceled amid COVID-19 health concerns. Typically, the event would bring about 50,000 guests, according to a press release.
"The safety of the Kenosha County Fair guests, exhibitors, vendors, volunteers and employees is always the highest priority in planning the fair every year," read the release. "The ongoing COVID-19 situation and the uncertainties that exist because of it, make it impossible to guarantee that safety this year."
However, Simon Regert, a 17-year-old Kan-Do 4-H and FFA member, noted that Wilmot Raceway, adjacent to the fairgrounds, is still up and running. Wilmot Raceway held its first 2020 practice on May 23 and opened the track to its first 2020 event on June 6.
Kenosha County Fair exhibitors, unlike the Racine County Fair exhibitors, will not be getting an opportunity to show their animals, which Regert said is "bugging" him."They haven't given any opportunity to them and I don't agree with that at all, because I know it comes down to the dollar signs that matters to them," Regert said. "Wilmot Raceway was bringing all the money and not the livestock animals."
IN PHOTOS: 4-Hers caring for their project animals
Kenosha County 4-Hers are caring for their project animals with no promise they will be able to show them at a local or state fair. So, the Kenosha News invites them to "show" their animals in this online gallery. Send no more than three photos at a time to newsroom@kenoshanews.com
Get local news delivered to your inbox!
Subscribe to our Daily Headlines newsletter.