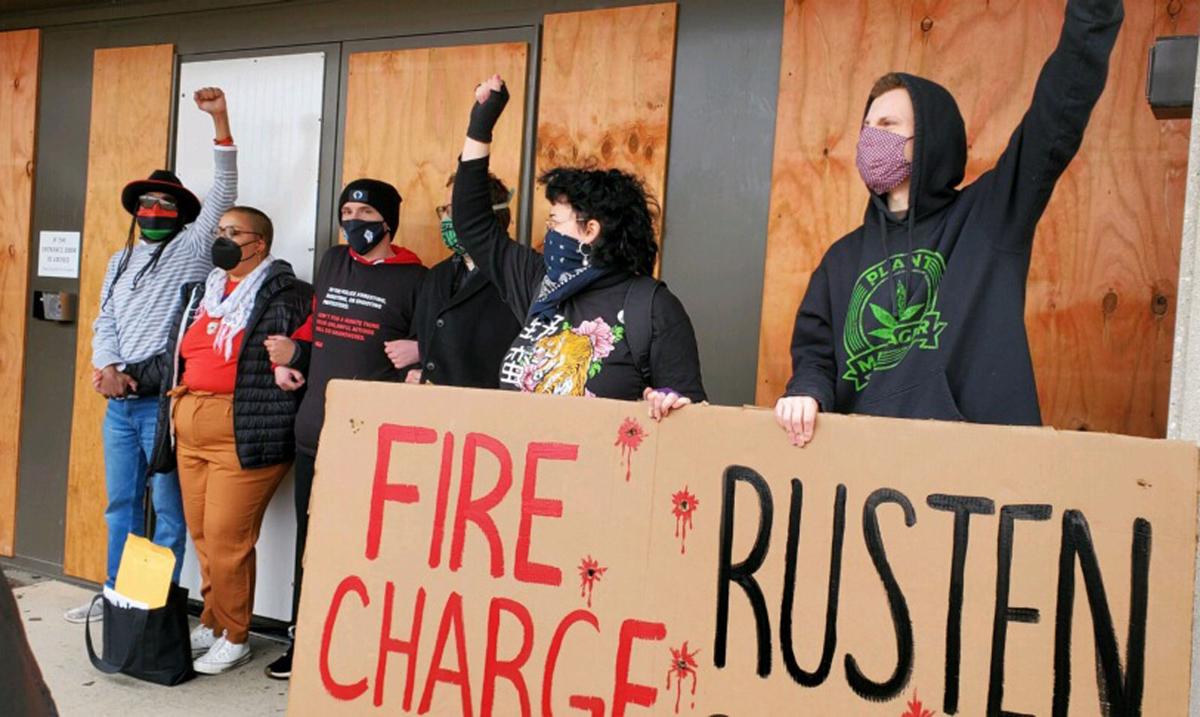 The civil cases against three men arrested in an April 25 sit-in protest outside the Kenosha Public Safety Building reached a bit of a gray area this week.
Now, the perception on how it all went down depends on who's doing the talking.
Kenosha County Circuit Court records indicate that former Somers Village Trustee and Kenosha County Board Supervisor Joseph Cardinali and the Rev. Jonathan Barker of Grace Lutheran Church paid municipal tickets for disorderly conduct in connection to the protest.
The case against the third man arrested, Justin Blake, remains in limbo while the Walworth County District Attorney's Office — which is handling the cases of all three men — determines if he will be charged.
All three were arrested for disorderly conduct because they were blocking the entrance of the Public Safety Building for several hours during the protest, called to demand the firing of Kenosha Police Officer Rusten Sheskey, who shot Blake's nephew, Jacob, on Aug. 23 last year, leaving Jacob paralyzed. Kenosha County District Attorney Michael Graveley declined to file charges against Sheskey and the officer returned to work in March.
Barker and Cardinali were booked on that recommended charge, posted a $150 bond and were released.
Where things get murky in the cases of both Barker and Cardinali is regarding a Kenosha County Circuit Court date that was scheduled for Tuesday. Records show that neither man appeared in court, and both were found guilty due to a no-contest plea. The total bond for each was $232.
Walworth County Deputy District Attorney James T. Sempf, who was asked by Kenosha County to handle all three cases because of a potential conflict of interest, said both men had received proper notice of the hearing and were expected to appear.
"The court commissioner verified that they had gotten notice, and the court staff indicated that they had been properly noticed for the hearing, and they did not appear," Sempf said.
"What happens in that situation is they are defaulted. They essentially were found guilty of the charges that they were issued. We issued them disorderly conduct citations for their actions back in the end of April. Because they did not show up to contest those citations, they were defaulted. They posted money (after their arrest), and the court ordered that money to be forfeited."
Poor communication blamed
Barker acknowledged that both he and Cardinali should have appeared in court, but communication from the court was poor.
"I think there was just a little bit of a misunderstanding," Barker said. "We were supposed to show up. But we're just going to continue to stand strong, me, Joe and Justin. We know that (Leaders of Kenosha, which organized the April 25 protest) is going to continue to support us, and the Blake family is going to continue to support us. We'll just keep going forward on together."
Cardinali echoed Barker's assessment.
"There was just a little bit of misunderstanding in terms of showing up or not," he said. "But at the end of the day, I'm relieved that part is over. I'm still focused on Justin having a fair resolution to his treatment and his case. I certainly have some concerns with how he was treated.
"I still feel encouraged by the outpouring of support from LOK, who helped organize the event, the Blake family, the Grace Lutheran Church community and so much from the local activists community. I'm heartened by it, only because it shows that people are starting to understand there needs to be some kind of change," Cardinali said.
Barker said he was disappointed at what he called a lack of communication from the start.
"They didn't communicate (the move to Walworth County) to us," he said. "It took me almost two weeks to figure out my original court date, because they had switched it in the system and nobody could find us, basically.
"It was not a high level of communication."
Blake case unresolved
Blake also faces a possible municipal disorderly conduct ticket after his arrest with Barker and Cardinali.
There's also a potential charge of obstruction still out there, although there is no criminal court file against Blake as it relates to this case. That potential charge relates to an act of "civil disobedience" when Blake refused to speak or give his name during the booking process.
Sempf said he continues to review Blake's situation and at some point will have a charging decision to announce.
"His case is still pending," Sempf said. "It's in the office. I'll have to make a charging decision regarding him.
"I'm not known for my delaying (of making decisions). There are some things that I saw on the file that I wanted to check out before I made a decision. When those are checked out, I'll make a decision, one way or the other, and then everybody will know when I make a finding," Sempf said.
However, Blake said it's been his understanding the potential obstruction charge already has been dismissed.
"(Kenosha County District Attorney Michael) Graveley called us himself and said that (obstruction) charge was dropped, because there was no such charge," Blake said. "The only one we were supposed to be going to court for was for the disorderly (conduct)."
Blake said he was disappointed to learn the tickets for both Cardinali and Barker had continued through the court process.
"It's unconscionable that they would not charge (me) and would charge my two dear brothers who sat in with us," Blake said. "They were there to support 'Little Jake' and to support the Blake family. It's just unconscionable they would release (my) charges and not release theirs. I don't understand that."
Blake said he was willing to pay the fine for both men.
"They got (to the sit-in) because of us," he said. "I'm not going to get a free ride when my two brothers are being fined. It's ridiculous."
WATCH NOW: Videos of Downtown march, protest April 25 in Kenosha
Watch now: Protesters call for firing of Kenosha police officer
Watch now: Kenosha protesters share demands before sit-in
Watch now: Demands of Kenosha protesters outlined
Watch now: Tanya McLean speaks ahead of Kenosha rally
Protesters lock arms
Whitney Cabal reads list of demands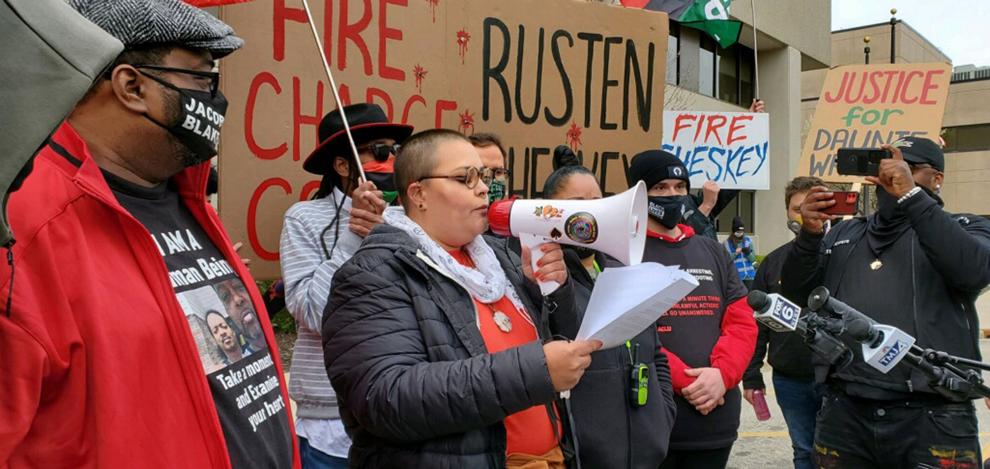 Justin Blake speaks