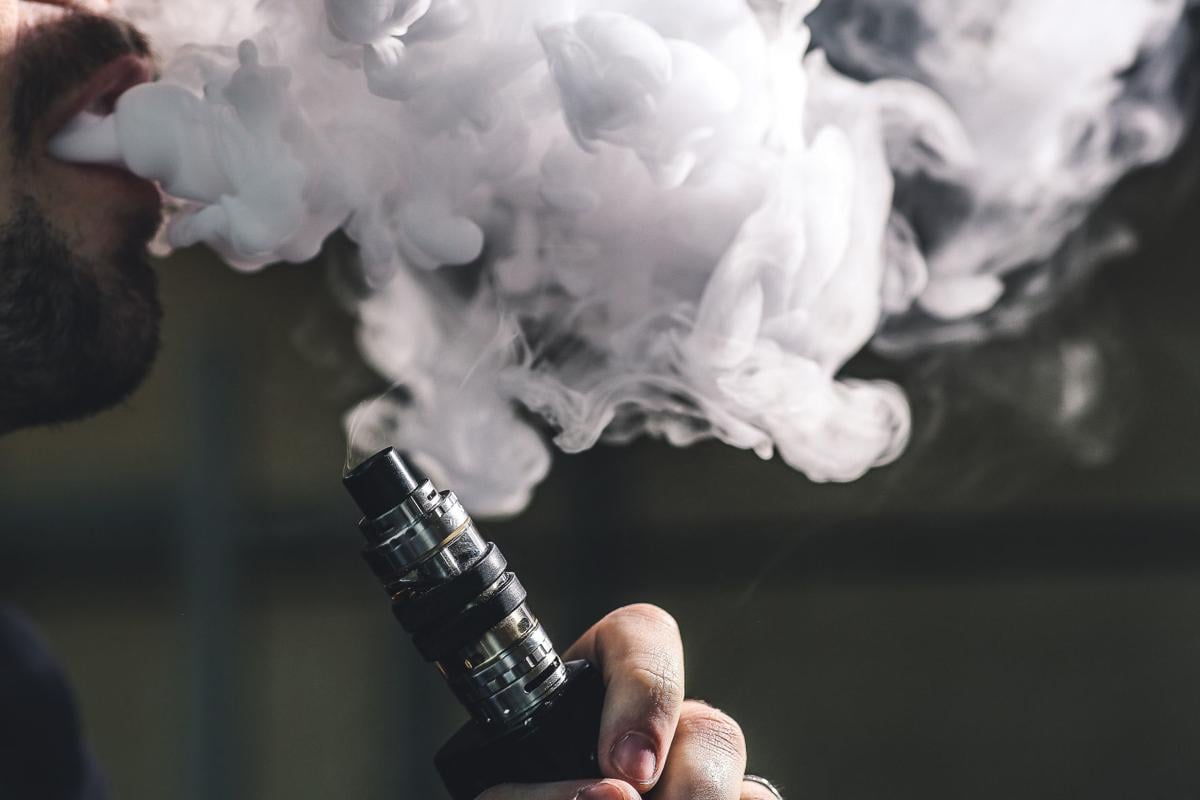 The Kenosha City Council has tightened prohibitions on the sale and use of electronic cigarettes.
The City Council unanimously approved an ordinance Monday night to add definitions and prohibit sales of e-cigarettes and other electronic smoking devices in the city to anyone under age 18.
Their use will also be limited to the same prohibitions in public places as traditional smoking.
The ordinance — sponsored by council members Dominic Ruffalo, Holly Kangas, Rocco LaMacchia, Curt Wilson, Jack Rose, Keith Rosenberg and Stephanie Kemp — added language to the city code to define e-cigarettes and to change how they can be legally sold or possessed within city limits.
The focus is primarily to stop minors from purchasing electronic smoking devices that may contain nicotine, the same as with traditional cigarettes containing tobacco.
"The Common Council determines that prohibiting the sale, giving or furnishing e-cigarettes to minors and prohibiting the purchase, possession, or use of e-cigarettes by minors is in the city's best interest and will promote public health, safety, and welfare," the ordinance states.
Ruffalo, who served as the principal sponsor of the ordinance, said he had received a lot of "emails on it, a lot of concerns, a lot of concerned parents" regarding teenagers using electronic cigarette products. Ruffalo teamed up with other aldermen to address the issue and to try to align restrictions on electronic cigarette and vaping product use with that of traditional cigarettes.
"When I went door-to-door to get elected in this aldermanic district, people would say, 'How come you're running for alderman?" and I would always say, "Because I think I can make a difference," Ruffalo said. "With this ordinance, we can; we can make a difference."
Ruffalo stated that one in five high school students use vaping products, and the way the law is currently written, younger age groups are able to easily purchase such products, which can contain nicotine.
"The way the law is now, a 13- , 14-, 15-year-old can buy vaping products," he said. "So what this ordinance would do is align it with that of tobacco sales."
The new language to the city code not only addresses the age at which a person can buy electronic cigarette and vaping products in the city, but also places restrictions on where one can use such products, matching where it is currently legal to smoke traditional cigarettes in public.
Residents may smoke in an "Electronic Smoking Lounge," defined by the city as a retail establishment that:
Does not have a Class A, B or C liquor license for both fermented malt beverages or intoxicating liquor.
Generates 75 percent or more of its gross, annual income from the retail sales of electronic smoking devices;
And in which the electronic smoking was permitted by adult members of the public prior to March 1, 2019.
Other exceptions include:
A private residence;
A room used by one person in an assisted-living facility as a residence;
A room in an assisted-living facility where two or more people live, all indulge in electronic smoking and have made a written request to be in a room that allows electronic smoking;
And an electronic smoking lounge that was in existence on March 1, 2019, and in which only the electronic smoking by adults is allowed, according to the language of the ordinance.
Penalties for violating the ordinance by selling electronic cigarettes or vaping products to minors, or being an underage person in possession of such products, will be the same as they currently stand for tobacco products, including a fine.
Kennedy Park revetment repair
The Common Council has approved a contract for $7,765,120 with Luhr Bros., of Columbia, Ill., to do the work for the upcoming Kennedy Park revetment repair project.
The project, running along Kennedy Drive from 38th Street to 44th Street, consists of reconstructing the armor stone revetment along the shore of Lake Michigan from land-based construction activity, removal of an asphalt bike path and restore the area. The bike path will be replaced during the project.
The existing limestone will be reinforced with a stronger, more durable granite, which should offer decades of shoreline protection, and granite will be placed an additional 7 feet over the existing revetment wall.
The project is anticipated to begin in three weeks, and will be a 342-day contract, dependent on the weather.
The project will likely shut down Kennedy Drive — along with the Kennedy Park bike path — until approximately spring 2020.
Get local news delivered to your inbox!
Subscribe to our Daily Headlines newsletter.