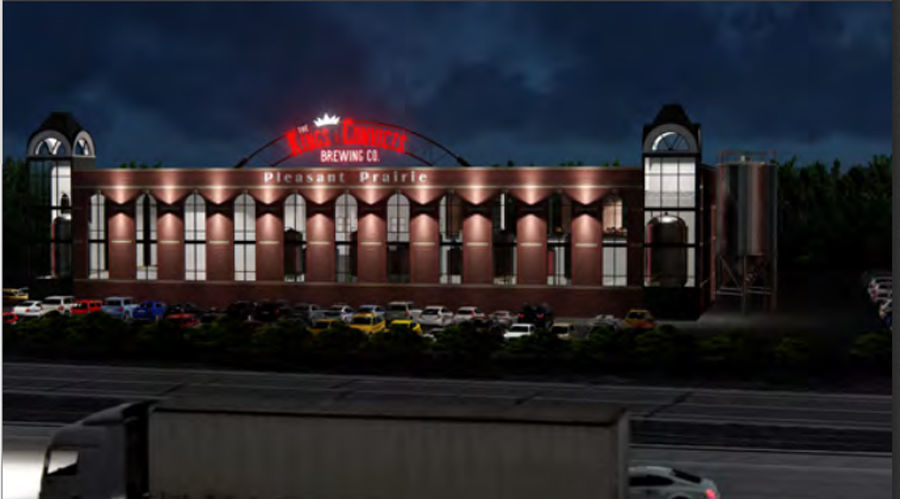 PLEASANT PRAIRIE — The earth will soon be moving at the site of a proposed automated brewhouse, taproom and restaurant planned for 7.4 acres south of Highway 50, west of Interstate 94.
The Plan Commission on Monday night approved preliminary site and operational plans to begin mass grading and installation of a retaining wall and stormwater systems for Kings and Convicts brewery, which will be located on vacant property at 7807 and 7887 120th Ave.
The commission also approved zoning map and text amendments that pertain to rezoning for the brewery and a future hotel.
Along with the 51,000-square-foot brewhouse and restaurant, developers are also proposing a 110,000-square-foot hotel for the site that would include a private suite, restaurant, banquet bar and meeting rooms and other facilities. However, formal plans for the hotel have yet to be submitted to the village.
Automated brewhouse
Jean Werbie-Harris, the village's community development director, said the automated brewhouse will be the focal point of Kings and Convicts.
It will be situated behind the taproom bar with the towering fermenters standing immediately behind it.
According to the plans submitted to the village, fermentation tanks will be on display internally and externally, with glazed walls and lights.
The owners have invested in a state-of-the-art brewhouse and cellar with a $2 million system to brew ales, lagers and pilsners for sale in the taproom and for distribution in Wisconsin and the Midwest.
The establishment will also have an event center and a "brig" that would hold 250 and 50 people, respectively. The establishment expects to serve classic American, as well as Aussie and English-style fare, according to the plans.
Eager to begin
According to Mark Eberle, an engineer with Nielsen Madsen & Barber representing the site's developer, developers were eager to begin work on the site.
The work includes an extensive system of retaining walls — about 7,000 square feet — as well as sheet pilings below it.
The property is also in the Des Plaines River watershed, and workers will be installing a concrete vault underground retention system, he said.
"It's a beautiful site — very visible, great spot on the freeway — but it does have its challenges. There's quite a bit of work to be done out there to get that site ready," Eberle said.
"We're looking to get an early start on the project as we work on the final design details of the brewery, specifically, and the hotel after that."
Developers expect to begin construction later this year, with completion scheduled for next summer.
The plans are expected to come before the Village Board next week.