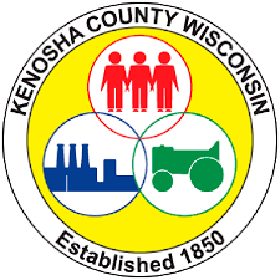 A commitment to achieve racial equality was made by the Kenosha County Board Tuesday, which approved a resolution to declare racism a public health crisis and work to end racial disparities throughout county government.
"Passing this resolution tells our community that we are listening to them, that we hear their calls for justice and that we want to be part of the solution that makes our community an even better place to live tomorrow than it is today," said supervisor Laura Belsky, chair of the Human Services Committee who introduced the resolution.
The resolution was approved by an 18-1 vote following impassioned pleas by the public for approval of the measure as a "first step" in the process. It includes an amendment by Supervisor Terry Rose to add accountability.
Rose's amendment, approved by the board, requires an annual report at the first County Board meeting in August from the chair of the Human Services Committee on the progress made toward implementation of the resolution. Rose said the goals within the resolution may otherwise go unchecked.
"I don't want it forgotten," Rose said.
Supervisors Zach Rodriguez and Andy Berg said sooner updates would be welcome, and Belsky agreed she would provide them.
"We need to see the change instead of hearing talk," Berg said.
Supervisor Mark Nordigian also expressed concern that the resolution would not translate into action.
"We can't just pass a resolution and then not move forward with it," he said. "It cannot fall within the cracks and it has to move forward."
Supervisor Erin Decker, who voted against the resolution at the Human Services Committee July 21, cast the sole dissenting vote Tuesday. She also introduced three amendments.
Decker's failed amendments called for:
"Advocating for increased options in education including, but not limited to, charter schools and school vouchers, and encourage people of color to pursue careers in the trades and higher paying careers." (Failed 7-12)
"Educating men and women the correlation between poverty and single parenthood, and implement policies and programs that advocate for intact families." (Failed 7-12)
"Incorporate education of alternatives to risks of abortion in policies and programs." (Deemed out of order.)
As part of the reasoning, Decker's amendments included statements that charter and voucher programs have improved success of African Americans, that "only 8% of African American married families live in poverty," and that "the leading killer of African Americans in United States is abortion."
Two of Decker's amendments were voted down and a third was deemed out of order.
Several residents during citizens' comments called out Decker and supervisor Lon Wienke for voting against the resolution at the Human Services Committee level. They said Decker made a statement during the committee meeting that systematic racism doesn't exist.
Decker's comment, obtained from a review of audio from the committee meeting posted on the Kenosha County website, came as she read through various statements about systematic racism within the resolution.
"I don't believe there is systemic racism," Decker said at the committee meeting, adding education and employment cannot be denied due to race.
Wienke voted in favor of the resolution at the County Board level, but said he hopes it serves to ensure "across the board equity." He pointed to mandates from past decades that created hiring quotas.
"You had to hire minorities and women," Wienke said. "I took a job I was less skilled for because of government quotas."
Citizen Veronica King spoke about racial disparities in employment, education, home ownership, healthcare and incarceration and to the general under-representation of African Americans in various roles.
Andrea Taylor, of the Aging and Disability Resource Center, said the center created an internal work group in 2013 to help employees understand the "cultural dynamics and influences that impact" their clients' lives and well being.
She said the Cultural Respect Builders Committee helped the center identify ways to strengthen its mission of inclusion and provide culturally conscious delivery of service.
"Our objective is to ensure everyone is treated with respect and compassion," Taylor said in endorsing the resolution.
Taylor said the resolution acknowledges organizational structures, policies and practices contribute to racial disparities in the outcomes of their work.
"As a division of county government we have much to gain from the county board's adoption of this resolution," Taylor said. "We welcome the opportunity to examine our service delivery for structural bias, to better educate our staff on the impact of racism, and to equip ourselves with tools and resources to breakdown barriers."
A statement read into the record, Jodi Muerhoff called the resolution "a strong statement to our community about our leadership's commitment to work toward racial equity in our county" and "acknowledges the disadvantages that people of color in our community face."
"Following the horrendous death of George Floyd at the hands of Minneapolis police officers—just one in a long history of our nation's injustices—there has been a sustained national and local cry to work harder to address racial disparity," Muerhoff wrote. "The people of Kenosha County have knelt, raged, cried, marched and prayed in solidarity for meaningful, substantial and universal change to systems that have served to disadvantage and kill people of color."
Adelene Greene, who retired as director of Workforce Development for the county in 2016, also provided a written statement in support of the resolution.
"As an African American I can attest that racism exists in this community," Greene wrote. "Racism is systematic and institutional and it works to the detriment of African Americans and other people of color. Ignoring these racial disparities will not fix this problem."
Belsky said the resolution is "the first step is acknowledging that racism does exist and behaviors take many forms."
"For those of us who are leaders in government, we have an obligation to not only participate in these uncomfortable dialogues, but we must use it to guide our actions to ensure the public has confidence in our government. This resolution is a step in the right direction. It's a small step that needs to be built upon."