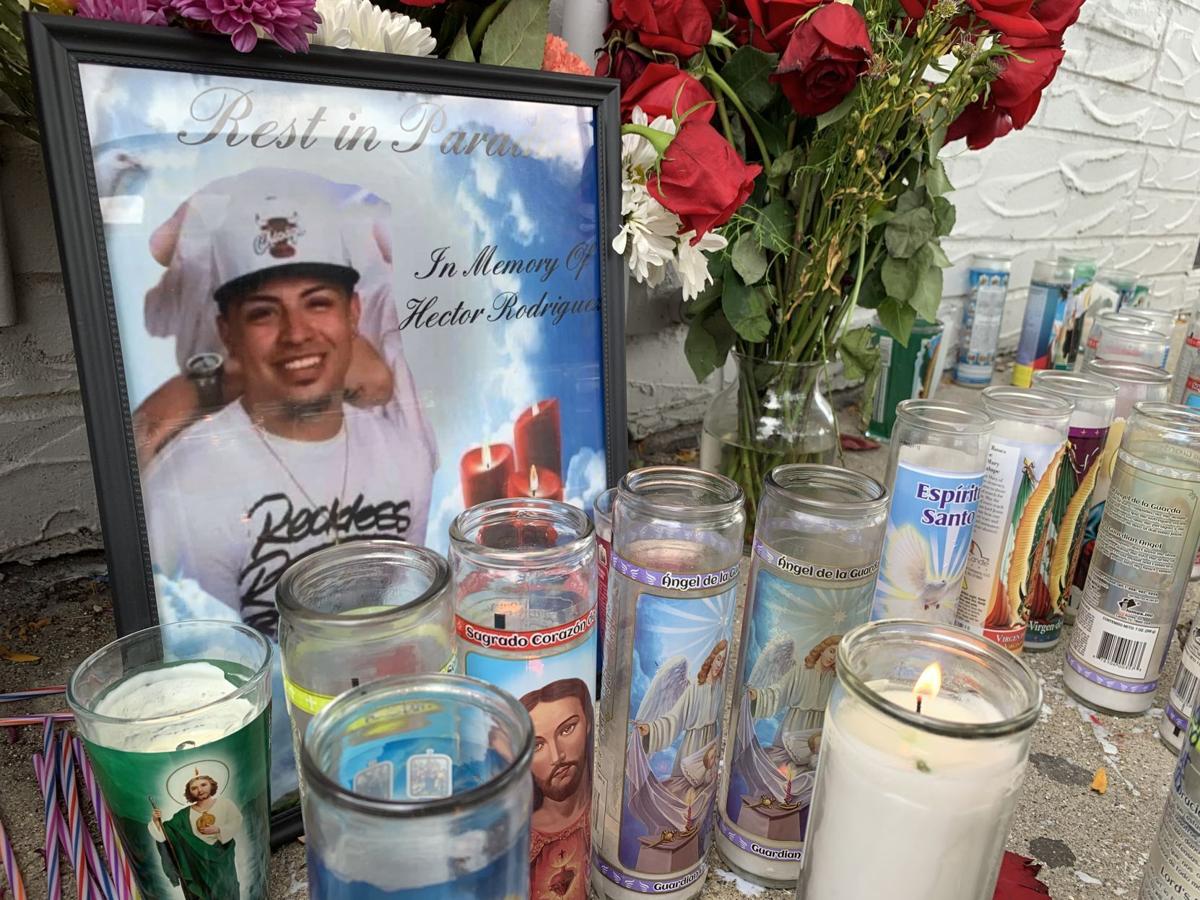 Calling it the "gravest crime," a Kenosha County Circuit Court commissioner on Monday afternoon imposed a $1 million cash bond for the suspected shooter in a city homicide last week.
Victor H. Ramos, 19, made his initial appearance before Commissioner Loren Keating in the Thursday afternoon shooting death of Hector A. Rodriguez-Rojas, 30, of Kenosha.
Ramos, of the 6400 block of 31st Avenue, is charged with first-degree intentional homicide, which carries a mandatory life sentence in prison if he's convicted. He is due back before Keating for a preliminary hearing at 10:30 a.m. on Aug. 12.
Kenosha County District Attorney Michael Graveley asked Keating for the $1 million cash bond.
"This case will be very strong in terms of evidence," Graveley said. "This is a case that also has substantial parts on video. It (happens) at 5 o'clock, which would be probably the busiest time of day in probably the third busiest intersection or thoroughfare in this city."
Graveley said a number of the victim's family members were in court Monday, but they declined to speak at the hearing.
Keating agreed with Graveley in imposing the $1 million bond.
"This is the gravest crime if you will," he said. "The exposure (to prison) is as great as it gets with respect to this matter. I understand it's an allegation, but it's the most serious allegation, and as such it comes with a very great flight risk.
"It's once again, an act of senseless gun violence that plagues this and most communities that I'm aware of," Keating said. "The court does believe that a very, very significant cash bond is necessary."
Incident details released
According to the criminal complaint:
Kenosha Police responded to the area of San Luis Grocery Store, 1824 52nd St., at 4:58 p.m., where they spoke to a woman who stated the victim ran through the door, yelled for someone to call 911 and collapsed at the front door.
Police observed two gunshot wounds to Rodriguez-Rojas, who was found lying on his left side with "an extremely large pool of dark red blood underneath him."
An autopsy performed by the Milwaukee County Medical Examiner's Office determined the cause of death was three gunshot wounds, including one to the back.
The victim's mother told police that her son had come to her house on 58th Street on his moped at about 4 p.m. He left about 30 minutes later.
A witness told police he was in a vehicle traveling north on 19th Avenue when he observed the victim's moped stop at 52nd Street. At that time, a burgundy or maroon Porsche Cayenne driven by a person the witness later identified as the defendant pulled alongside the moped.
The two exchanged words, the witness said, and at that time, he saw Rodriguez-Rojas attempt to access a storage compartment under the driver's seat before Ramos allegedly fired three shots at him. The witness stated he believed the first shot struck Rodriguez-Rojas because he "grabbed his side and ran away toward the rear of San Luis Grocery Store."
"You can see the victim, literally in the context of what's happened here, running for his life," Graveley said in court. "One of the shots, based on the autopsy records I was able to review, was a shot through his back that appears to be the fatal shot."
Police arrive at suspect's home
Police responded to the defendant's residence, where they observed him attempt to get into the passenger seat of a vehicle. When officers tried to take Ramos into custody, the complaint states he fled, and at one point, threw a handgun over a fence of a residence on 30th Avenue.
A casing found by the moped matched a casing from the firearm that was recovered by police, the complaint states. Police also searched the defendant's vehicle and found two more shell casings that matched the one at the scene.
Police spoke to Ramos, who admitted he was the driver of the car, but stated he had been to a funeral and at a friend's grandmother's house. A search warrant obtained for his cell phone revealed his location precisely at 52nd Street and 19th Avenue, the location of the homicide.
The phone records also indicated Ramos was in communication with a number of individuals in the next 2½ hours, including with his brother. Ramos indicated that the car was "hot," that he had a weapon and needed a ride so he would not be in the vehicle with the weapon also in his possession.
Graveley said there doesn't yet appear to be a motive.
"It's the middle of the day, someone said some words that caused (the defendant) to have the allegation of deciding to end a life," he said.