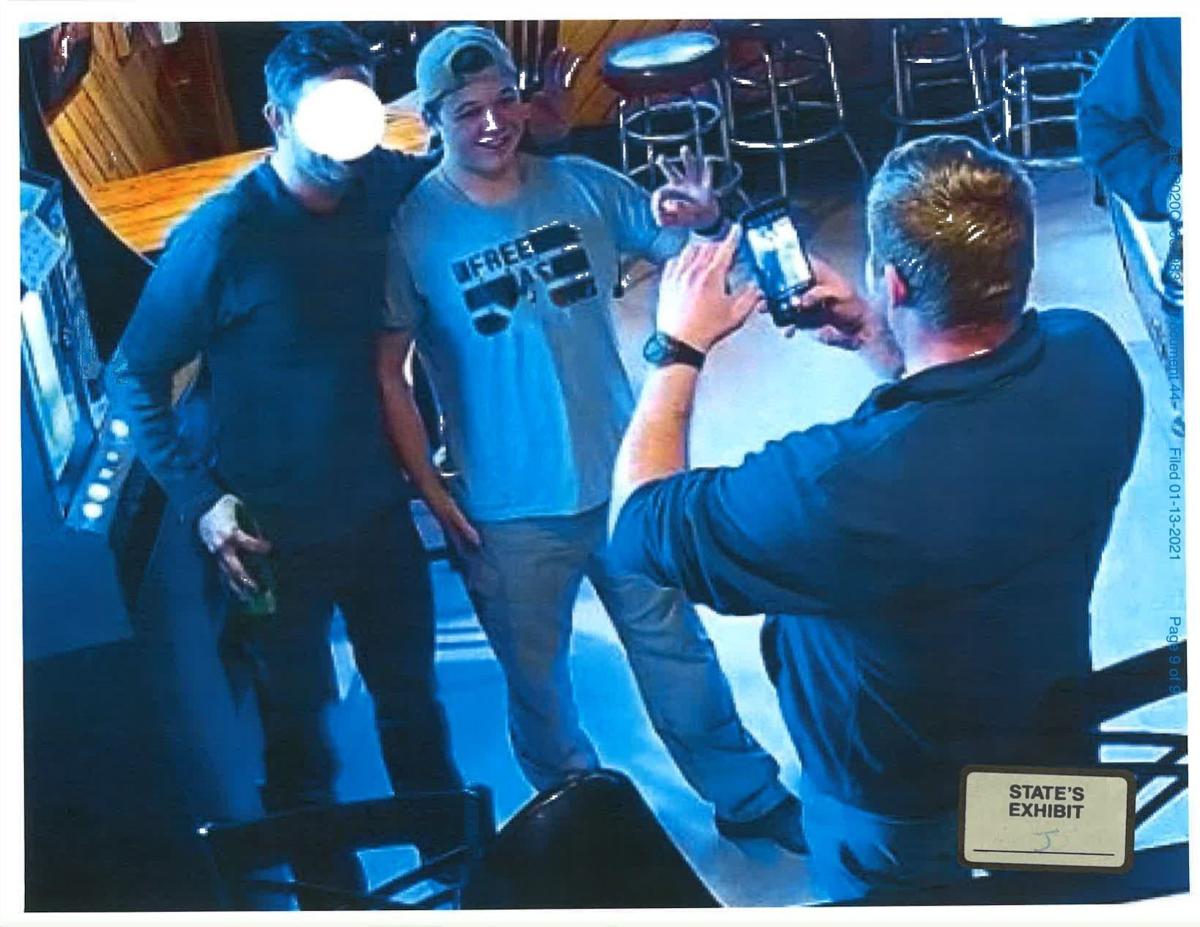 During Kyle Rittenhouse's recent visit to a Racine County tavern, he drank beer, flashed white power signs while posing for photos, and was serenaded with the Proud Boys anthem, according to documents filed by prosecutors Wednesday.
Shortly after he formally entered a not guilty plea at his arraignment on Jan. 5, Rittenhouse spent about two hours at Pudgy's Pub with his mother and several other people. A photo of Rittenhouse in the bar, wearing a T-shirt that said "Free as [expletive]," was widely shared on social media last week, outraging some in the community. Mount Pleasant Police visited the bar after a complaint, obtaining security video that confirmed Rittenhouse had been in the bar.
Police found Rittenhouse did not violate the conditions of his $2 million bond — state law allows people who are underage to drink if accompanied by a parent or guardian. But they did forward the video on to prosecutors.
Kenosha County prosecutors are now seeking to modify Rittenhouse's bond, asking the court to order that Rittenhouse should not possess or consume alcohol, that he be restricted from associating with known militia members or known members of white power or white supremacist organizations, and that he be prohibited from publicly displaying symbols and gestures associated with violent white supremacist groups.
Rittenhouse, now 18, of Antioch, Ill., is charged with homicide and attempted homicide for shooting three men during protests in Kenosha in August, killing two. He and his attorneys have maintained he shot the men in self defense.
While many on the left see Rittenhouse's actions in Kenosha as an example of the danger of right-wing militias, he has been celebrated as a hero by some on the right, and millions of dollars were donated toward his defense. He was released from the Kenosha County Detention Center after donor cash was used to post his $2 million bond.
His attorney John Pierce and former attorney L. Lin Wood have in the past threatened civil suits against people who have tied Rittenhouse to the white supremacist movement.
In an interview on conservative Newsmax TV in December, Pierce said he was considering "probably the most significant case of defamation in the history of the country," saying he was considering filing suit against people and organizations ranging from Facebook to President-elect Joe Biden to actor and Kenosha native Mark Ruffalo, who Pierce said had tied Rittenhouse to the white supremacist movement.
According to the bond motion filed Wednesday, Rittenhouse may have made that argument more difficult. Messages left Wednesday afternoon with Rittenhouse's attorneys were not immediately returned.
Recounting the events
The bond motion states that Rittenhouse and his mother Wendy Rittenhouse arrived at Pudgy's, 7800 Washington Ave. in Mount Pleasant, about 90 minutes after his arraignment ended.
Immediately upon arriving at the bar, according to the motion filed by Kenosha County Assistant District Attorney Jason Zapf, Rittenhouse posed for photographs with a group of men.
"In these photographs, the defendant and the other adult males flashed the 'OK' sign, which has been co-opted as a sign of 'white power' by known white supremacist groups," the motion states.
"Within a few minutes of entering the bar, the defendant was loudly serenaded by five of the adult males in his group with the song 'Proud of Your Boy,' which is an obscure song written for the 1992 Disney film 'Aladdin.' The violent white supremacist group called the Proud Boys was named after this song, which is sung by its members as an anthem and for self-identification."
The motion states that Rittenhouse — who drank three beers while he was in the bar, according to court documents — "remained with these 'Proud Boys' for the entire time he was in the bar."
There are photographs included in the documents showing Rittenhouse flashing the OK symbol.
In the motion, Zapf argues that the bond should be modified to bar Rittenhouse from drinking — a common requirement in bond agreements.
The motion also requests that Rittenhouse be barred from associating with members of the Proud Boys or known white supremacist groups, stating the groups have advocated violence.
"Indeed, members of the Proud Boys group have been tied to the breach of the United States Capitol Building on Jan. 6," the motion states.
"The defendant's continued association with members of a group that prides itself on violence, and the use of their symbols, raises the significant possibility of future harm" and could intimidate potential witnesses, the state argues.
A date for a bond modification hearing has not yet been scheduled. For now, Rittenhouse is next expected to appear in court on March 10.