SOMERS — A suspect was in custody Sunday afternoon for a shooting that left three men dead and three injured in a shooting early Sunday morning at the Somers House Tavern near Kenosha.
The Kenosha Sheriff's Department confirmed they have someone in custody and will be referring at least one charge of first-degree intentional homicide to the Kenosha County district attorney with additional charges pending further information.
Sheriff's Sgt. David Wright said no additional information would be released on the suspect Sunday afternoon. But according to Kenosha County Jail records, a 24-year-old homeless man was booked into the jail at 5:19 p.m. Sunday on a charge of first-degree homicide. Court records indicated that the man previously had a Racine address.
Authorities had initially said three people had been killed in the shooting and two injured, but had indicated there could be more victims. On Sunday afternoon, they confirmed a third person had been shot and there could be a fourth unidentified victim. The three identified men are hospitalized, Wright said.
According to Kenosha County Sheriff David Beth, there had been some kind of confrontation in the crowded bar, 1548 Sheridan Road (Highway 32), earlier in the night. A man left then returned with a gun and began shooting at about 12:42 a.m.
"I'm led to believe there was some type of confrontation inside, the management asked that person to leave and then that person came back a short time later and shot people," Beth said.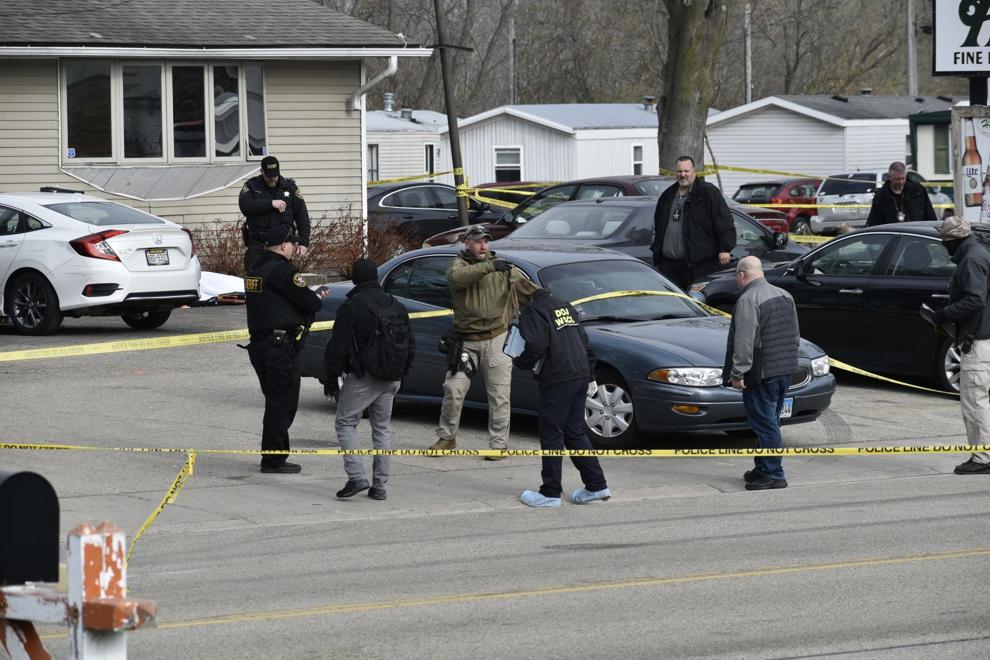 One witness said Sunday morning that it appeared there were people exchanging gunfire.
Beth said two men died at the bar. The third man died at a hospital. Beth said two people at the scene had loaded the third victim into a car and had been taking him to the hospital, then flagged down a deputy near Sheridan Road and 36th Street for help. "He passed away," Beth said.
Two more people were seriously injured. Beth said one of those men had a chest wound. All of those shot were men, Wright said.
The Sheriff's Department was not releasing information as of Sunday afternoon on the identities of the people killed or those injured.
Beth said at a press conference that 100 deputies and law enforcement officers were looking for suspects Sunday morning. Wright said Sunday afternoon that no information would yet be released on the suspect who was taken into custody.
"Detectives and other involved law enforcement officers have conducted numerous interviews and collected a great deal of evidence from the crime scenes including the impounding of several vehicles," Wright said in a formal statement. "Detectives have followed up on multiple leads and gathered surveillance video evidence during extensive neighborhood canvasses. KSD detectives and crime scene technicians continue to process the crime scenes."
Kenosha activist Porche Bennett-Bey, who was honored last year as one of Time Magazine's Guardians of the Year for her work on racial and social justice issues, said one of the men killed was her 26-year-old cousin, a Kenosha resident. His name is being withheld pending notification of family members.
"He leaves behind a beautiful baby boy," she said. "All three of them were loving people, always there for people and making people laugh every day."
State and Local officials reacted to the news of the shootings, including Gov. Tony Evers.
"My heart breaks for Kenosha this morning in the wake of a shooting that took three lives and injured at least two others," Evers said in a statement. "I want to thank the first responders who reacted quickly and are still working to investigate and find those involved in this senseless tragedy."
George Stoner, Somers village president, said he received a call overnight when the shooting happened.
"It's just a tragedy. It's just a tragedy that these things are happening in America," he said. "My heart and prayers go out to the families."
Crime scene observations
On Sunday morning, the tavern and surrounding streets were surrounded by police tape, and the body of one of the men killed lay covered with a white sheet just outside the door of the tavern. A witness said he believed the body of a second victim was on the bar's fenced patio. Evidence markers were scattered through the parking lot and down 15th Street east of Sheridan Road.
Peter Ploskee, who lives in a house across the street from the bar on the corner of Sheridan and 15th Place, said he woke up to the sound of gunfire.
"I hear gunshots and get up and start walking from my bedroom to the living room. I hear more gunshots and I see people just running in every direction possible. I look out my north facing windows and see two guys kind of jumping around a vehicle shooting at each other, see flash bangs from the gun," Ploskee said. "Next thing you know cars are going south, cars are going north. People are screaming. I hear someone saying 'he's shot.' Hear someone saying 'he's dead.'"
Another neighbor said she was outside when she heard what she thought was fireworks, and then saw police vehicles descending on the neighborhood.
"All of a sudden, I heard a 'pop pop pop,'" said another neighbor, Jacqueline Sieracki, describing what she heard early Sunday. "... Then I heard a woman screaming, and then more of the crowd, and then I heard sirens and I thought, 'Something awful must have happened.'"
Several neighbors said they believe someone involved in the shooting ran east down 15th Place and then fled through yards along the lakefront. They said deputies were guarding possible evidence in a yard along the lake.
Popular with students
Somers House is a popular hangout for students from nearby Carthage College, and the college went on lockdown during the shooting according to Wright and a spokesperson for the college.
A parent of a Carthage student said on social media that her daughter and friends witnessed the shooting. She did not want to be identified because the suspect was not in custody as of Sunday afternoon.
"My daughter and friends were at Somers House when (they) saw a fight turn to gunshots. They think they heard 19 shots," she said. "(She said), 'Mom, he shot people right in front of us.' They escaped the bar and headed back to the dorm for lockdown," she said in a social media post.
The lockdown remained in place until approximately 6:30 a.m., at which time the Kenosha Police Department advised Carthage's Office of Public Safety that the lockdown could be lifted, Carthage spokesperson Traci Parker said.
"Carthage College was saddened to learn of the events that took place at Somers House early Sunday morning," Parker said in a statement to the Kenosha News. There were Carthage students present in Somers House when the shooting occurred. Local law enforcement has reported that they believe no college students were injured, and we have received no reports of any injuries to our students.
"Our hearts go out to all affected by this tragedy, and we are working to make sure any students who were present have the support they need." Parker said. "We also have additional counseling services available on our campus today and this week for any students who may want to talk to someone."
Sheridan Road remained closed near the tavern Sunday morning as the investigation continued.
The Sheriff's Department was asking anyone with information about the shooting to contact the Kenosha County Sheriff's Department at (262) 605-5100 or anonymously to the Kenosha County Crime Stoppers at 262-656-7333.
WATCH NOW: Video from the scene of the Somers House shooting
Watch now: Neighbors react to shooting at Somers House Tavern
WATCH NOW: Authorities investigate Kenosha County tavern shooting that left 3 dead
Watch now: K-9 unit works the scene at Somers House shooting
Watch now: Police, K-9 unit investigate Kenosha County tavern shooting
Watch now: Scene at Somers House on Sunday morning
Watch now: Scene at Somers House on Sunday morning
Watch now: Neighbor Peter Ploskee talks about Somer House shooting
Watch now: Scene at Somers House on Sunday morning
Watch now: Detectives work the scene at Somers House on Sunday morning
Watch now: Scene at Somers House on Sunday morning
Watch now: Scene at Somers House on Sunday morning
Watch now: Scene is quiet a few blocks away from Somers House following active shooter after 3 a.m. near Carthage College
Pete Wicklund contributed to this report.