Reports of an active shooter Monday afternoon at Carthage College brought a large police response to the area, but were quickly determined to be false.
Kenosha County Sheriff's deputies and city police were involved in a foot pursuit of a suspect who had fled from a traffic stop Monday morning in the vicinity of Alford Park and the Carthage College campus, and that appeared to spawn unfounded warnings by text messages of a potential shooter on campus.
Police quickly dispelled the false rumors but conducted a search of buildings and grounds on the Carthage campus out of "an abundance of caution," Kenosha Interim Police Chief Eric Larsen told the Kenosha News at the scene.
According to police radio traffic and information at the scene, students shared text messages that there was an active shooter on campus, with a least one student warning people in a building that there was a shooter in the area. That prompted 911 calls to police. But none of the callers reported hearing gunfire or seeing a gun, only that they had heard someone say there was someone shooting.
Traci Parker, spokeswoman for Carthage, said the college had been notified by law enforcement about the search for a suspect near campus Monday morning.
"Following the apprehension of the suspect, a call was made to the Kenosha Police Department from an individual inside the Straz Science Center indicating they believed there was an active shooter, giving police a specific location inside the building," Parker said in an email. "In a debrief with Carthage officials, the Kenosha Police Department indicated they responded to the call, isolated the area of concern, cleared the building, and did a thorough search of the area. They found no evidence of an active shooter present or having been present on campus. It was determined there was never a threat to the Carthage campus."
Police asked students to clear the building while they searched to verify all was well. Students stood outside calmly while the searches were conducted but several told a Kenosha News reporter they were frightened.
Sophomore Caitlin Whiteman was in a biology lab in room 256 of the Center at little past noon when two fellow students who had left the lab came back saying they had heard there was "an active shooter on campus." 
"Our teacher immediately locked the door and we stayed there until Public Safety said everything was OK," she said.
"We were a little nervous but it was over really quickly," she added.
Police issued an all clear at 12:45 p.m.
Traffic stop details
Kenosha County Sheriff's Sgt. David Wright said the earlier call that may have started the rumors began with a traffic stop by a deputy on the 1800 block of Birch Road at about 9 a.m. Wright said the deputy pulled over a vehicle because the information on the license plate registration did not match the vehicle. The driver pulled over and was cooperative, but a passenger in the vehicle gave the deputy a false name, then fled on foot when questioned. Deputies followed that man, a 21-year-old Racine resident, finding him hiding in the basement of a nearby apartment. He fled again, and was eventually located in a wooded area near the Carthage campus and taken into custody at 11:42 a.m. Wright said the man may have fled because he had an arrest warrant from Racine County.
"He never went onto the Carthage campus," Wright said. But Wright said the campus rumor may have started because of the heavy law enforcement presence nearby.
Kenosha News staff writers Deneen Smith and Heather Larson Poyner contributed to this report.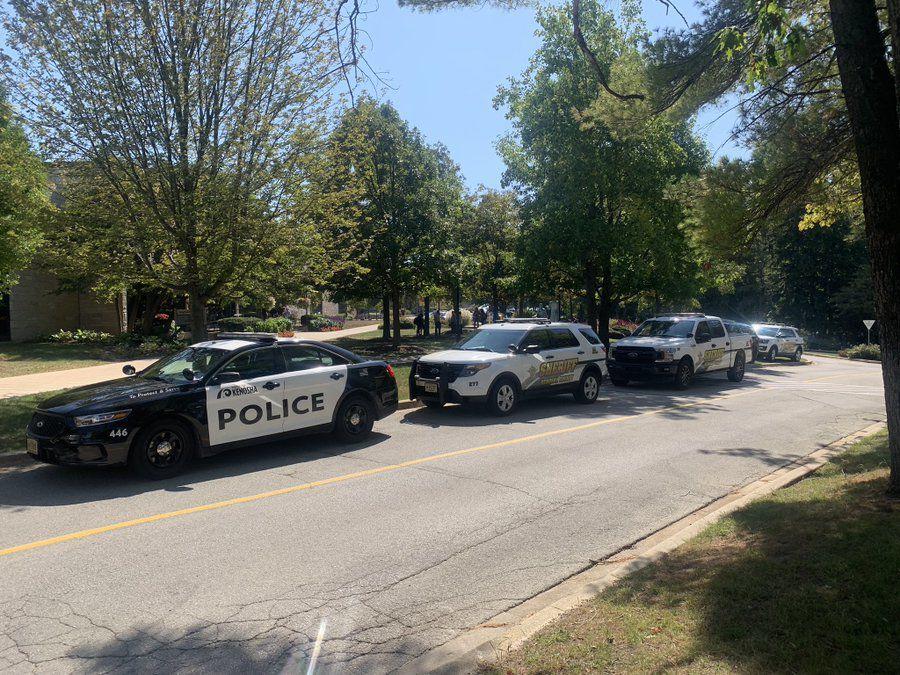 Kenosha News staff writers Deneen Smith and Heather Larson Poyner contributed to this report.