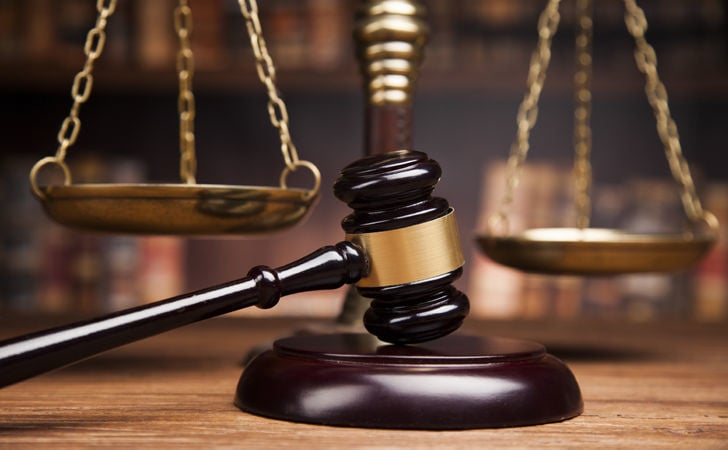 Nine criminal charges were filed Thursday afternoon in Kenosha County Circuit Court against a 40-year-old Kenosha man who was arrested Wednesday by agents with the Bureau of Alcohol, Tobacco and Firearms.
Rene M. Palma faces six felony counts of being a felon in possession of a firearm, two felony counts of selling/possessing/using/transporting machine guns and one felony count of fleeing/eluding.
If convicted of all charges, Palma faces a total 75 years, six months in prison and a fine of $180,000. Court Commissioner Loren Keating ordered a $200,000 cash bond at Palma's initial appearance Thursday.
Palma will return to court for a preliminary hearing Thursday at 8:30 a.m.
According to the criminal complaint:
A confidential informant in April told police he had sold a firearm to the defendant and that he had previously sold 13 other firearms to Palma in the last 2 ½ to 3 years.
In a communication through Facebook on May 17, the informant allegedly told Palma of a seller who had fully automatic firearms and conversion items, which convert semi-automatic firearms to fully automatic, for sale. The seller the informant was referring to was an undercover agent with the ATF.
The following day, the agent and Palma agreed through text message that the defendant would pay the agent $3,000 for six firearms, including one with a conversion device. The agent stated in the complaint that the converted weapon is capable of firing more than one shot without manual reloading.
On Wednesday at the Wal-Mart/Sam's Club, 3300 Brumback Blvd., in Somers, the transaction was completed.
When officers attempted to arrest Palma, he allegedly fled the scene in his motor vehicle. As he fled through the parking lot, the defendant discarded the container with the firearms, which were located by police.
High bond requested
Assistant District Attorney Carli McNeill requested a $300,000 cash bond Thursday.
"This is how firearms end up in the hands of felons on the street, and this is how firearms that end up on the street illegally are used in the commission of crimes," she said.
McNeill said one of the guns previously sold by the informant to the defendant was found in northern Illinois and connected to an attempted homicide.
"That illustrates the dangerousness of the defendant's actions in selling guns in this way," she said.
Palma's attempt to flee after the transaction Wednesday put countless lives in danger, McNeill said.
"Instead of submitting to the ATF and allowing himself to be arrested, the defendant attempted to flee," she said. "He endangered law enforcement; he endangered any people who were in the area; and he clearly showed he is a flight risk in this case."
McNeill stated in court that Palma was convicted in Lake County, Ill., in 2010 of manufacturing/delivering 15 to 100 grams of cocaine and was sentenced to eight years in prison.
Palma also has a felony conviction in Kenosha County in 2007 of falsely acting as a public official, a charge that arose out of a shots fired incident. McNeill said in that case a shot was fired into a vehicle, and during the course of that investigation, Palma represented that he was a North Chicago police officer.
In the Kenosha County case, he received 18 months in prison.
McNeill said during a search warrant of Palma's home, police found three vacuumed-sealed bags of cash that she stated totaled more than $175,000.
Palma's attorney, Laura Walker, requested a $10,000 cash bond.
"These are allegations at this point," she said. "We haven't even been through a preliminary hearing. He is entitled to a presumption of innocence, which he is asserting.
"... I'm sure the firearms that the ATF put into play during this transaction were not ones that were capable of firing. What I'm saying is I don't believe that anyone was in danger at any time during this controlled buy that was done by the ATF where they're attempting to get Mr. Palma to purchase firearms from them."
Walker said Palma has local ties to the community and is a critically-acclaimed tattoo artist. She added that the amount of cash taken from his home doesn't necessarily indicate any illegal activities.
"That is mostly a cash business," she said. "I understand there was cash that was found in his house. That certainly is not against the law. He doesn't have to use a bank if he doesn't want to. There's nothing illegal about him having cash in his house. He works in a cash business."
Walker told the court a much lower bond was appropriate.
"It no way near calls for a $300,000 bond," she said. "Those are things we hear of in homicides."
"These are extremely serious allegations," he said. "You're dealing with allegations of several firearms, including automatic weapons that are referred to as machine guns, it gives pause to anyone I would suspect, including this court."
Get local news delivered to your inbox!
Subscribe to our Daily Headlines newsletter.