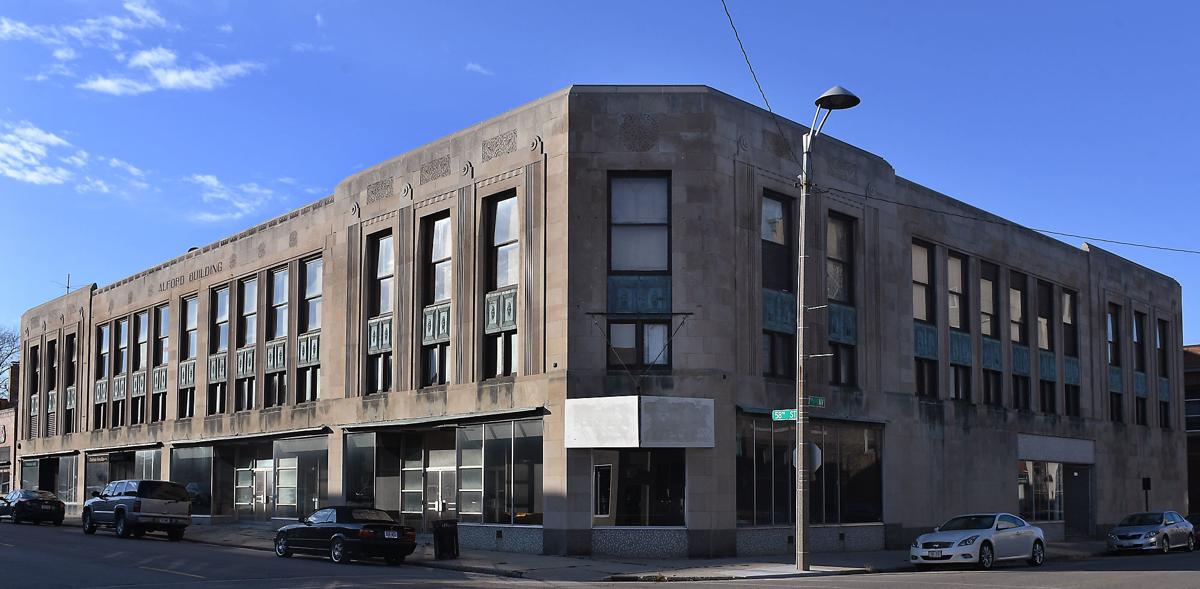 A Chicago-based developer with local ties has reached a tentative agreement to redevelop one of downtown Kenosha's historic buildings.
BluePaint Development LLC is in line to purchase the city-owned Alford Building, 702 58th St., for $1 with conditions of redevelopment and occupancy.
The developer is required to provide the city with a detailed, $7.75 million budget for the project and loan commitment.
Construction would begin no later than April 4, 2020, and be completed by Jan. 31, 2022. Occupancy of the mixed-use building — with potential for first-floor commercial and residential above — would be required by May 31, 2022.
The city is responsible for up to $500,000 in abatement costs for removal of asbestos and any other hazardous materials.
The agreement was recommended for approval by the City Council on Monday. It's similar to the city agreement worked out with Witico Development Corp. for the purchase and redevelopment of The Barden, located across the street from the Alford Building on the northeast corner of Seventh Avenue and 58th Street.
Witico purchased the old Barden's building for $1 with conditions of a $3.5 million redevelopment. The Barden, built in 1911, will feature Public Craft Brewing Co. on the first floor and a banquet hall on the second story. The project is set to be completed next spring.
Part of city plan
Mayor John Antaramian made it an initiative to redevelop abandoned, downtown buildings — primarily the neighboring Barden's and Alford properties — when he was re-elected in 2016. The city purchased the Alford building for $260,000 in June 2016 and the Barden's building for $200,000 in Oct. 2017.
"(Antaramian) felt the private market had long enough to do something with these buildings," said Zohrab Khaligian, a redevelopment specialist with the city's Department of Community Development and Inspections. "They didn't, so (the city) just bought them."
The 40,000-square-foot Alford Building, constructed in 1930, was the former home to J.C. Penney, Montgomery Ward and Barden's Department Store.
Khaligian said it was difficult to market the building because of its age, size and condition. A portion of the roof on the east half of the building is in dire shape, resulting in large amounts of plaster falling from the ceilings throughout the structure. The two-story building appears to be three stories due to a mezzanine that covers half of the second floor.
The city ran into a difficult situation of potentially having to raze the building. Asbestos abatement would still be necessary regardless if the property was redeveloped or demolished, according to Khaligian.
"We've had developers come and visit (the property), and we'd never hear from them again," Khaligian said. "A couple months back, this summer, we had two developers go through the building. Only (BluePaint) kept coming back. They kept bringing in architects and other people and said they could make a go with it."
Connected to Wally Walls
BluePaint chief executive officer David Wallach owns Wally Walls, a building supply company located at 6320 20th Ave.
Wallach has developed more than $250 million of urban infill development over the past 20 years and has acted as a principal in a general contracting firm that built more than $100 million of development in Chicago.
"Wally Walls is in Uptown, and you don't notice them unless you drive by," Khaligian said. "They've been in the community, albeit quietly. No one really notices they're there, but they do have that experience as a contractor as well as a supplier.
"They showed us a couple samples of renovation projects they've done in Chicago. I'm not concerned they will have any problems (with financing)."
Witico was also interested in redeveloping the property, according to Khaligian.
The city hopes its working relationship established with Witico and BluePaint will extend beyond the two, major ongoing projects.
"Once they get these projects done, what's next for them?" Khaligian said. "It's nice that we're bringing in new players. Who knows where that might lead."
Get local news delivered to your inbox!
Subscribe to our Daily Headlines newsletter.