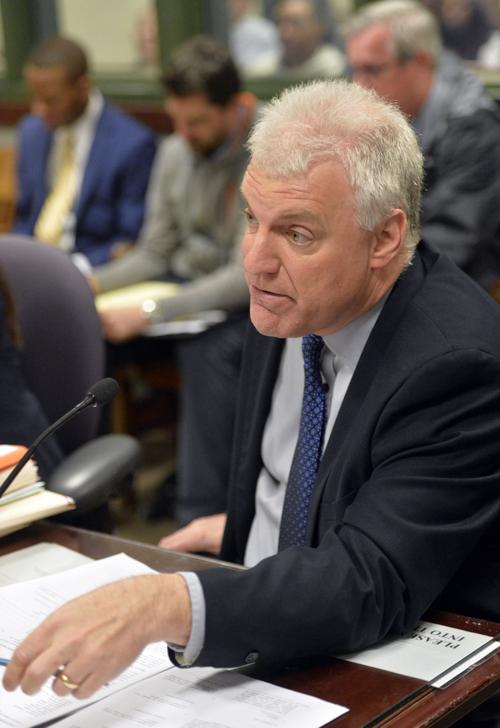 Michael Graveley seems as comfortable in front of a jury as a man talking to friends in his living room.
A big man with a booming voice, at trial Graveley comes across as highly prepared but unrehearsed, his closing arguments conversational, tuned in as much to jurors' emotions as to the finer legal points of the case. He is, local attorneys say, in his element in the courtroom.
Now Graveley finds himself in a far less comfortable environment. A career prosecutor with nearly three decades of experience in Kenosha County, he is suddenly in charge of several of the most-watched cases in the United States and facing a storm of political pressure.
Graveley will be charged with making the decision of whether to criminally charge the officer who shot Jacob Blake. That shooting is currently under investigation by the Wisconsin Department of Justice, which will in the coming weeks turn over the results to Graveley to make a decision on charges.
Graveley's office also made the decision to bring homicide charges against 17-year-old Kyle Rittenhouse of Antioch, Ill. for shooting three protesters, killing two. Rittenhouse has since been held up as a hero by some gun rights advocates, while some on the left see the killings as an example of the danger of the rise of far-right militias.
And Graveley was already the focus of anger over the prosecution of Chrystul Kizer, who as a 17-year-old shot and killed a man under investigation for sex trafficking her and other underage girls. The Kizer case has drawn international attention, with more than 1.4 million people signing an online petition demanding charges against her be dropped.
In all three of those cases Graveley and his office have been flooded with phone calls, emails, protests, petitions and online campaigns by people from around the country and the world, all with strong opinions on whether the cases should be prosecuted. Protesters have even turned up at a class Graveley teaches at the University of Wisconsin-Parkside.
"These are difficult days," Graveley said. "You will come to work and there will be dozens of emails. Half will be demanding you take one action on a case. Half will be demanding you take another. Most will be abusive in tone. Many will have dramatic inaccuracies based on what you know about the case."
First elected DA in 2016
Graveley was elected as Kenosha County District Attorney in 2016, running unopposed to replace the retiring Bob Zapf. Prior to his election, Graveley had been deputy district attorney for 10 years.
He came to Kenosha as an assistant district attorney in 1989. With the exception of about five years practicing elsewhere, he has been a prosecutor here ever since. He spent several years specializing in handling sexual assault cases and about a decade focusing on gun crime prosecutions.
Unlike larger cities where the district attorney may be acting in a largely supervisory role, Graveley, like his predecessors in the office, has continued to be active in the courtroom. He has handled most of the high-profile homicide prosecutions in the office in recent years, including the Kizer case.
"Mike is the consummate trial attorney prosecutor, he lives for trial advocacy, he lives to try cases," said Dick Ginkowski, a retired prosecutor who worked with Graveley in the Kenosha office for many years. "He is in his element in front of a jury."
Ginkowski said Graveley also acted as a mentor to younger attorneys, spending time each Friday helping them go over cases or work on trial strategy.
"Mike is a guy who knows exactly what is needed to try a case and he will be quick to identify whether there is sufficient evidence or not," Ginkowski said.
Local defense attorneys described Graveley as collegial outside the courtroom but very determined and highly competitive when prosecuting a case. He was universally described as a strong, effective litigator driven by a desire to win.
"If I was going to give advice to an out-of-town attorney I would say you should be prepared to face a skilled trial lawyer," one former defense attorney said.
Outside of court, local attorneys said, Graveley is politically savvy and carefully considers public opinion in the way he presents himself.
Involved in criminal justice reforms
Graveley has been involved in criminal justice reform issues, including helping found the Kenosha Unity Coalition, which aims to use a public health approach to address violence in the community. He has promoted treatment courts, jobs programs for people after incarceration, and pardons for some people his office has prosecuted after they have served time and been successful in the community.
"When I became the DA I really committed myself to having a lot of complicated and rewarding conversations about the criminal justice system and racial justice," Graveley said. "I have really valued that and had a number of those conversations. I've spent a lot of time and effort on that."
Graveley said the current political climate and the polarizing influence of social media have made those kinds of conversation difficult.
He is careful to say that the difficulties of his office being the focus of anger and directed public campaigns seem a small problem when compared to those who have suffered losses or injury to family members, or losses of livelihood because of the unrest in the city or because of the COVID-19 pandemic. But Graveley said he is worried about the impact of the anger focused on his office, both on his staff and on the criminal justice system itself.
"I think in the last year particularly we've experienced dramatic new forces that want to directly confront the criminal justice system. They are powerful forces and they are difficult forces for this office to adjust to in real ways and also in our terms of doing the work in the way we do it," Graveley said.
"We have a social media world where — when thinking about criminal justice and specific cases — the social media world has no patience for deliberate action. It is demanding immediate action. It values emotional appeals over any kind of complete review of the facts — it's almost always the reaction of the heart before the reaction of the head," Graveley said. "And of course we are all vulnerable on social media to biased, selected and incomplete information being presented to us and being impacted by the things we already have for our beliefs."
Graveley said he is worried that the impact of social media could have a corrosive effect on the criminal justice system.
"Is this really the justice system that we want? Do we want a justice system where real decisions in criminal cases are made by just reading incomplete biased information on the internet and then taking some kind of an online poll?" he said.
Public opinion has had impact before
Donald Downs, a professor at the University of Wisconsin Law School, said that while social media may have increased the volume, public opinion has always had an impact on the criminal justice system for both good and ill.
"I think with social media and the organization and mobilization that are becoming more common because of social media, the question of this becoming a concern is real," Downs said. "But you have many cases in history where there has been pressure to prosecute and convict. And there have been, throughout history, political trials."
Downs said there have been many cases throughout America's past where racial prejudice and racial politics had enormous impact on criminal courts, including protecting white people who lynched Black men in the south from prosecution.
He also cited the Scottsboro case, when nine Black teenagers were falsely accused of raping two white women and were twice convicted, as an example of racial bias in public opinion driving prosecution. Those convictions were twice overturned by the U.S. Supreme Court and the public outcry following the convictions had a lasting impact on the future of the legal system.
Downs also cited the Duke Lacrosse case from 2006 in which sexual assault charges were brought against three members of the Lacrosse team in part because of public pressure surrounding the politics of sexual assault and class and racial bias. Those charges were eventually dropped.
In the 1980s and 1990s, Downs said, public panic over child sexual abuse — tinged with hysteria over rumors of satanic ritual abuse — led to more than a dozen prosecutions against day care operators falsely accused of sexually assaulting children. "A lot of innocent people were convicted in those cases," he said.
Downs said political pressure and political movements have also led to important changes for the good in the criminal justice system, including changes in public opinion on women's rights leading to reform in sexual assault and domestic violence law.
"One could argue the same things about when police abuse their power, which is what we are seeing now," Downs said.
Graveley has been adamant that he will not make prosecution decisions based on political pressure. During a press conference on the Blake shooting investigation, he said he will offer no opinion on the case until the completed DOJ investigation is presented to him.
"We're in this world where virtually every email I receive can be defined as you are either for us or you are against us," Graveley said. "The DA's office refuses to take sides in those ways. We are going to take every case and decide it on its facts."
Get local news delivered to your inbox!
Subscribe to our Daily Headlines newsletter.