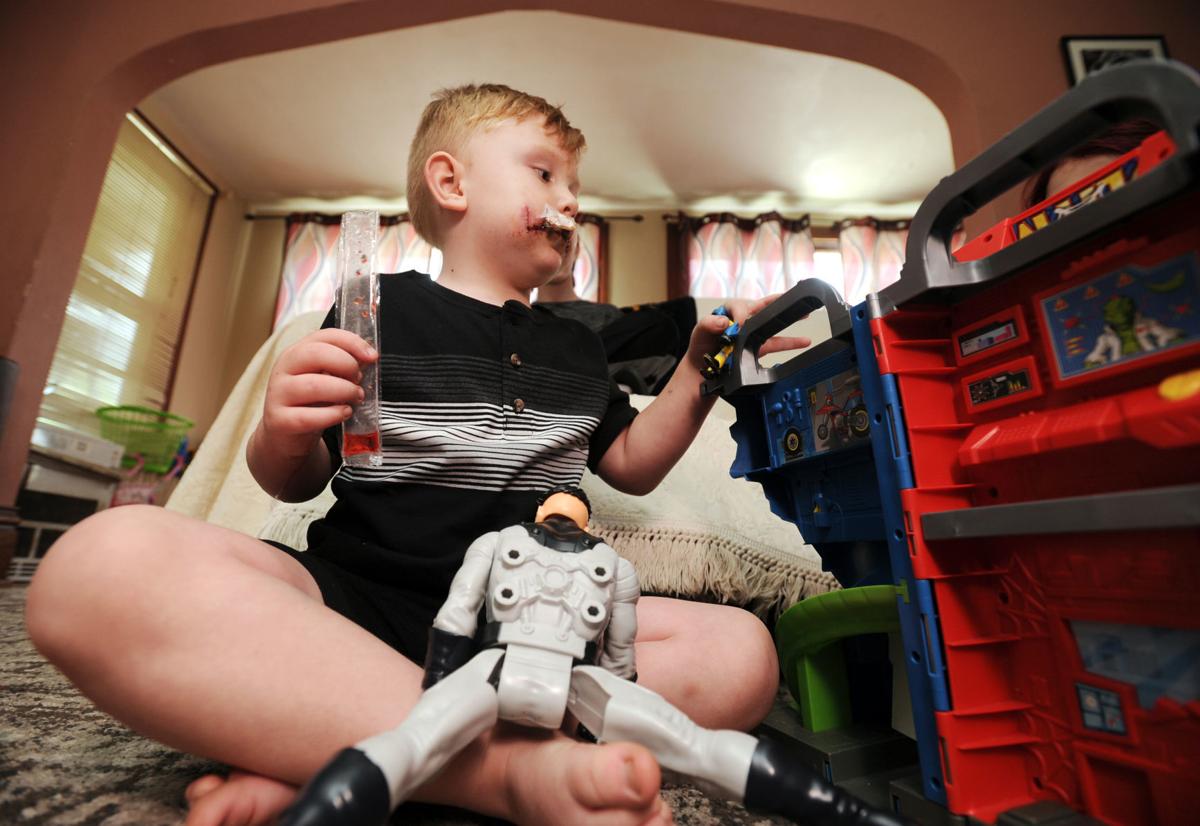 A dog that bit a 4-year-old Kenosha boy Monday has been declared "vicious" by the Kenosha County Division of Health and must be removed from the city within 10 days.
A county employee hand-delivered the notice to the dog's owner Friday. The notice states that "based on the severity of the incident and that the bite was unprovoked, 'Cato' shall be declared a vicious animal" per city ordinance.
Under the order, the dog must be removed from the city within 10 days of the order. If the dog isn't removed from the city the dog "may be impounded and destroyed by the city or its agent at the expense of the owner."
The owner has the right to appeal the decision to the Common Council.
The dog's owner, AnneMarie Achambeault, said she received the notice Friday. She has yet to show proof that the dog, a pit bull, is vaccinated for rabies. She said she told the division of health she would have the dog put into a bite quarantine, but said for now he is staying with another person outside the city.
Asked when she would take the dog to a veterinarian for the quarantine she said, via a social media message, "as soon as I pick him up. Only reason he ever left is I was scared for his life. Wanted him safe till I know he wasn't gonna be killed."
Cato bit a 4-year-old boy Monday while Achambeault and her boyfriend were visiting the boy's family at the boy's home on Seventh Avenue. Achambeault tied the dog to the family's front porch. As the boy walked by to go up the home's stairs he stopped to pet the dog, which bit him in the face. The boy had serious injuries, requiring surgery at Children's Hospital of Wisconsin. According to his father Paul Kiely, his son Colin will need additional plastic surgery to repair the injuries to his face.
After the boy was injured, Achambeault initially responded to the Kielys messages asking for proof the Cato was vaccinated. But after messaging that the dog had his vaccine, she did not follow through with paperwork and for several days Kenosha Police and the Department of Health were unable to reach her. She responded to the Health Department Thursday afternoon after Kiely took his concerns public.
Achambeault took to social media to accuse the 4-year-old of hitting the dog, prompting the bite. But a security video from the home shows the child petting the dog before the bite.
Kiely said he was glad the Department of Health was taking the issue seriously. "He's keeping me in the loop," he said of the department employee working on the case.
Get local news delivered to your inbox!
Subscribe to our Daily Headlines newsletter.