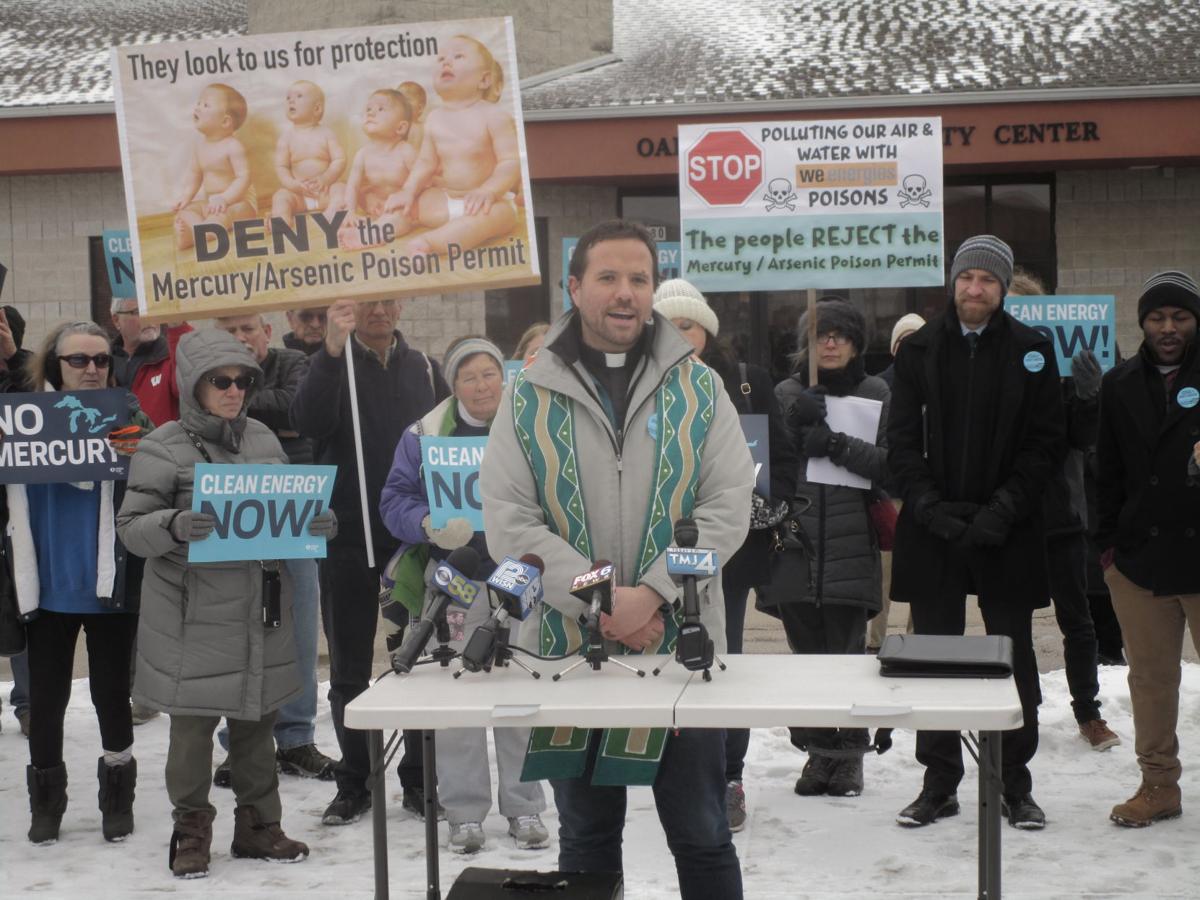 OAK CREEK — When it comes to being a steward of the environment, Kenosha Pastor Jonathan Barker said he feels a higher calling.
Barker, who is on staff at Grace Lutheran Church, was one of multiple concerned southeastern Wisconsin residents, environmental activists and others who filled a meeting room at the Oak Creek Community Center on Monday and weighed in on a permit under review by the state Department of Natural Resources for We Energies' Oak Creek power plant.
Being a responsible steward of the environment, Barker said, is akin to respecting and being considerate to all of God's creation.
"I wonder why we are still using coal when we could be using renewable energy," Barker said in a news conference preceding the DNR public hearing on the utility provider's planned variances at its Oak Creek facility.
While We Energies' coal-fired power plant in Pleasant Prairie has ceased operations, the Oak Creek facility continues and has been the source of ongoing controversy — particularly for residents in southern Milwaukee County and northern Racine County.
In the past year, residents and activists have taken aim at We Energies for stray coal ash derived from the plant landing on adjacent properties.
More recently, concerns from groups such as the Clean Power Coalition of Southeastern Wisconsin have decried an amended permit on file with the state DNR pertaining to operations at the Oak Creek plant.
Among the top concerns, according to opponents, is a variance to dump higher levels of arsenic and mercury into the wastewater it discharges into Lake Michigan.
If approved, the sought-after variance would give We Energies the authority to discharge arsenic and mercury at higher than currently permissible limits — at least on a temporary basis.
We Energies officials have been seeking the amendment so it can continue operating the Oak Creek plant as normal while finding the source of already-reported elevated levels of arsenic and mercury and remedying the matter long term.
But the latest permit surrounding the plant has given fuel to Barker and other opponents who simply want the utility provider to allocate the funds necessary to switch out coal for renewable energy.
There was a standing-room-only crowd of people attending the DNR hearing Monday afternoon.
Jason Knutson, wastewater section chief with the DNR, told attendees his department is carefully reviewing the application and will be taking a variety of criteria — including public testimony — into account before a final decision is rendered.
"These are not just permits to discharge as much arsenic and mercury as you'd like," Knutson said.
A number of the speakers at the hearing said they lived within several miles of the Oak Creek plant. Caledonia resident Frank Michna, whose family has operated a farm in the area for 150 years, has spoken frequently of his opposition.
"I thought it was a joke — I honestly thought it was a joke," Michna said when he first learned of We Energies' application for an amended permit. "We've got to get the word out that renewable energy is the only way."
Carl Lindner, a University of Wisconsin-Parkside English professor and Racine resident, said people concerned about the application need to come together and continue sharing their concerns, particularly to We Energies executives.
"When you're engaged in battle, it is important to know who your enemy is," Lindner said. "The DNR is not our enemy — We Energies is."
Knutson said the DNR will continue taking public comment through next Monday, Feb. 18. Comments can be sent directly to him at jason.knutson@wisconsin.gov.