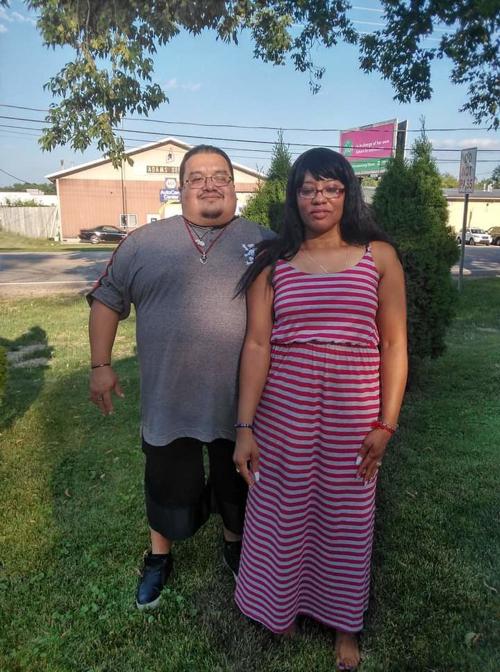 Friends and family devastated by the murders of Latrice Meyers-Medrano and her husband Jesus "Jesse" Medrano, Jr. are trying to raise money to pay for the couple's funerals and to provide for the children left behind.
The couple was killed Wednesday, allegedly stabbed and slashed to death by Medrano's son Jesus Medrano III after Medrano Jr. walked in on his son attempting to sexually assault a child in their home. Four children who lived in the home -- three that were the couples' children, one a grandchild -- were witnesses in the attack.
Medrano III was charged Friday with two counts of first degree intentional homicide, attempted first degree sexual assault and child abuse. He is being held on $2.5 million bond.
Lina Martinez of Somers was a friend of the family, her daughter-in-law is Latrice's sister. Martinez, who has worked for 10 years with as an advocate with Women and Children's Horizons, has also been helping family members navigate the aftermath of the couple's deaths.
"My heart goes out to the children, I'm so heartbroken," Martinez said, saying the extended family is trying to do everything they can to help the children -- aged 15, 14, 10 and 6 -- navigate the aftermath of the tragedy at their home.
She said money raised by her fundraiser will go toward the couple's funeral expenses and to provide for the kids, who had to leave many of their possessions behind. Martinez said she went with family into the home to try to gather what they could, but said the scene was so bloody that they could not salvage many of their things.
The family did not have many financial resources, she said, saying Medrano, Jr, 49, had been disabled and unable to work recently.
The couple were married for 10 years, together for 13. Martinez said.
She knew Meyers-Medrano well, and described the 36-year-old woman as a "very giving, very loving" person who used to work in the office at Bradford High School.
"Latrice was very big on volunteering and helping in any way she could. She volunteered at the Boys and Girls' Club, the Shalom Center, and the Humane Society" and many other organizations, she said.
Martinez said family was at the center of Meyers-Medrano's life. "She loved her kids, her kids were her life," she said.
Another family friend, Christina Hartog, who is also organizing an online fundraiser, called Meyers-Medrano a "very kind hearted, sweet person."
A fundraiser organized by Medrano Jr's family describes him as a loving father and husband. "With his last breath he tried to save and protect the most important things in his life, his children and grandchild," they state.
Forward Latino Inc. in Kenosha is also holding an online fundraiser. According to the organization, the money raised will go toward funeral expenses, stipends for clothing and school supplies for the children, and the cost of "long-term wellness care services."
Yolanda Santos Adams, who is organizing the Forward Latino fundraiser, said she knows both families and has known Latrice since she was a little girl. She hopes some of the money she raises can go toward counseling for the children
"Anyone who can jump in there to donate, this family is going to need a lot of help," she said.
IN PHOTOS: The first big snow of the year
According to Jake Hoey, who runs the popular Jake's Kenosha Area Weather page on Facebook, it looks like the Kenosha area saw 2 to 4 inches of snow east of I-94 overnight Tuesday, with the lowest amounts near Lake Michigan.
"West of the interstate was more like 4 to 6 inches, but the max I've actually seen reported in the county proper is about 5 inches in Twin Lakes," Hoey said. "Still, Lake Geneva reported 6.5 inches, so I feel comfortable saying 4 to 6 inches west of the interstate in Kenosha County."