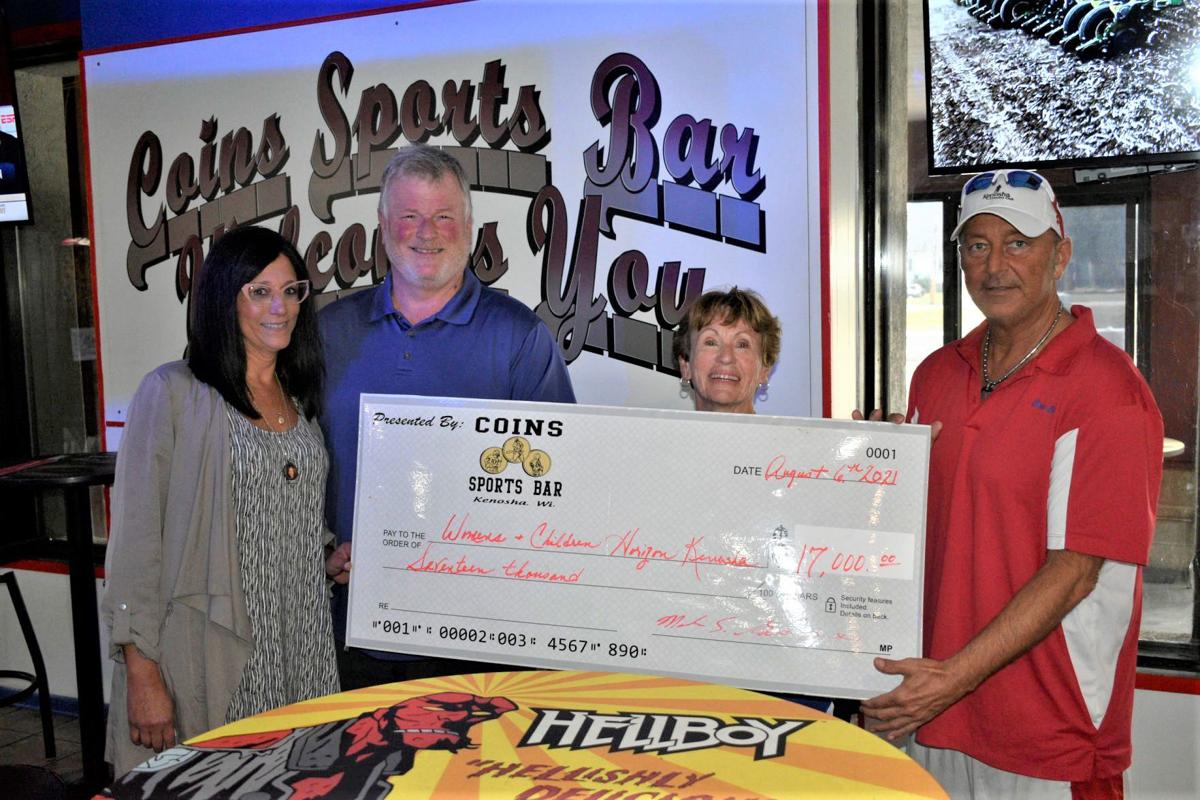 When it comes to funding to help out a cause, there's never enough to go around for many organizations.
And that means just the basics are oftentimes covered, until someone comes along with a well-timed donation — for the Women and Children's Horizons Inc. in Kenosha, last week was one such time.
Thanks to a donation of $17,000, a combination of funds raised on behalf of Bianca Vite, who was 21 years old when she was murdered by a domestic violence abuser in 2012, the organization will receive a much-needed shot in the arm.
The funds, raised last October at an event at Coins Sports Bar, 1714 52nd St., Kenosha, were turned over by Vite's mother, Lisa Fuller-Cox, and her stepfather, Timothy Cox, at a presentation earlier this month.
Sandy Riese, a board member with Women and Children's Horizons, accepted the donation on behalf of the domestic and sexual violence victim advocacy organization.
"We try to cover day-to-day costs, but to do extra things that need to be done to the properties and to help our clients, this is really a marvelous gift for us. We're really happy to receive that."
Riese said Bianca's story and the turmoil it has caused among her family and friends certainly isn't lost in the donation.
"This is a family that has experienced (domestic violence) and has been affected by it," she said. "I think it's a wonderful way they are honoring their daughter in the memory of their daughter and helping reduce domestic violence."
Huge support system
The support from far and wide since the day of Bianca's murder and through a number of fundraisers in her honor has been overwhelming, Timothy Cox said.
"It is incredible to see the people come out," he said. "And not just in Kenosha ... just people from all over. We had somebody from England reach out after it had originally happened just to share their sympathy and understanding."
The quest to keep the spotlight on domestic violence is something Bianca's family will never give up, her mother and stepfather said, as that message is vitally important to try and prevent more tragedies.
And while it warms her heart to help out with donations such as this one, that doesn't mean Fuller-Cox ever will find true closure, she said.
"I would say that the reward of doing these fundraisers and supporting Women and Children's Horizons, giving the support and the love back to these women and children who are abused heals my heart, but my heart will never heal," Fuller-Cox said. "Every day is a struggle. ... And it's for the rest of your life. Every day, it's the rest of your life. It never gets better."
Mark Gascoigne, one of the owners of Coins, said he and his staff take great pride in putting on a number of fundraisers every year.