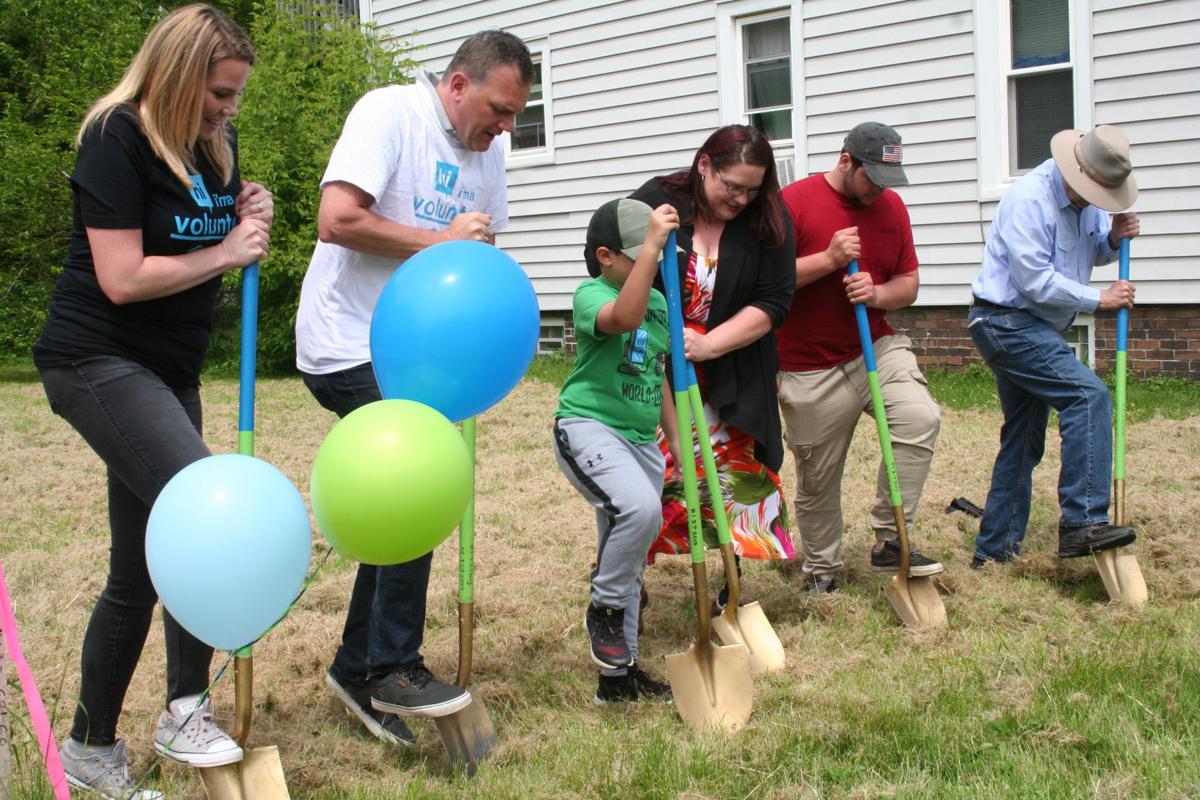 The groundbreaking ceremony held Sunday for a new Habitat for Humanity house being built soon in Kenosha was more than just a sign of many good things to come for Racine resident Sasha Torres.
"This is beyond life-changing," said the 36-year-old mother of two and prospective home owner. "They're making it handicap accessible, so this will be a home that can grow old with me."
The planned single-story ranch at 2018 45th Street will have two bedrooms, a master suite and a full basement, plus a garage. It'll be easier, Torres said, since she now lives on an upper floor. The home will also have handicap ramps in both the front and back, along with stairs, to accommodate Torres, who had a leg amputated three years ago as result of a bone infection and complications stemming from Kohler disease. She's overcome opioid addiction stemming from her surgery, and also lost an eye at age 13 in relation to the genetic disease.
Torres said being interviewed and then chosen by Habitat for the house is but one of the good things that have happened to her recently as she moves forward with her life. She began working at Piggly Wiggly last October thanks to her new best friend, Natasha Kluck, whom she met while attending Gateway Technical College. Torres also just graduated from Gateway with a certification in alcohol and drug counseling.
"We found out we had so much in common," said Kluck, who was studying in the same field and often helped Torres get to school. "I'm surprised we didn't meet sooner. I'm so proud of her."
That sentiment was shared by many of the friends and family who came out for the dedication. Torres' mother, Beth Rankin, of Beach Park, Ill., called it a wonderful gift.
"I'm very excited," Rankin said. "She's been through a lot. We've been through a lot. I'm really happy for her."
Though he'll be spending the summer at a friend's farm in Tennessee, Torres's older son, Max, 17, also thought it was great. "I think it's really nice for my mom," he said. After he graduates in January from Horlick High School in Racine, he plans to go into the Navy to pursue becoming an electrician.
Younger brother Jayden, 9, is a bit more excited. He'll have his own room and already has the décor picked out. "I want it half Fortnite and half emojis," he said.
Both state Sen. Bob Wirch and state Rep. Tod Ohnstad also wished Torres well and were glad to see a great new addition coming to the neighborhood. Wirch said he grew up near there, and the neighborhood is also part of Ohnstad's constituency.
As the main private sponsor of the house, Journey Church pastor the Rev. Bob Griffith said they were glad to see something so positive happening to one of their members. This is the first house the church has sponsored.
"This is the beginning of something new," Griffith said. "It symbolizes change. What we're building is full of hope."
Once the plans are finalized by the city, Habitat Construction Site Manager Dennis Carson, who also attends Journey Church, expects the groundbreaking to begin and the foundation to be in by the end of June. The 1,700-square-foot house is expected to be mostly completed by at least October.
Habitat for Humanity Director Angela Elliott said volunteer sign-ups should be open by July 1. They especially need skilled volunteers in plumbing, electrical, drywall and other trades to help lead the volunteer teams. See the group's website, www.habitatkenosha.org, and Facebook page, www.facebook.com/HabitatKenosha/, to sign up.
Get local news delivered to your inbox!
Subscribe to our Daily Headlines newsletter.