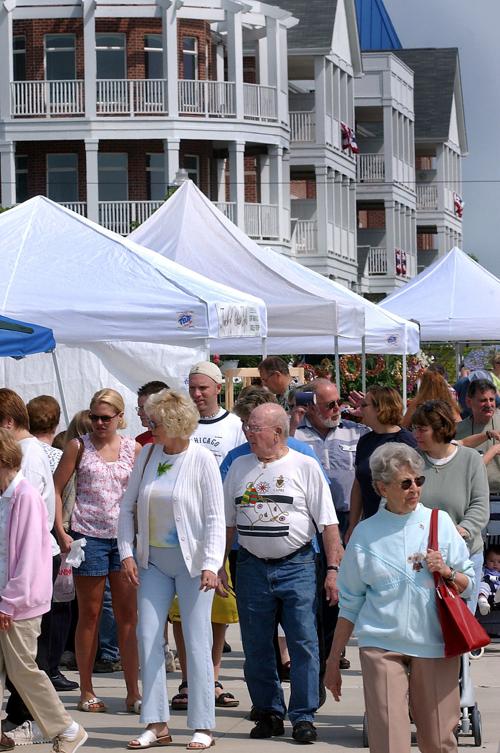 What makes Ray Forgianni happy? Seeing other people being happy.
And Forgianni has been happy for the most part of the past 15 years as he has seen his vision — Kenosha's HarborMarket — flourish.
"There's something that happens at farmers' markets, the social interaction, that makes people happy," he said. "Even if they don't spend money, they can come here and be happy for a few hours."
Forgianni tells the story of a friend who visited the market and confronted Forgianni.
"'I was supposed to be here 20 minutes,'" Forgianni remembers the friend saying. "'I've been here for three hours.'"
"Once you get engaged, it's hard to leave. We think that's good that people can relax, zen a little and enjoy themselves."
Inspired by France
Forgianni, founder and president of the market, came up with the idea of opening an outdoor market in Kenosha after a trip to Europe and seeing markets in France.
"I fell in love with it," he said. "I said, 'I want this in my front yard.'"
Back in Kenosha, Forgianni put the wheels in motion to make it happen. At the time, he was city planner for Kenosha and bent Mayor John Antaramian's ear about his vision.
From there, an exploratory committee was formed and a proposal was put together.
"We did it in a very short time period — a matter of months," Forgianni said.
It was 2003 when the market — then known as Harbor MarketPlace — opened in HarborPark with 18 vendors.
"We were fortunate. We could have had three. Or none," Forgianni said. "But we attracted enough people, and everyone had fun, that it wasn't long until we doubled in size."
Today, the market attracts some 300 vendors over the course of a summer, Forgianni said.
Some vendors — Sandy's Poppers, Ambrosia, Little Europa and Elsie Mae's — have been with the market from the beginning.
Meanwhile, others come and go. Some use the market as a springboard, and now have their own permanent, storefront businesses.
As the market has grown, it also diversified to include music, demonstrations and a range of vendors.
"Once you have some success, you can take some risks," Forgianni said. "We've developed more activities, and we try to do some things that are surprises. We've done that gradually."
Forgianni admits "borrowing" ideas from other markets, even the legendary Maxwell Street market in Chicago, which he remembers visiting as a teenager.
Bumps along the way
There have been a few bumps for the market.
In 2012, HarborPark resident Joseph Brittelli sued the market, seeking to remove it from Second Avenue, saying the market was established there with no acknowledgement of residents inconvenienced by it.
He also questioned the market's relationship with the city. The market was under city auspices until becoming independent in 2007 and reorganized under the umbrella Kenosha Common Markets.
Brittelli alleged that the market was given favorable treatment from the city when it came to permits and fees as well as the use of city services.
In the middle of its second day, the trial was halted as both sides agreed to mediation.
"I think it was an attempt to embarrass us," Forgianni said of the suit, noting that the trial and numerous public hearings brought out dozens of market supporters.
In the end, the City Council passed an ordinance clarifying rules by which organizations can request the closure of city streets for events. That allowed the market to remain on Second Avenue.
The other bump was allowing dogs in the market.
Market officials went back and forth on the matter until last year when a visitor was bitten. Now, dogs must remain in the grassy areas and not on the asphalt where the booths sit.
"We think that was the right thing to do — for the people and the dogs as well," he said.
'Idyllic setting'
When asked to pinpoint the reason for HarborMarket's success, Forgianni said it was a number of factors.
"Part of it was we had an idyllic setting for a farmers' market," he said. "In addition, there was a void.
"We also had some really good people with good vision who were willing to work hard."
The timing was good as well.
"We were on the front end of the wave of people looking for better food, better nutrition," he said. "So many markets have opened since we did; we have a leg up because we're established now."
The future
So what does the future hold?
"We would expect it to continue, to make sure it's fun, to expand and to work on the concept of a public market," Forgianni said.
Though a winter market was established indoors at the Rhode Center for the Arts in 2008, Forgianni would like to see a bigger, permanent indoor market.
"We've had some analysis done, but it's a big undertaking," he said.
Meanwhile, he said the market will continue to see vendors pursuing innovative farming methods that will lengthen the seasons for fresh food.
"We've developed a reputation for quantity and quality," he said.
Get local news delivered to your inbox!
Subscribe to our Daily Headlines newsletter.