IN PHOTOS: A day at the beaches in Kenosha
An 80-plus degree Memorial weekend Sunday brought folks to Kenosha's beaches and parks. Do you have photos of the beach today? You can add them to this gallery by sending them to vop@kenoshanews.com or sending in a Facebook message to the Kenosha News.
Beach time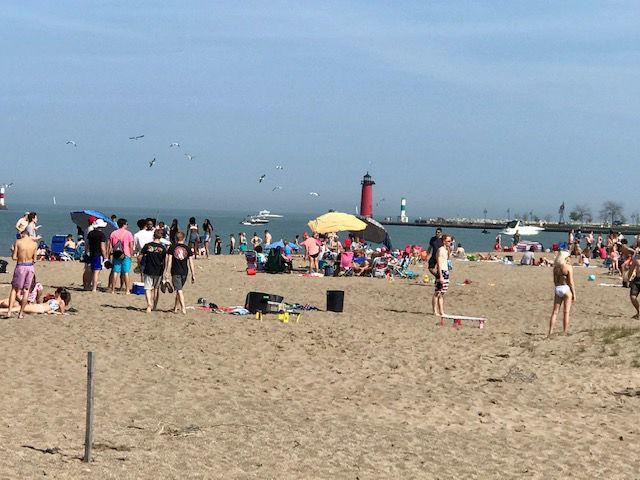 Beach time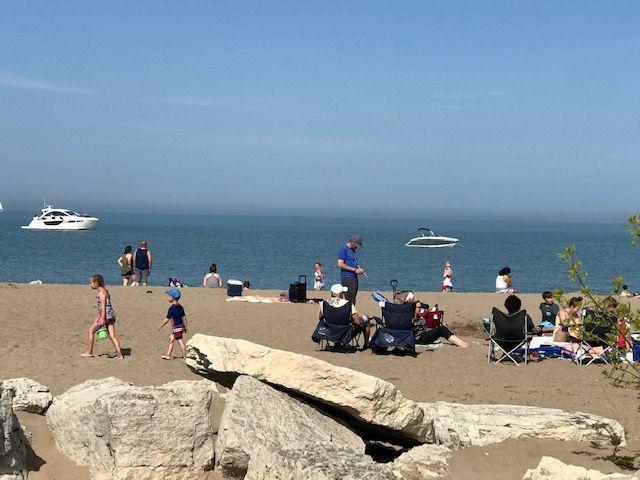 Beach time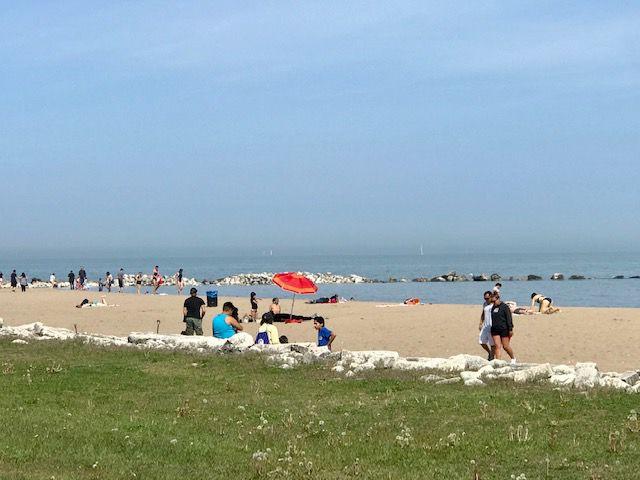 Beach time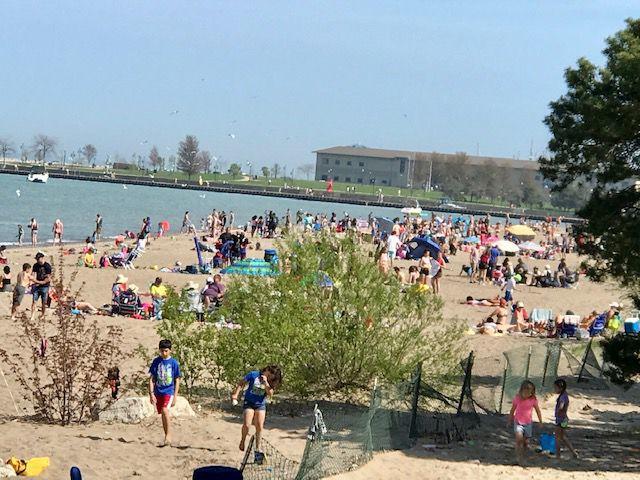 Beach time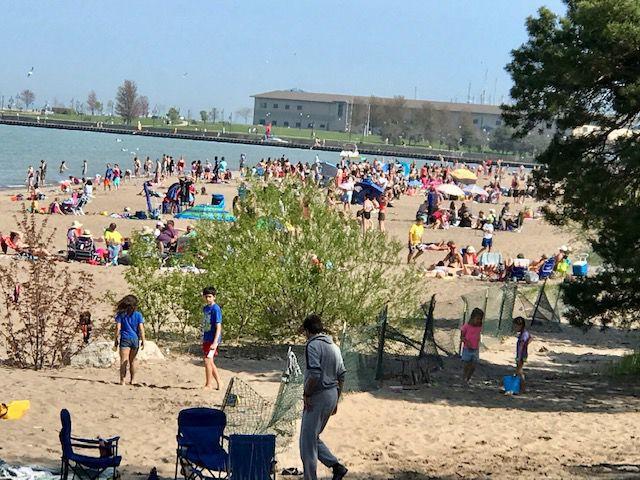 Beach time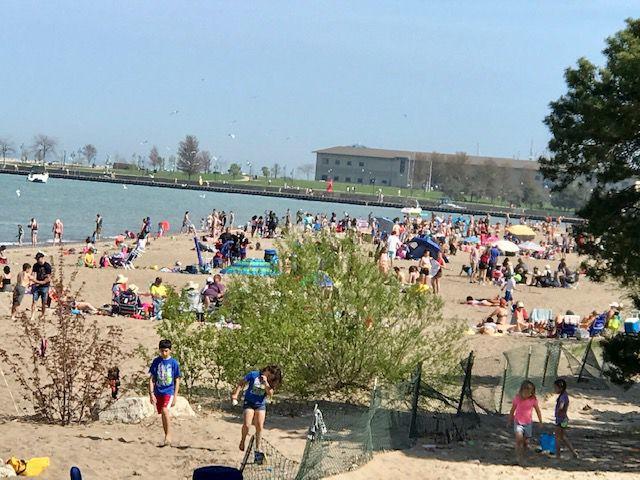 Beach time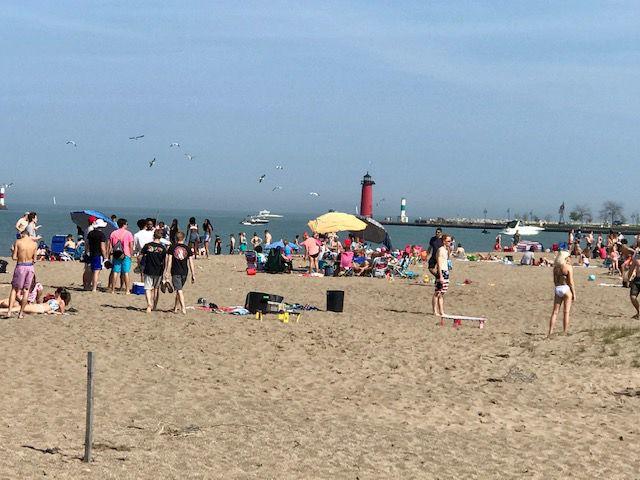 Beach volleyball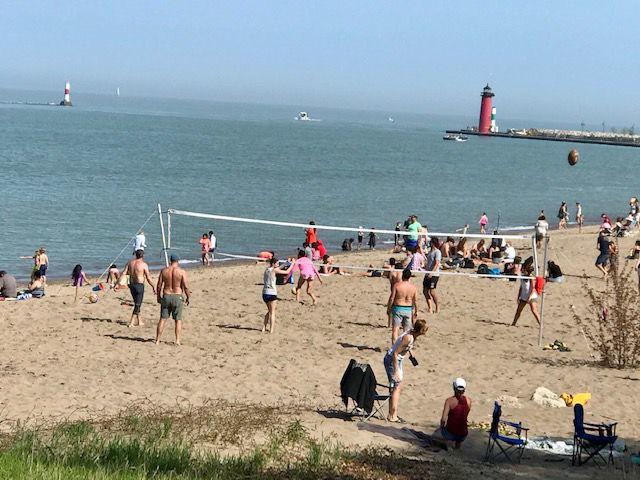 So calm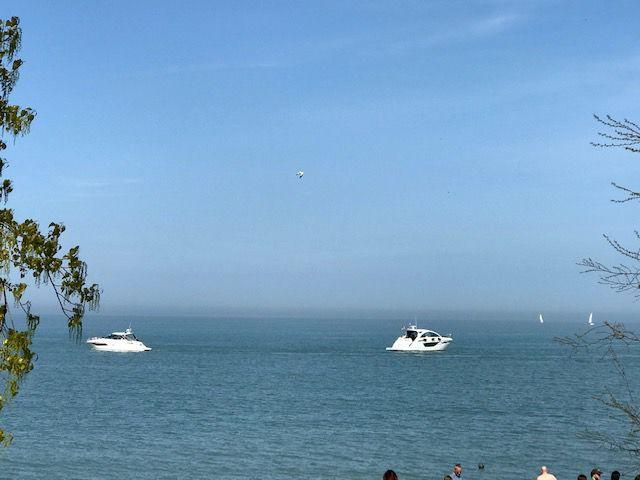 On the way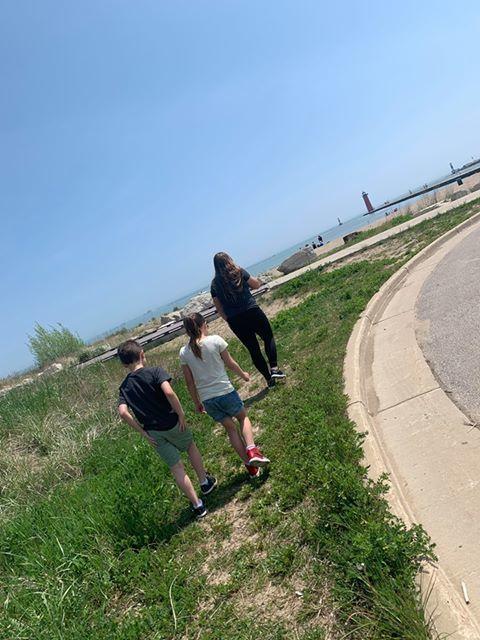 Nothing but sand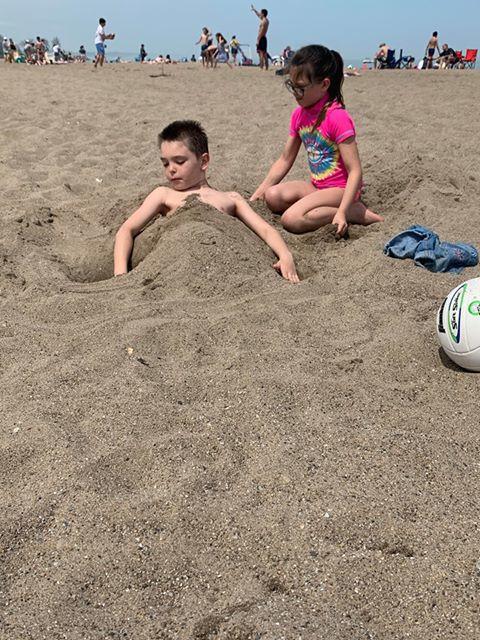 Not so crowded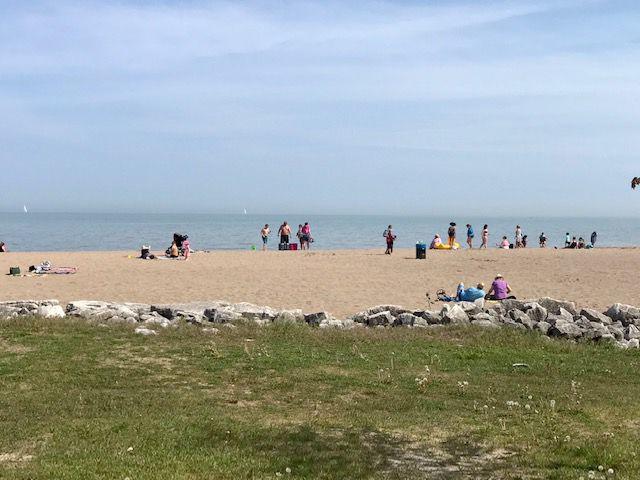 Beach time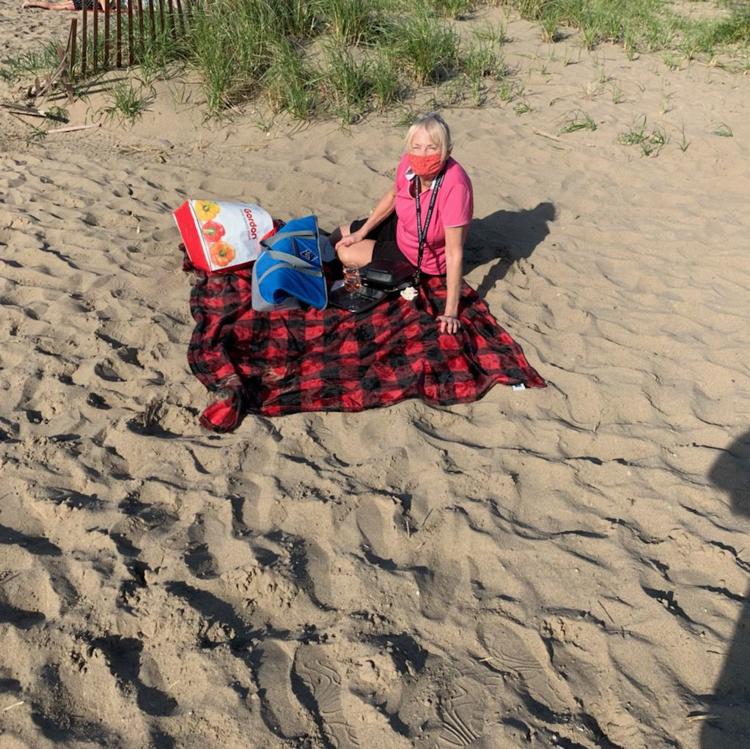 Beach time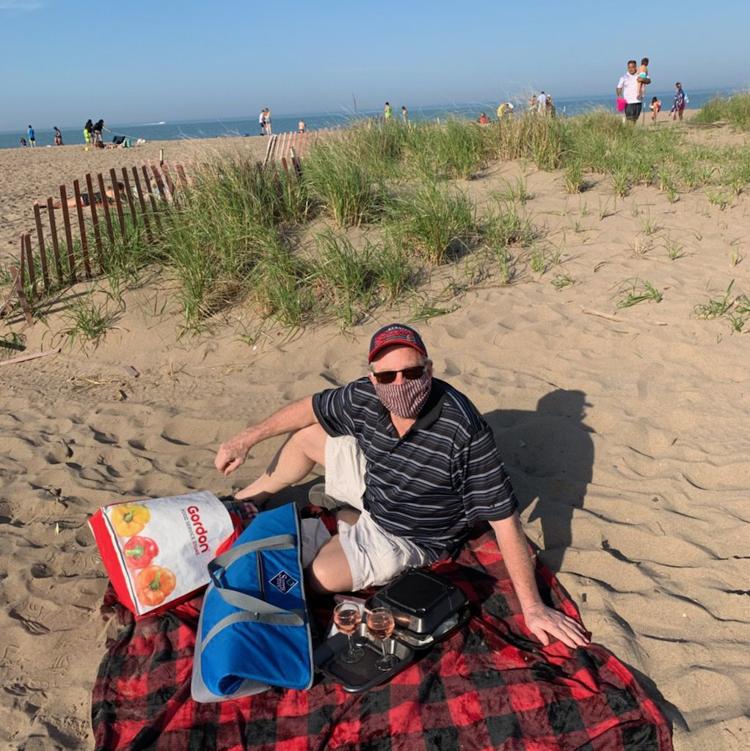 Liam Groetsema making a sand angel.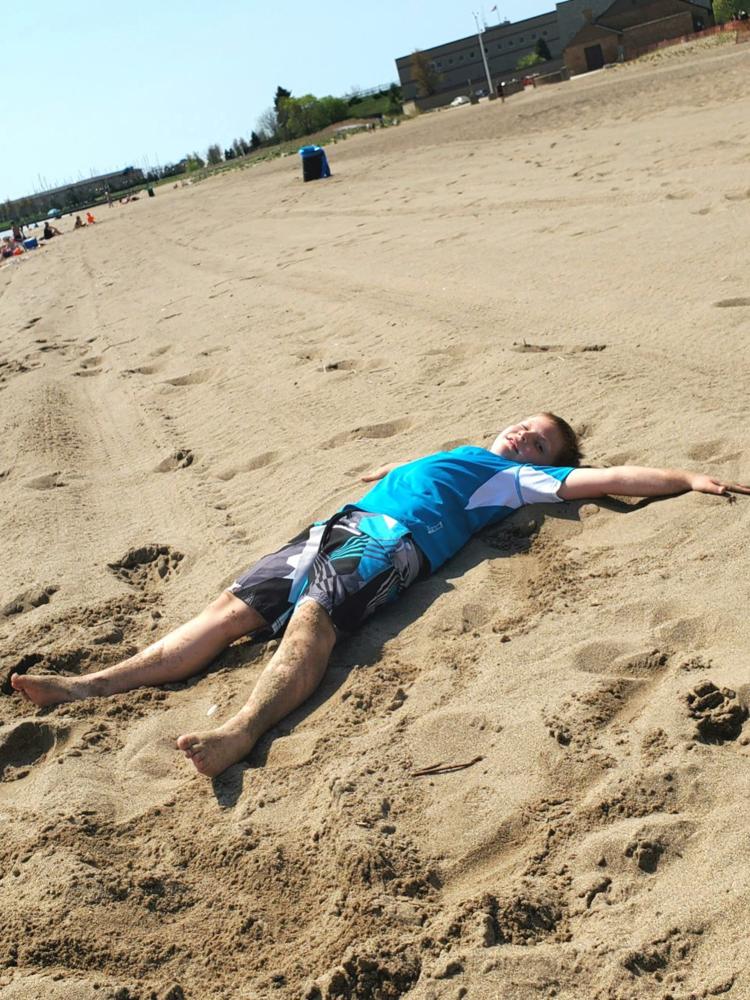 Beach day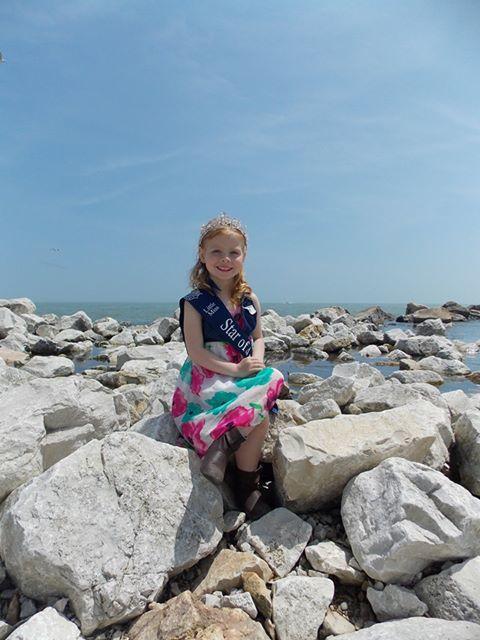 Beach time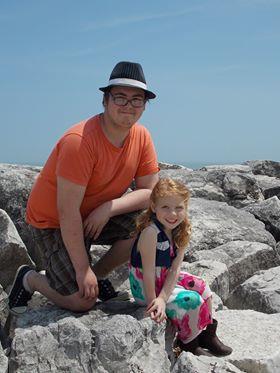 Day at the beach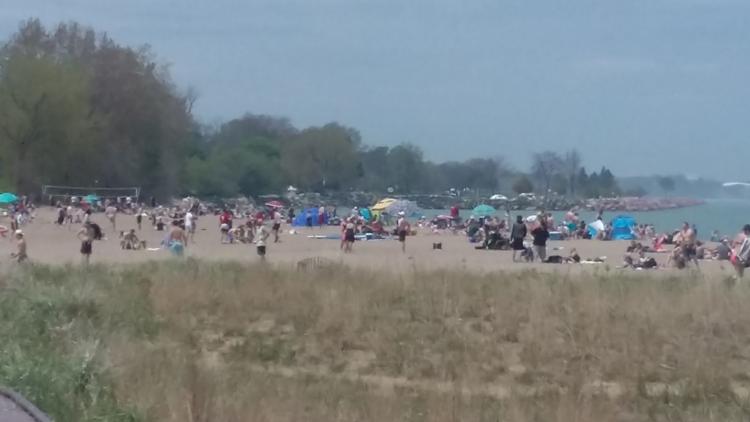 Sunday distance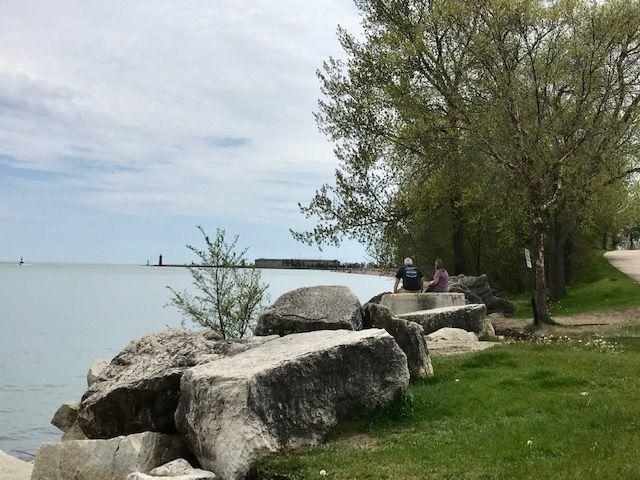 Sunday early afternoon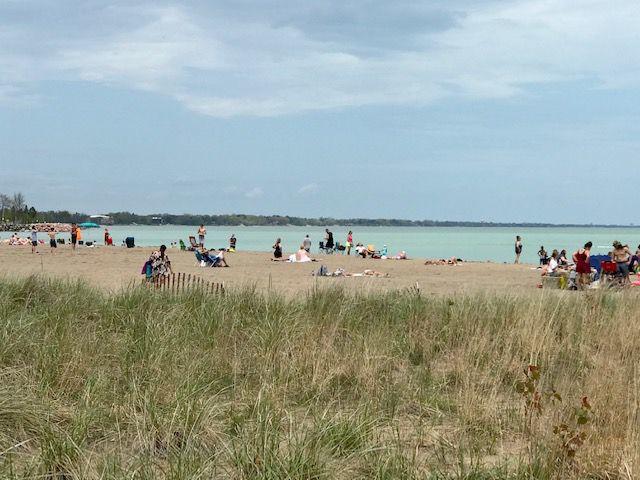 Related to this collection
Despite the threat of rain, and even a short sprinkle, a hearty crowd filled Library Park on Monday afternoon.
The Burlington High School wrestling program is reeling from another tragedy.
Kenosha police continue following leads in the disappearance of a city man who was last seen 10 days ago.
There are now more than 1,000 positive cases of COVID-19 in Kenosha County, according to data updated Tuesday following the long holiday weekend.
Here's a look at how area members of Congress voted last week. The House and Senate are in recess this week.
LAKE GENEVA — Parking a car in downtown Lake Geneva has become a whole new experience.
A 48-year-old Kenosha man was charged Tuesday with two felony counts relating to a burglary of tools from the Wood Creek Apartments.
Michelle Vernezze, 43, a nurse from Bristol, is fighting for her life at a Kenosha hospital after testing positive for COVID-19 May 4.
Two people were injured in separate shootings in Kenosha Tuesday night and Wednesday morning.
More than $5.4 million was allocated to Kenosha County municipalities and the county government Wednesday as part of the Routes to Recovery: L…
The original opening day has come and gone for the Northwoods League, but with a "pod" scheduling format planned to start June 15 for the fran…
Seven food and beverage servers at several unnamed establishments in Kenosha County have tested positive for COVID-19, the county's health off…
Several new ​community COVID-19 testing sites will open in Kenosha County this week, health director Jen Freiheit said during her weekly publi…
The City of Kenosha Park Department announced Thursday that some park amenities will open beginning June 1, and it reminds patrons to follow s…
The Lake Geneva Cruise Line has been carrying passengers on narrated tours of Geneva Lake for several decades.
After just a year on the job, Kenosha City Administrator Randy Hernandez will leave his post next month.
Country Thunder is set to arrive in Twin Lakes from July 16-19, but a new post on its web page offers an update on what is under consideration.
A decision on whether to bring a second large-scale Saturday farmers market to Kenosha this summer will wait at least two weeks, based on a co…
Nine criminal charges were filed Thursday afternoon in Kenosha County Circuit Court against a 40-year-old Kenosha man who was arrested Wednesd…
The residential household hazardous waste collection event will resume on June 6 at the Kenosha Water Utility, 4401 Green Bay Road.
Parents: Dave and Kris Klimisch of Pleasant Prairie
Two Kenosha men face criminal charges for their roles in separate shooting incidents Wednesday.
YORKVILLE — A 57-year-old Illinois man is facing multiple felony and misdemeanor charges after allegedly being caught driving under the influe…
We believe that to ensure the health of our community, that people need to remain vigilant and not go about business as usual.
After working Memorial weekend at one of the opened stores after the pandemic shutdown, it was amazing how some people are caring and cautious…
Kenosha County's Silver Lake Park Beach is open for the season as of today — Saturday, May 30 — with a capacity limit in place to promote appr…
The Kenosha County Division of Health on Saturday identified the seven establishments that it earlier reported have positive cases of COVID-19.
Three years from now, May 2020 will likely be remembered for the end of stay-at-home orders in Wisconsin and most other states, the reopening …
Called a peaceful demonstration, about 100 people gathered in downtown Kenosha starting at noon Sunday to protest in the wake of the death of …
On Saturday, Coins Sports Bar, 1714 52nd St., hosted a blood drive at the business in partnership with Versiti Blood Center of Wisconsin to sh…
A shots fired call at the Citgo Gas Station in Kenosha last week led a felony charge filed Friday against a 22-year-old Kenosha man.
In the final installment of the Kenosha County Joint Information Center's COVID-19 FAQ series, Kenosha County Division of Health Communicable …
Kenosha police were investigating an incident in which a woman went into Lake Michigan at Eichelman Park and was discovered unresponsive, but …
The first drive-through COVID-19 public testing site west of Interstate 94 in Kenosha County opened at Westosha-Central High School Monday, av…
Tour of America's Dairyland (ToAD) has canceled the June bike racing series for this year over continuing coronavirus concerns. The tour is ex…
A woman was taken to a local hospital Tuesday night after she apparently drove her vehicle into a city dump truck parked at the intersection o…
City Council is considering a program that would allow restaurants to temporarily expand seating outdoors to accommodate a greater number of p…
What's that old saying? "Give the people what they want."
Another week, another list of summer events being canceled.
Kenosha restaurants, like others throughout Wisconsin, were shut down for weeks by a state order and have been coming back slowly with social …
Thanks as always to everyone who sent in suggestions for this year's Liz's Book Club.
It's Best Friends Day, so put down this newspaper for a moment and hug your dog. We kid! Your best friend might be your cat, or your gerbil or…
Five local high school seniors were awarded a total of $10,000 in scholarships by the Foundation of the Kiwanis Club of Western Kenosha at its…
The Kenosha Community Foundation has announced seven Kenosha County high school seniors are 2020 recipients of the Herman and Virginia Gundlac…
Longtime Kenosha Alderman Patrick Juliana is resigning effective July 1.
The Kenosha AFL-CIO Council announced today that the annual Kenosha Laborfest celebration is being cancelled due to COVID-19.
Dollar General abruptly withdrew its plans Wednesday to build on Highway 50 in Bristol – just days after a rezoning request was approved by th…
Kenosha police and fire and rescue responded to a shooting victim at 41st Avenue and 89th Street Wednesday night.
To say Rena Lee's first months at the Anderson Arts Center have been eventful is quite an understatement.
"Social Distancing Concert" seems to be the new thing, with venues that used to have indoor shows moving those performances outside.
Longtime Kenosha Alderman Patrick Juliana is leaving council just two months after he was re-elected.
The folks at Thompson Strawberry Farm have been welcoming fans to come and pick their own strawberries for more than 50 years.
It's Friday, and we're still observing TGIF despite the ongoing global pandemic. Here's the seventh installment of our long-running series "Go…
A proposed new open-air farmer's market in downtown Kenosha is a step closer to reality, after the city's Public Works Committee approved its …
The Kenosha Police Department will join law enforcement agencies throughout Wisconsin for the annual Click It or Ticket safety belt enforcemen…
Due to the ongoing uncertainty of the COVID-19 outbreak, the difficulty in securing musical acts and the concern for public health and safety,…
The Yard Waste/Brush Drop-Off Site at 4071 88th Ave. now has mulch available for pickup, The hours of operation are 8 a.m. to 6 p.m. Monday th…
Residents of a Kenosha apartment building are crediting 8-year-old Addilyn Holland with helping them safely escape a fire.
UNION GROVE — Community State Bank, a $465 million locally owned-and-operated bank headquartered in Union Grove, recently celebrated the openi…
With so much going on in our lives the past few months, I decided to escape and explore the City of Kenosha parks, perhaps like no one ever ha…
Diane Guzdek has outlived expectations by five decades.
One of the questions I hear most frequently about "This Summer We All Discovered Social Distancing" is, "What happened to the downtown flower …
PLEASANT PRAIRIE — Plans are underway for the village to purchase a former gas station property with eyes on future expansion of The Nature Co…
Baseball is back in Kenosha.
Two Kenosha bars have lost their ability to host live entertainment, following a decision by the City Council. Officials pointed to noise, tra…
An ordinance aimed at striking a balance between COVID-19 precautions and giving local restaurants and bars a fighting financial chance amid t…
PLEASANT PRAIRIE — The Village Hall soon will be reopened for public business.
Kenosha's Tinseltown theater remains closed, but the Marcus Renaissance Cinema on Highway 20 in Racine reopens Friday.
These are tough times to be a not-for-profit organization. The COVID-19 crisis that has affected all businesses has presented unique challenge…
For Lauren Dupey, 29, and Jake Larsen, 30, any day fishing is a good day.
My father was a man of few words. And a lot of those words — especially if the stock market was tanking or the Chicago Bears losing — are not …
PLEASANT PRAIRIE — After a lengthy discussion Monday night, the Plan Commission gave first approvals for new twin houses.
Here's an understatement: Jessica DeBoer likes to keep busy.
The COVID-19 outbreak forced the near-complete halt of the 2020 Census, the national population count which will affect critical funding decis…
Being in, on and around water consistently rank as some of the most popular activities during summer in the United States, and that's certainl…
Coming off stay-at-home orders that kept people inside and businesses closed, the last thing governments should be doing is blocking off the o…
The $176 million sale of Kenosha's iconic Amazon distribution center that provided jobs for thousands over the past three years is being calle…
On Wednesday, the Kenosha Kingfish released safety guidelines for the upcoming 2020 season.
Crews continue work on the construction of a new five-story parking structure east of the city post office on Eighth Avenue between 56th and 5…
The developer planning to restore the Alford Building hopes to bring a housing concept more common in big cities to downtown Kenosha.
BURLINGTON — Kelly and Adam Hansen didn't have any background in business when they opened their first ice cream parlor in western Kenosha Cou…
As the Census Bureau s://2020census.gov/en/news-events/press-kits/covid-19.html">continues to monitor the evolving COVID-19 outbreak, it wi…
While it is with a mixture of gratitude and sadness that the Board of Directors of the Kenosha Community Foundation and I announce the retirem…
Hillcrest School is an alternative school that services annually between 75-120 of the most disengaged, misunderstood, challenged, and traumat…
On the day minor league baseball called off its season, Kenosha got a second team.
The beer is flowing at a former downtown Lake Geneva church that has been transformed into a brewery.
Owners of a longtime wholesale produce firm in Kenosha will be able to move forward with plans to relocate on the former Dairyland Greyhound r…
The Kenosha Kingfish roster will have a local feel this summer.
PLEASANT PRAIRIE — Two proposed subdivisions in the village are headed to the finish line.
In a summer filled with cancellations because of the ongoing pandemic, the Shalom Center and several of its partners found a creative way to p…
Wide-eyed and excited, 7-year-old James Loney looked around the Dinosaur Discovery Museum and exclaimed, "I haven't been here in such a long time!"
The Kenosha History Center, 220 51st Place, is slated to re-open next Tuesday.
WILLIAMS BAY – Boaters on Geneva Lake are seeing an increased police presence, as the Geneva Lake Law Enforcement Agency rolls out "Operation …
Lou Perrine's Gas and Grocery, 5145 Sheridan Rd., in Kenosha, sold a winning $64,000 Badger 5 Lotto ticket for the July 1 drawing, Wisconsin L…
Kenosha's transit system, street car and para-transit services will resume fare collection beginning Aug.1, according to city officials.
Suffice it to say, the summer of 2020 is a summer like no other.
Here's the weird thing about a global pandemic: There's a health crisis going on, but it's still summer.
Patricia Geiger knew right away there was something wrong when her then 3 ½ year old son Jackson started complaining about headaches.
Twice recently I heard the outcry in public forums that Kenosha County needs better substance use disorder (SUD) treatment. You're probably no…
It's mid-July, and at this point in summer, I should be knee-deep in all those outrageous fair foods we rationalize by eating them outside, aw…
During Covid-19, the Shalom Center didn't close our doors. It was not an option for us. We knew that our services were needed even more so, ho…
These are tough times to be a not-for-profit organization. The COVID-19 crises that has affected all businesses, has presented unique challeng…
Wine Knot Bar & Bistro, a downtown Kenosha dining anchor, plans to reopen at the end of the month with expanded outdoor seating to accommo…
Residents and businesses in the area of 56th Street and 11th Avenue in Kenosha are without water this morning as city crews work to repair a w…
Are you a parent or do you know a parent who could use some motivation and support to "up your game" on some of your health related habits?
The owner and developer of a soon-to-open downtown boutique hotel with self-described avant garde restaurant avoided an 11th hour snafu as the…
Sarah Pederson's first thought in hitting the water was a simple one — breathe.
In the blink of an eye late last month, everything changed for Kenosha's Anthony Smalley Sr.
With the rash of event cancellations and postponements, one local Boy Scout is optimistic that his event, a Bedding Drive and 5K Run/Walk, wil…
The Kenosha County Food Bank Inc., in partnership with the United States Department of Agriculture, Gordon Food Service and other local organi…
Kenosha needs to keep our city beautiful again. It's hard to enjoy a nice walk or ride down by the lake when all these cars are parked on the …
Kenoshans, are you enjoying our beautiful, well kept beaches on our Kenosha lakefront? I hope so.
There are a number of safety tips that visitors to Lake Michigan need to continue to follow throughout the summer.
Kenosha is having a hot month with three winning lotto tickets totaling over half a million dollars sold in the city during July.
The Jelly Belly Candy Company, an iconic tourist destination in Pleasant Prairie, is packing up its train, closing the retail outlet store and…
The appalling video of Officer Chauvin kneeling on George Floyd's neck for almost eight minutes is still in many people's minds. Chauvin had 1…
As we head into August, events continue to heat up in this area, even operating under COVID-19 restrictions:
A decision Thursday afternoon by Illinois health officials likely will have a ripple effect in the city of Kenosha.
Kayak fishing may be more than 5,000 years old, but this summer is the first time anyone has started to rent kayaks in the Kenosha harbor.
As we head into the weekend — and the month of August — let's clear some items from my desk:
A call to help a woman in Lake Michigan just outside the Kenosha Marina harbor entrance ended with the woman unharmed Saturday afternoon.
Has it come to anyone's attention that the majority using the beaches in Kenosha are Illinois residents? Drive down to Simmons Island on a wee…
The Kenosha City Council selected a new member to represent the 7th District Monday night.
Fiji arrived on the Picton Castle when it docked in Kenosha last Thursday and she left on the majestic tall ship Monday.
I have never wanted a bubble to hold on for dear life like I want the NBA Bubble to endure.
What to do when the Wisconsin State Fair is canceled?
Illinois and Wisconsin remain on the sidelines as many states engage in travel restrictions 2020, a new bureaucratic exercise sparked by coron…
As we head into mid-August, events continue to heat up in this area, even operating under COVID-19 restrictions:
One of the greatest vocalists you are likely to hear is coming to the outdoor Twilight Jazz concert Tuesday night.
TOWN OF LINN — Illinois residents with second homes in the Lake Geneva region are trying to enroll their children in schools here this fall du…
BRISTOL — Sunflowers and sunshine were the order of the day Saturday at Thompson's Strawberry Farm on Highway 50 in Bristol.
A series of storms that produced pounding rain and high winds caused downed trees, flooding and other damage in multiple locations, especially…
Twilight Jazz is back tonight with its second 2020 concert, featuring vocalist Janet Planet, who has sold records and toured all over the worl…
WHEATLAND — Far fewer people voted in Wheatland on a binding resolution to authorize funding for firehouse construction than voted in a non-bi…
The Third Annual Noggin Fest is Saturday at R'Noggin Brewing Company. There will be live music by seven bands, plus food trucks, new R'Noggin …
Chantal and Lauren McLelland are members of the U.S. Navy who have served postings in the Persian Gulf, the Arctic Circle and island nations i…
WASHINGTON — Three local housing authorities are among the 52 public housing authorities throughout Wisconsin reviving a share of $3.8 million…
Not long ago it was common courtesy to hold the door for a stranger, pick up a dropped item for an elderly shopper or help someone reach for a…
Editor's note: This is part of a series profiling the various locations in the Kenosha County Parks system.
SOMERS — Kenosha County Sheriff's Department detectives continued an investigation Sunday into the suspicious death of a man who neighbors and…
Riders and operators of all city owned and operated transit, including buses, streetcars and trolleys, soon will be required to wear face coverings.
The Wisconsin Jets Youth Hockey Club — whose main purpose is "to promote and provide support for full ice hockey for Mite-aged hockey players …
There will be fall sports for the Kenosha Unified School District this season.
The City Council chambers have been outfitted with plexiglass and hand sanitizer.
It's Friday, and we're still observing TGIF despite the ongoing global pandemic. This week's installment features an outdoor exercise class an…
LAUREL — To Villa D' Carlo owner Robert Greskoviak and his son, Jacob, as general manager, who decided to create an eye-catching conversation …
Kenosha County's newest park — now with a new name and mission — remains a work in progress, Kenosha County Executive Jim Kreuser said.
Recently annexed farm land could be rezoned light industrial to accommodate a 965,000-square-foot facility.
Dreams are a big deal to Lorelei Savaryn.
The decision reached Tuesday by the Kenosha Unified School Board to proceed with fall sports meant that the "big three" high schools in Kenosh…
TOWN OF GENEVA — The place that John Dillinger made famous is back.
Kimberly Warner was born to be in business. Her great-great grandmother was a business owner, her great-grandmother owned a business and both …
The non-profit Kenosha Area Business Alliance is a leading economic development organization in southeastern Wisconsin.
The school year is here again and while there are many changes from last year one thing remains the same — the Kenosha Public Library is here …
The Board of Directors of the Kenosha Community Foundation have announced five Kenosha County students who are currently attending college in …
Just coming off its two-year anniversary, River Ridge Church was steadily growing in membership and outreach to the community. Sunday services…
PADDOCK LAKE — Westosha Central High School electors approved a 1.8% increase in the tax levy at the district's annual meeting this week.
You don't have to tell local theater fans that Nick Daly is a star.
The show continues. One of the longest running live music events in Kenosha is Rock the Blocks. Now in its 15th year, the multi-venue concert …
The Kenosha Public Library has started a new Drive-Thru Storytime program.
The City of Kenosha has set hours of trick-or-treat for 2-5 p.m. Saturday, Oct. 31, continuing its policy of having trick-or-treat on Halloween Day.
Established nearly 100 years ago, Chiappetta Shoes, 6821 39th Ave., is an iconic Kenosha business that has gained national recognition as a cu…
Kenosha County apple growers are reporting the crop is being harvested this year is "near perfect."
The Boys & Girls Club of Kenosha's chief executive is leaving the agency to run Jockey International's corporate philanthropic efforts.
A lucky winner hit a multi-million dollar jackpot at a Mount Pleasant convenience store, Wisconsin Lottery officials announced.
The Kenosha Fire Department along with a We Energies crew responded to a natural gas leak at a meter outside a home in the 7900 block of 39th …
Grab a blanket, pull up a chair, and join in some outstanding music at the Anderson Arts Center as Twilight Jazz hosts its final free, summer …
Kenosha Voices is a staff-wide project of the Kenosha News. Our journalists will interview Kenoshans – one by one – on what they think now and…
Jenn Douma developed a business plan that few entrepreneurs would consider.
As we wrote last week, amid expulsions and suspensions at some universities for violations of restrictions related to the COVID-19 pandemic, w…
Amazon employees who are Kenosha residents soon will have free bus transportation to their place of work thanks to a unique ridership partners…
It's Friday, and we're looking forward to at least a few more days of glorious early fall weather. As we enjoy the sunshine, we're celebrating…
Kenosha Voices is a staff-wide project of the Kenosha News. Our journalists will interview Kenoshans – on e by one – on what they think now an…
The award-winning Elsie Mae's Cannery & Pies is leaving its downtown 5819 Sixth Ave. location Sunday and is expected to be in another by e…
Kenosha Voices is a staff-wide project of the Kenosha News. Our journalists will interview Kenoshans – one by one – on what they think now and…
Kenosha Voices is a staff-wide project of the Kenosha News. Our journalists will interview Kenoshans – one by one – on what they think now and…
A green space noted for its popularity for wedding photography and other scenic events is set to undergo a makeover, based on a series of prop…