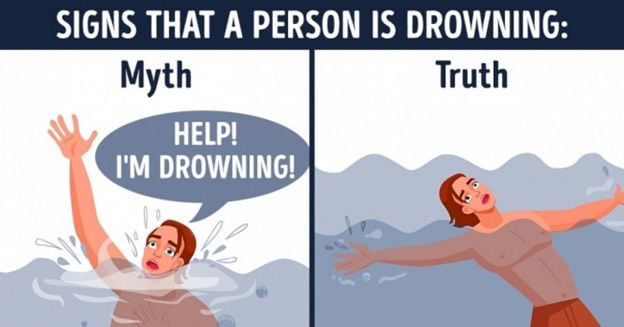 Drowning is the second leading cause of accidental death in children ages 1-14. As we wait for summer to make an appearance, now is the time to start thinking about swimming and water safety. Keeping our kids safe around the water should be one of our top priorities.
Watching children who are near the water is one of the most important lifesaving actions that a parent can do. Children under 5 should have a parent within arm's reach of them at all times in the water. Even if the child is able to stand in the water, it only takes a second to fall and end up face down in the water.
Young children are often not able to right themselves in these situations. It can take less than two minutes for a child to drown and it is easy to be tied up in conversation for that long. It is important to realize that a quick check of your phone, a reply to an email or text could result in the death of a child.
Not all children who end up under water will drown, but of course we want to prevent dangerous situations from happening to our children. It can be difficult for children to overcome a fear of the water after an incident of this nature takes place.
As children become older, the supervision looks a little different. Your child may have become a great swimmer, but it is important to remember that even good swimmers can get into trouble in the water. There is no substitute for keeping a close eye on your child around water.
It is also very important to know what drowning looks like. Most people are not aware that the majority of drowning victims never call for help. A distressed swimmer is able to call for help for only a short amount of time. If they are not rescued quickly, they turn into an active drowning victim.
When a victim begins to drown, the instinctive drowning response takes over and they are not able to control their movements. The instinct causes them to focus only on breathing.
Know what drowning looks like
Here are the signs of drowning:
The head tilts back and the body is vertical.
There is no supporting kick.
The arms are out to the side pressing down.
The head will fall below the surface and the victim will begin to inhale water.
There is a wide-eyed, panicked expression on their face.
It is important to know, as a parent, that the movement will not be visible above the water. An untrained person watching may think a child is bobbing in the water or attempting to float. The victim's face may appear above water. People often mistake this as the victim getting a breath.
It is unlikely at this point that a victim is getting any air, but they are most likely inhaling water as they continue to slip beneath the surface.
The other type of drowning victim is a passive drowning victim. A passive drowning victim is face down and motionless.
A passive drowning victim can be at the surface or submerged. If the victim is in murky water such as a lake, nobody may know they are in trouble.
Drowning doesn't happen like we see it in the movies. It is most often silent, with very little motion or commotion.
As children become adolescents, our supervision continues to change. Children are more independent and they may be making trips to the beach without parents. It is important for parents to know where their children are going. Please have conversations about the dangers of water with your kids.
Talk to your children about not jumping off the pier. Tell them there is a $1,000 fine for jumping. Talk to them about the currents at the Pike River. Explain to them that many people have died there, including good swimmers. Educate your children so they can make safe decisions.
Kenosha has to change its thinking about our lakefront if we are going to reduce the number of drowning deaths. There are many misconceptions out there that your children may hear about the pier. Ask them what they have heard. Be clear with them. Jumping from the pier is illegal, and people have died.
Urge your children NOT to take that unnecessary risk. They should only swim in marked, designated swimming areas.
Parenting is hard. Keeping kids safe around the water doesn't have to be. Parents, please develop a healthy respect for water with your children. Together we can have a safe summer.
Beth Volbrecht is aquatics and sports director at the Kenosha YMCA.
Get local news delivered to your inbox!
Subscribe to our Daily Headlines newsletter.