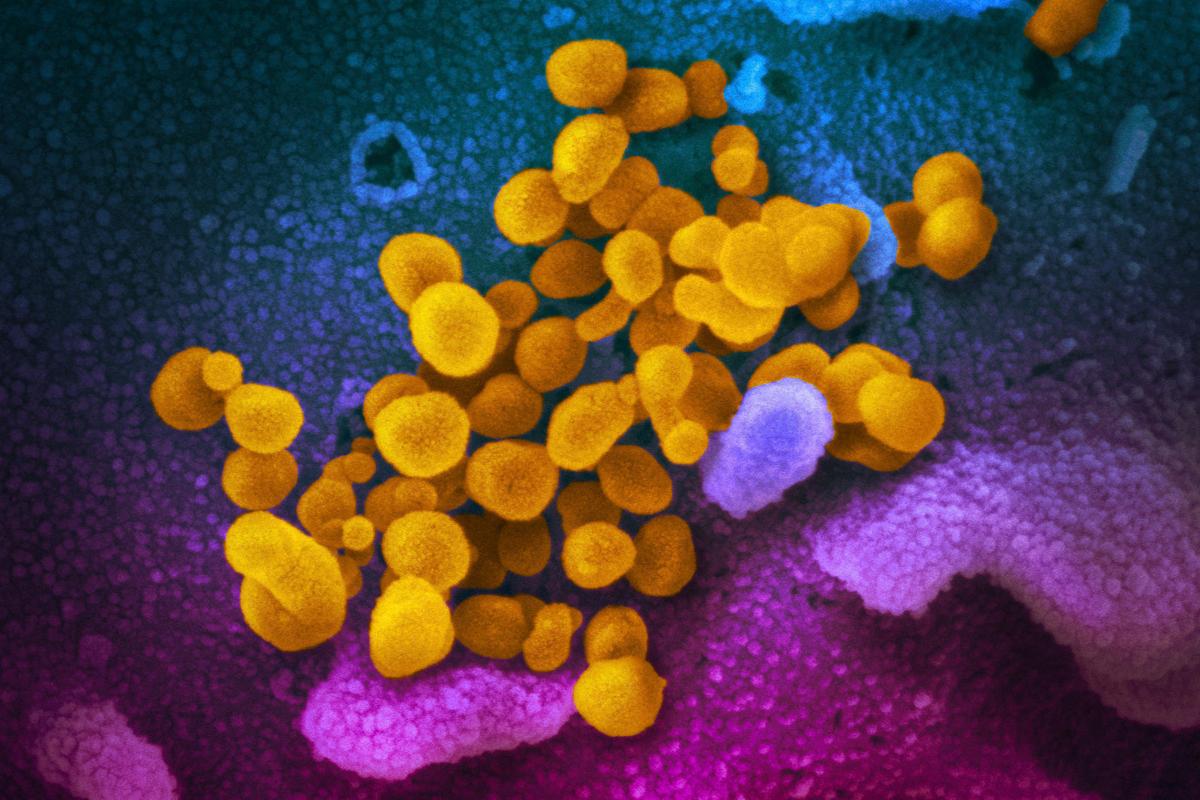 Kenosha County can expect to see between five and 20 new COVID-19 cases daily for the foreseeable future, according to Kenosha County Division of Health Director Jen Freiheit.
As of Thursday afternoon, the county had 1,442 positive cases, up 4 percent over last week, and 41 deaths, according to county data.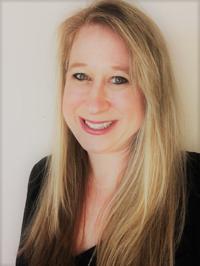 During an update Wednesday evening, Freiheit stated that, while local medical personnel had believed projections calling for a curve and decline in COVID-19 cases over time, that model has ceased to be applicable. Instead they are seeing a steady, consistent flow of cases continue in the county.
They call for counties to meet these requirements to reopen fully:
Downward trajectory of influenza-like illnesses (ILI) reported within a 14-day period;
Downward trajectory of COVID-like syndromic cases reported within a 14-day period;
Downward trajectory of positive tests as a percent of total tests within a 14-day period;
95% of hospitals affirm that they can treat all patients without crisis standards of care;
95% of all hospitals affirm that they have arranged for testing for all symptomatic clinical staff treating patients at the hospital per CDC guidelines;
And downward trend of COVID-19 cases among health care workers calculated weekly.
From the start of the COVID-19 pandemic, at its closest point to meeting the gating criteria, Kenosha County met half of the criteria to reopen set out by the Badger Bounce Back plan; the county averages meeting two of the criteria overall, Freiheit said.
"As our current positives are going, we don't think we will hit those six until a vaccine becomes available," Freiheit said. "The reason I say that is because we are just going to continue bubbling along with anywhere from five to 20 positives a day, and we will handle those positives and we will still investigate and contact trace them.
Some of these new cases are springing up from gatherings around the county, both big and small.
"We are seeing a number of positives that are resulting from group gatherings, such as birthday parties, sleepovers, barbecues, baby showers," Freiheit said. "We're definitely seeing positives coming out of these sorts of gatherings. So even though they're smaller gatherings, everything has to do with how much time we're spending with people outside of our family, how there can be potential positive people in that group that are completely asymptomatic and how things are spreading between groups."
With coronavirus cases holding steady in the county, Freiheit said the health department will continue to utilize the services of the Army National Guard for monthly community testing sites through the summer or "as long as they are available."
During the National Guard's COVID-19 test collection at the Kenosha Municipal Building on Wednesday, the National Guard collected 600 completed test kits. Over 26 days of testing at the Gateway Technical College campus in Kenosha, 1,650 people were tested for the virus, averaging about 63 a day.
"We'll make sure that there's always ways for people to get tested," Freiheit said. "It is something we need, especially to keep tracking where the virus is going, how in depth it's occurring in Kenosha County and to be able to look at those numbers."
Distributed masks, thermometers
Health department staff have been delivering a large number of cloth masks and thermometers to residents throughout the county during the pandemic to help them monitor their condition.
"We have distributed over 1,129 thermometers to people that are positive or contacts to a positive, who did not have a thermometer at their house," Freiheit said. "That has been a really unique thing that we have literally done the porch drop, door drop, mail box drop to these households all over the county.
"And it has been a special service that we committed to in the beginning in order to help people monitor themselves for their signs and symptoms; monitor themselves for their level of fever."
Immunization services returning
The health department will also be shifting slightly to return to some normal services it provided before the COVID-19 pandemic, including back-to-school immunizations.
"We have plans for re-opening our clinic and getting back to some normal business for the health department, because there's certainly still service needs and things we need to get back to," she said. "One of the things is that, in an effort to promote social distancing during the pandemic, the health department will offer back-to-school immunizations by appointment only, at least for the interim this summer.
To make an appointment for an immunization, call the health department at 262-605-6719. Vaccines will be administered in a safe way at the Kenosha County Job Center, 8600 Sheridan Rd., in Kenosha
The health department is taking appointments now for the immunizations, which will begin on July 6.
"Our immunization rates have certainly fallen during this pandemic, and we are working very closely with the schools and how the fall will look and reopening and getting kids back to school and what we need to do as a health department that that's as safe and smooth a transition as possible," Freiheit said.
Cold Case: William Callahan and Wendy McDade, killed March, 18, 1981
Callahan-McDade case cover.jpg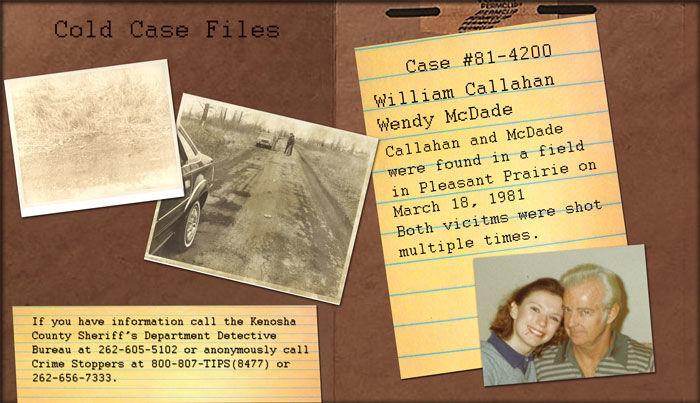 Kenosha News (Kenosha, Wisconsin) · 19 Mar 1981, Thu · Page 1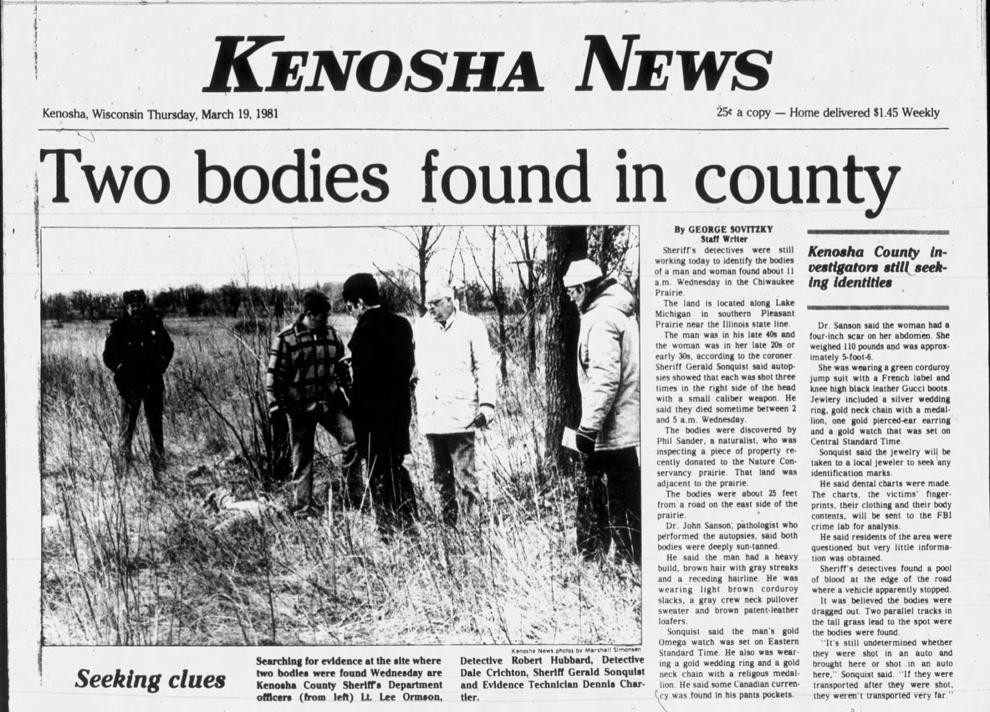 Sunday News (Kenosha, Wisconsin) · 5 Apr 1981, Sun · Page 1

Sunday News (Kenosha, Wisconsin) · 5 Apr 1981, Sun · Page 5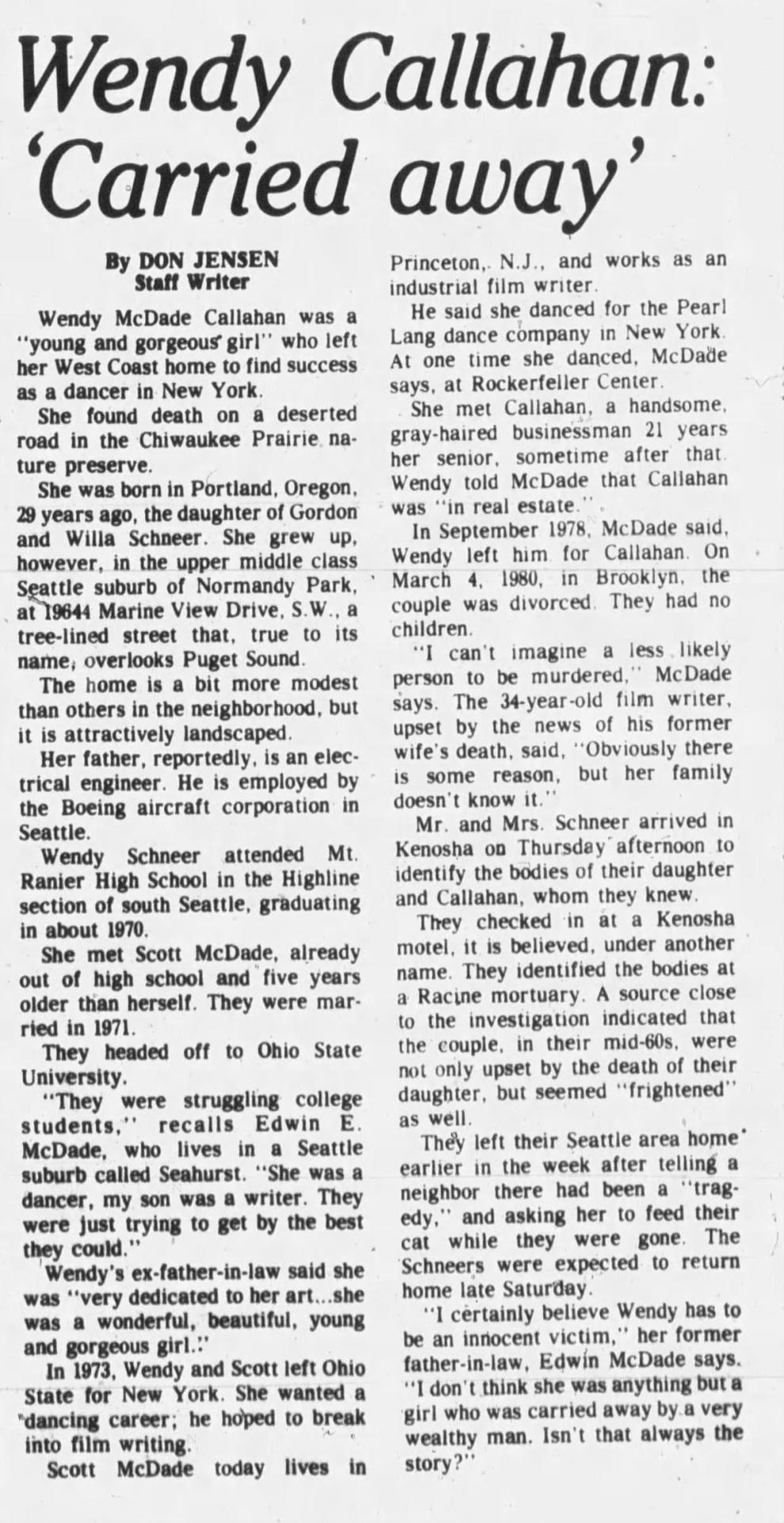 Kenosha News (Kenosha, Wisconsin) · 7 Apr 1981, Tue · Page 1

Kenosha News (Kenosha, Wisconsin) · 7 Apr 1981, Tue · Page 3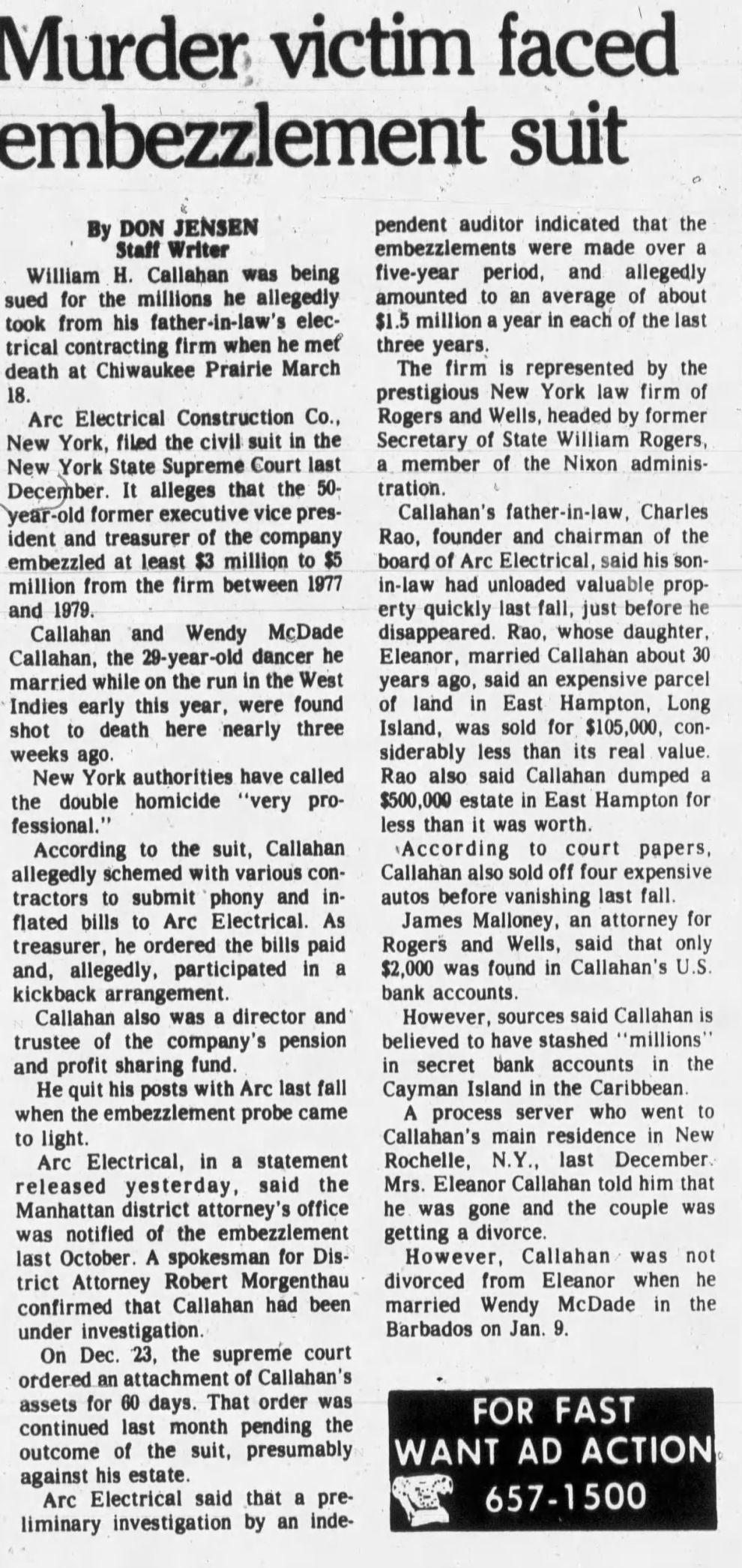 Kenosha News Courier (Kenosha, Wisconsin) · 7 Apr 1981 part 1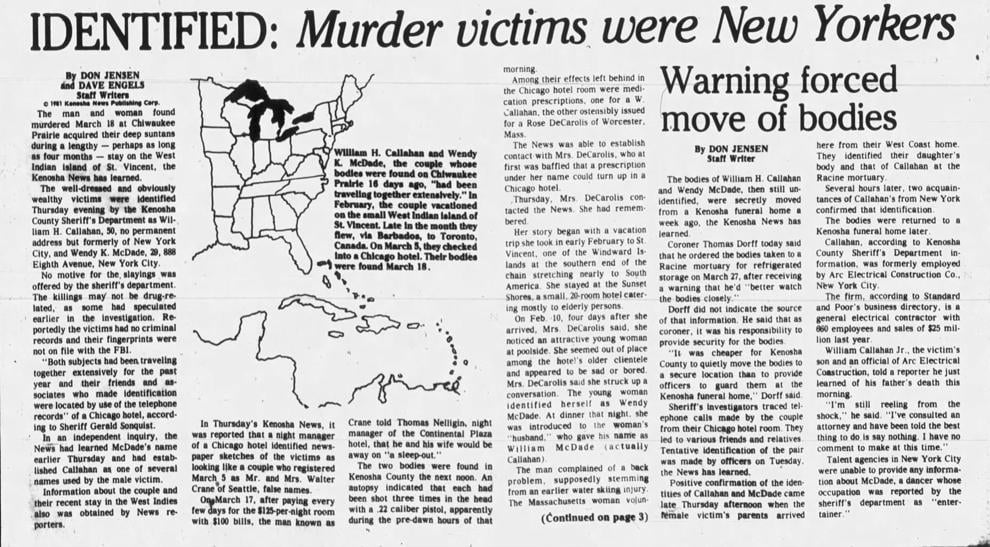 Kenosha News Courier (Kenosha, Wisconsin) · 7 Apr 1981 part 2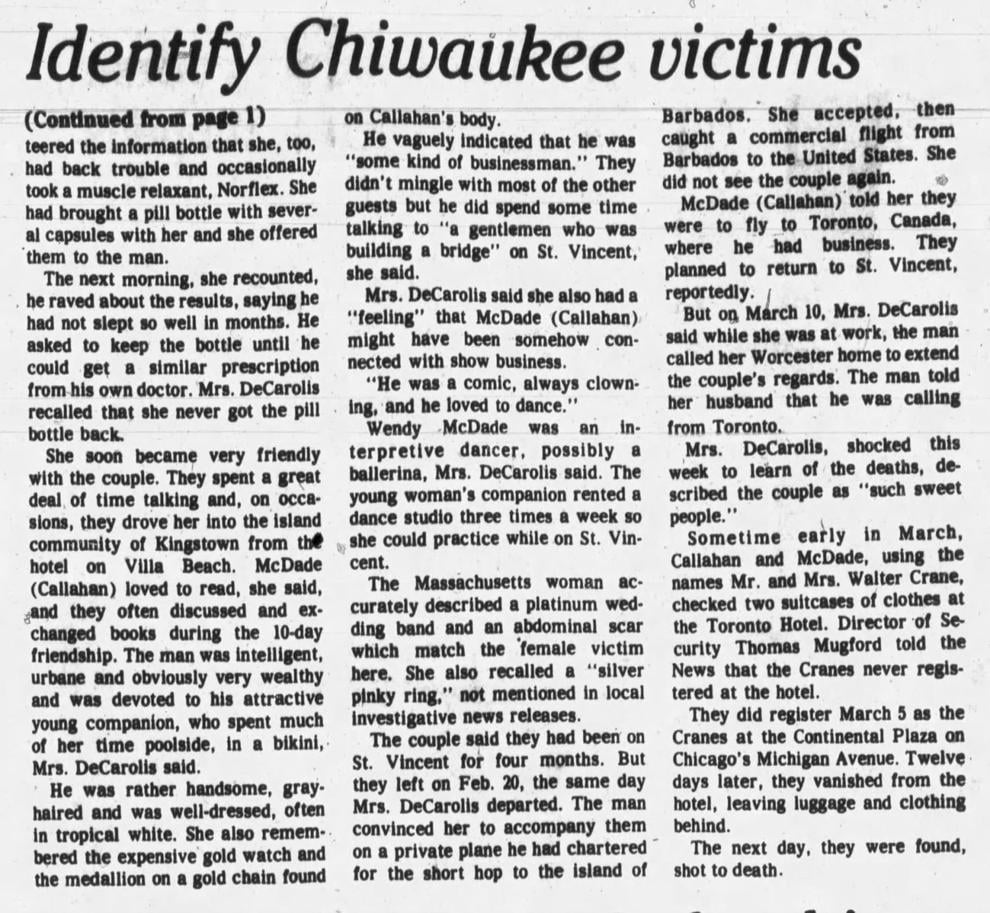 Kenosha News (Kenosha, Wisconsin) · 8 Apr 1981, Wed · Page 6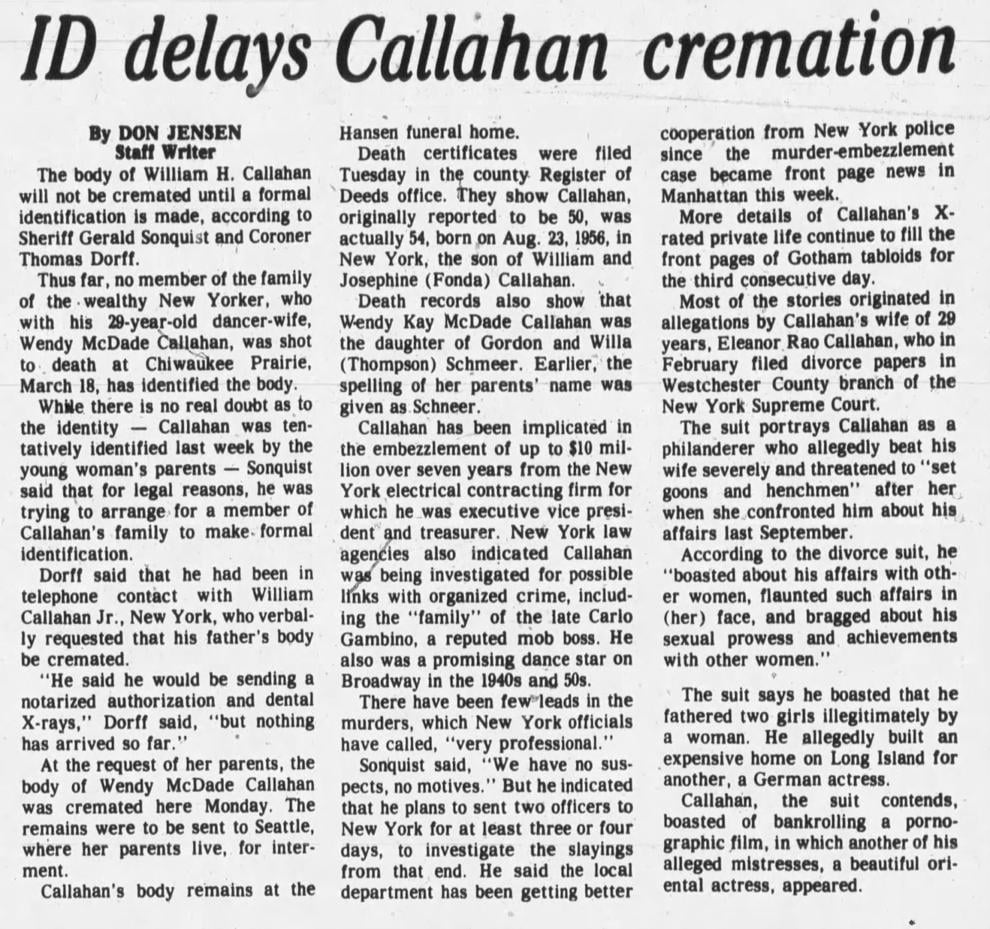 Kenosha News (Kenosha, Wisconsin) · 9 Apr 1981, Thu · Page 18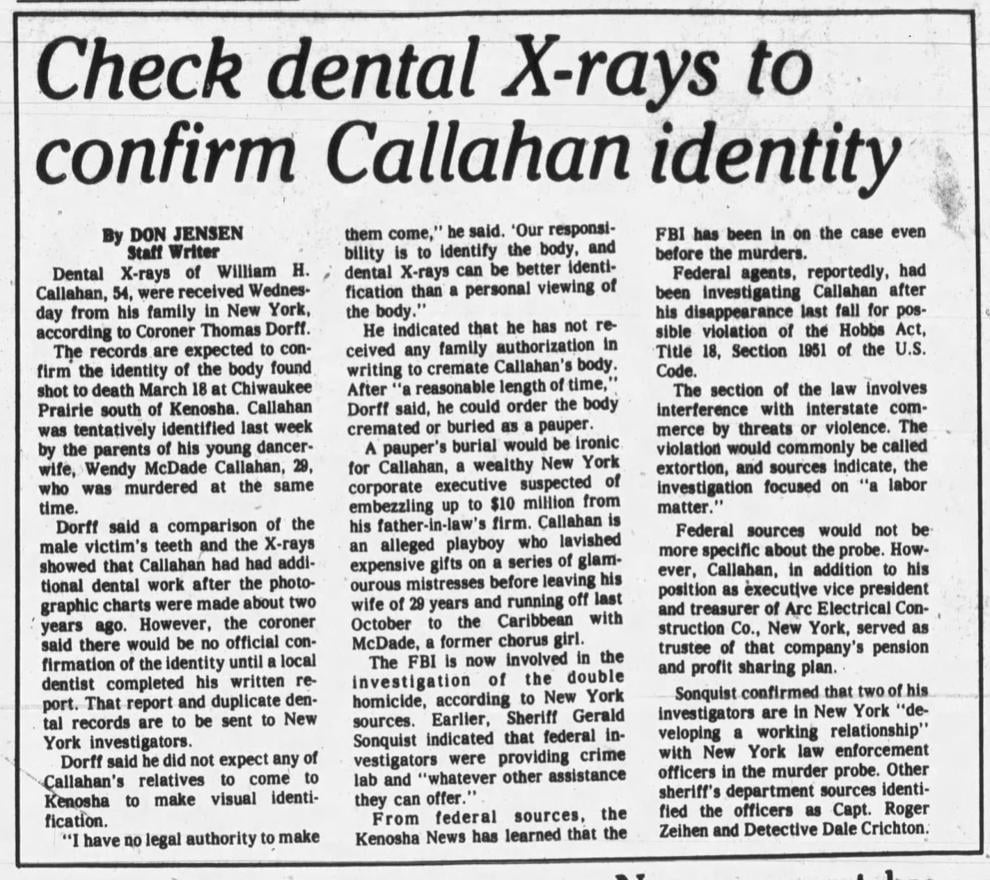 Kenosha News (Kenosha, Wisconsin) · 10 Apr 1981, Fri · Page 1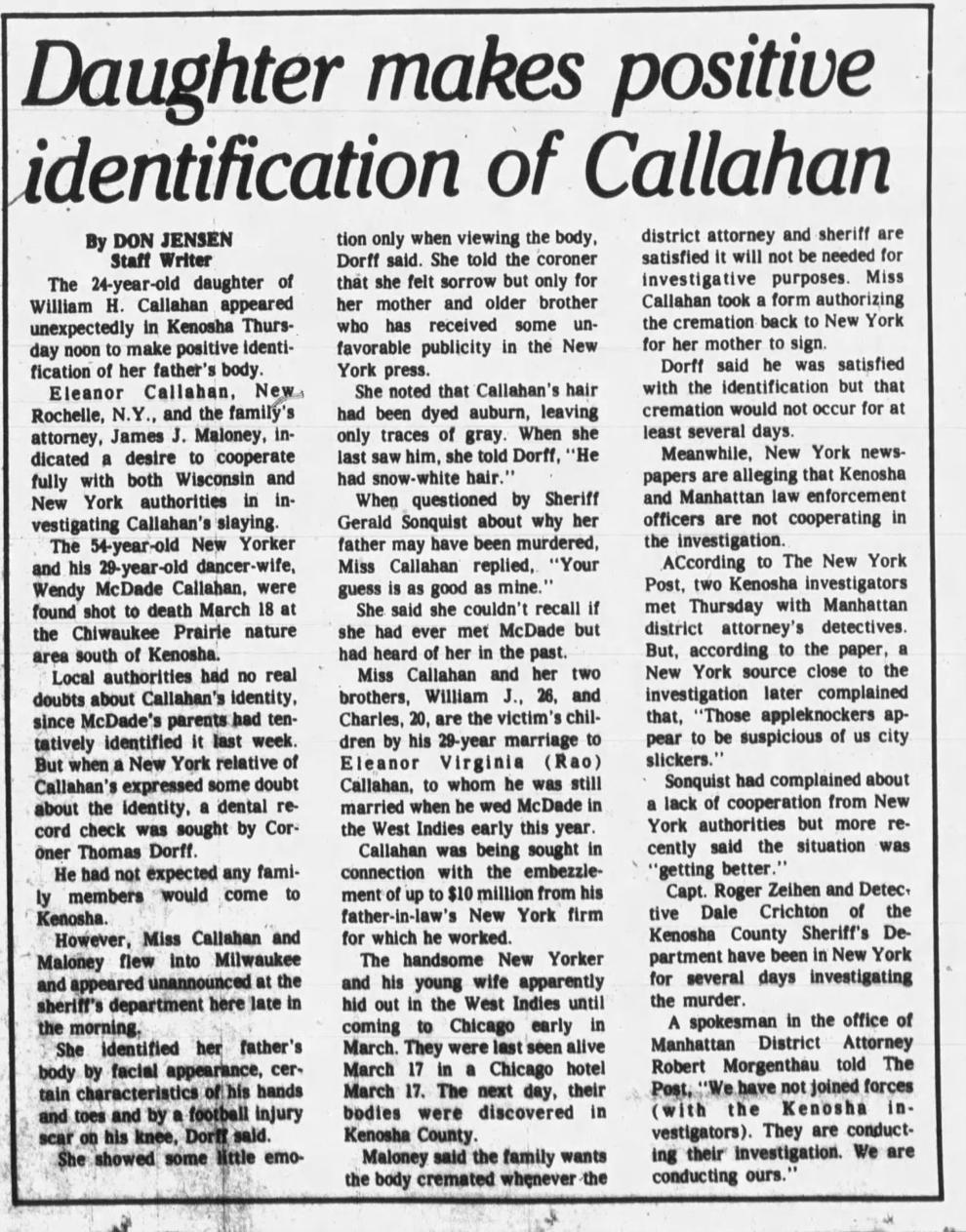 Sunday News - Sunday, April 12, 1981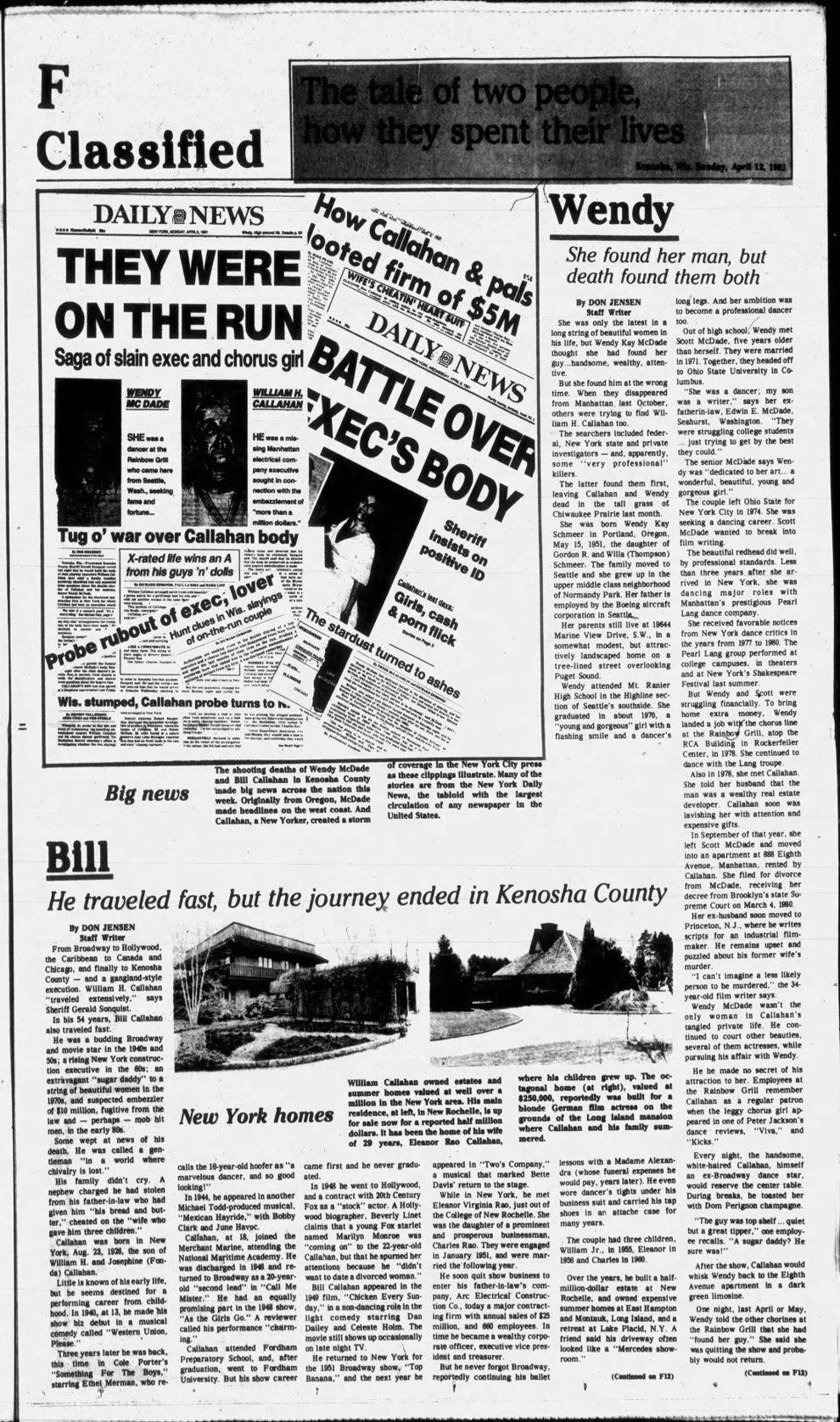 Sunday News (Kenosha, Wisconsin) · 12 Apr 1981, Sun · Page 1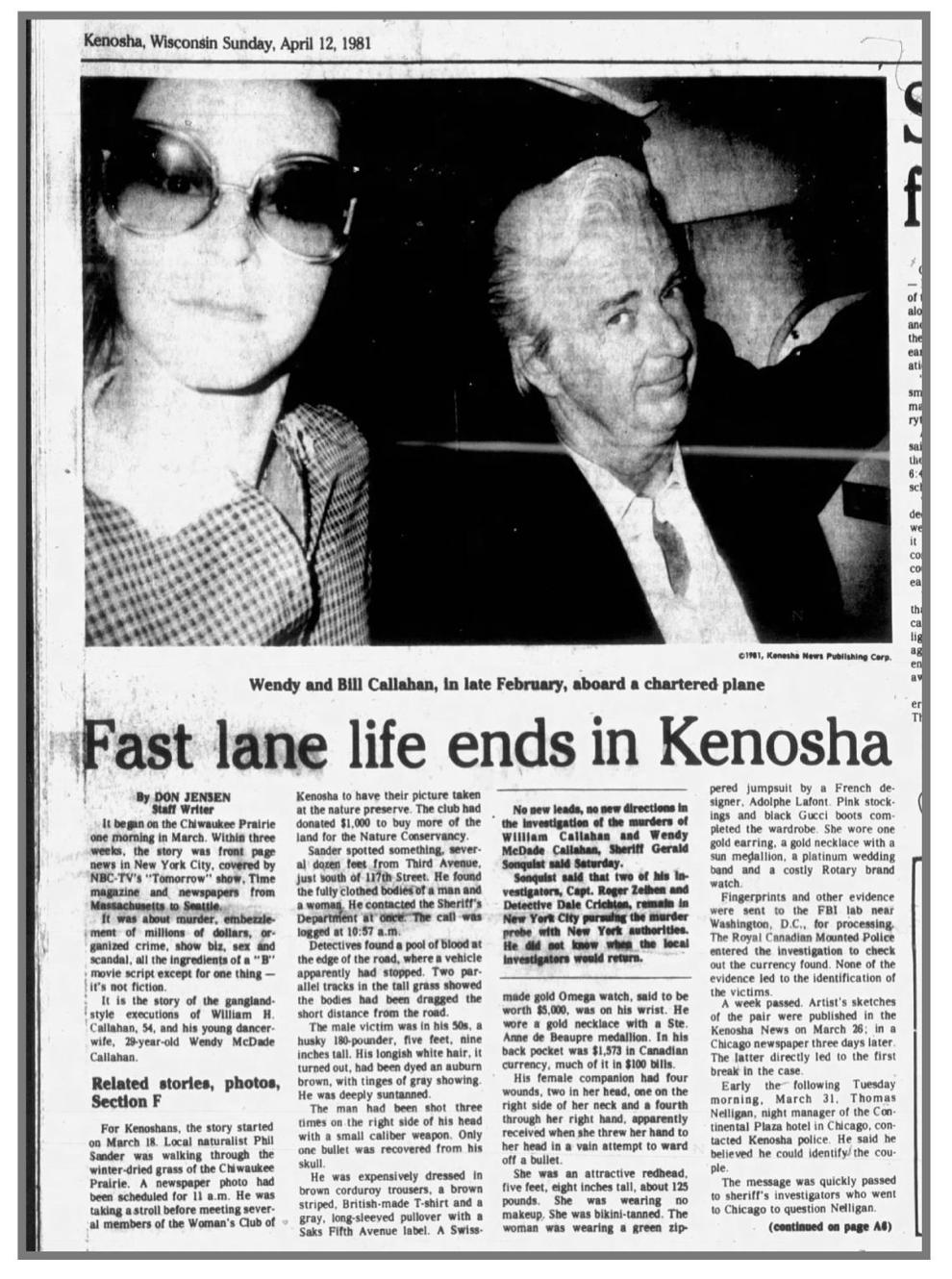 Sunday News (Kenosha, Wisconsin) · 12 Apr 1981, Sun · Page 6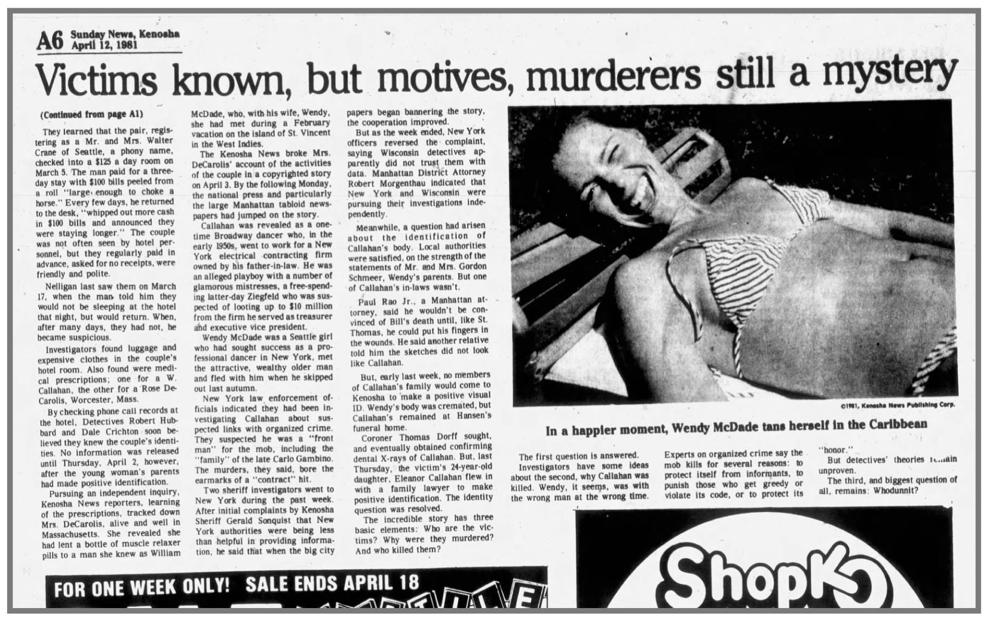 Sunday News (Kenosha, Wisconsin) · 12 Apr 1981, Sun · Page 50

Kenosha News (Kenosha, Wisconsin) · 13 Apr 1981, Mon · Page 6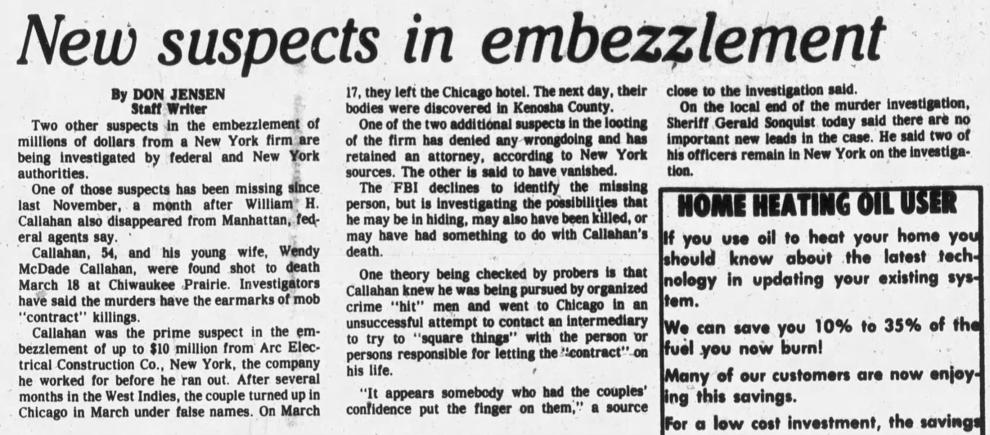 Kenosha News (Kenosha, Wisconsin) · 16 Apr 1981, Thu · Page 19

Kenosha News (Kenosha, Wisconsin) · 21 Apr 1981, Tue · Page 6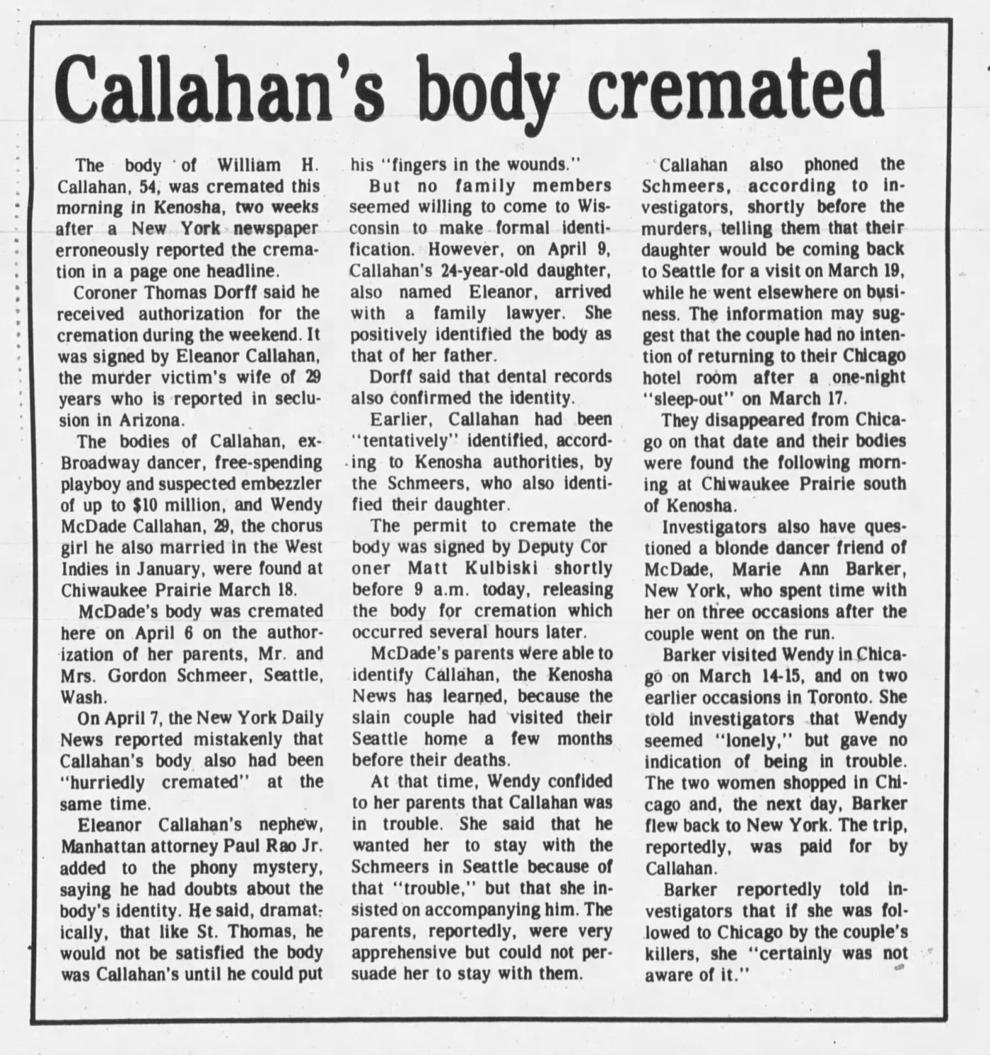 Kenosha News (Kenosha, Wisconsin) · 22 Apr 1981, Wed · Page 6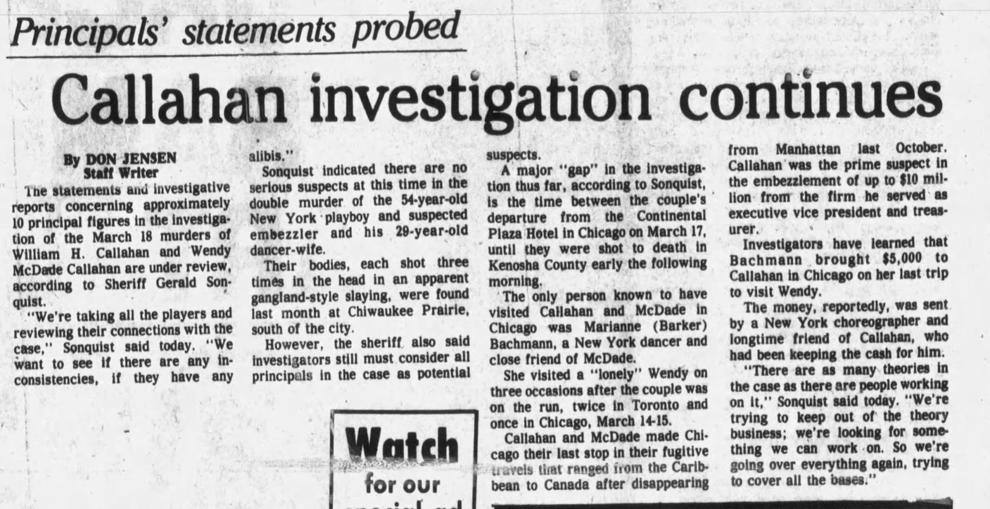 Kenosha News Courier (Kenosha, Wisconsin) · 28 Apr 1981, Tue · Page 6

Kenosha News (Kenosha, Wisconsin) · 18 May 1981, Mon · Page 14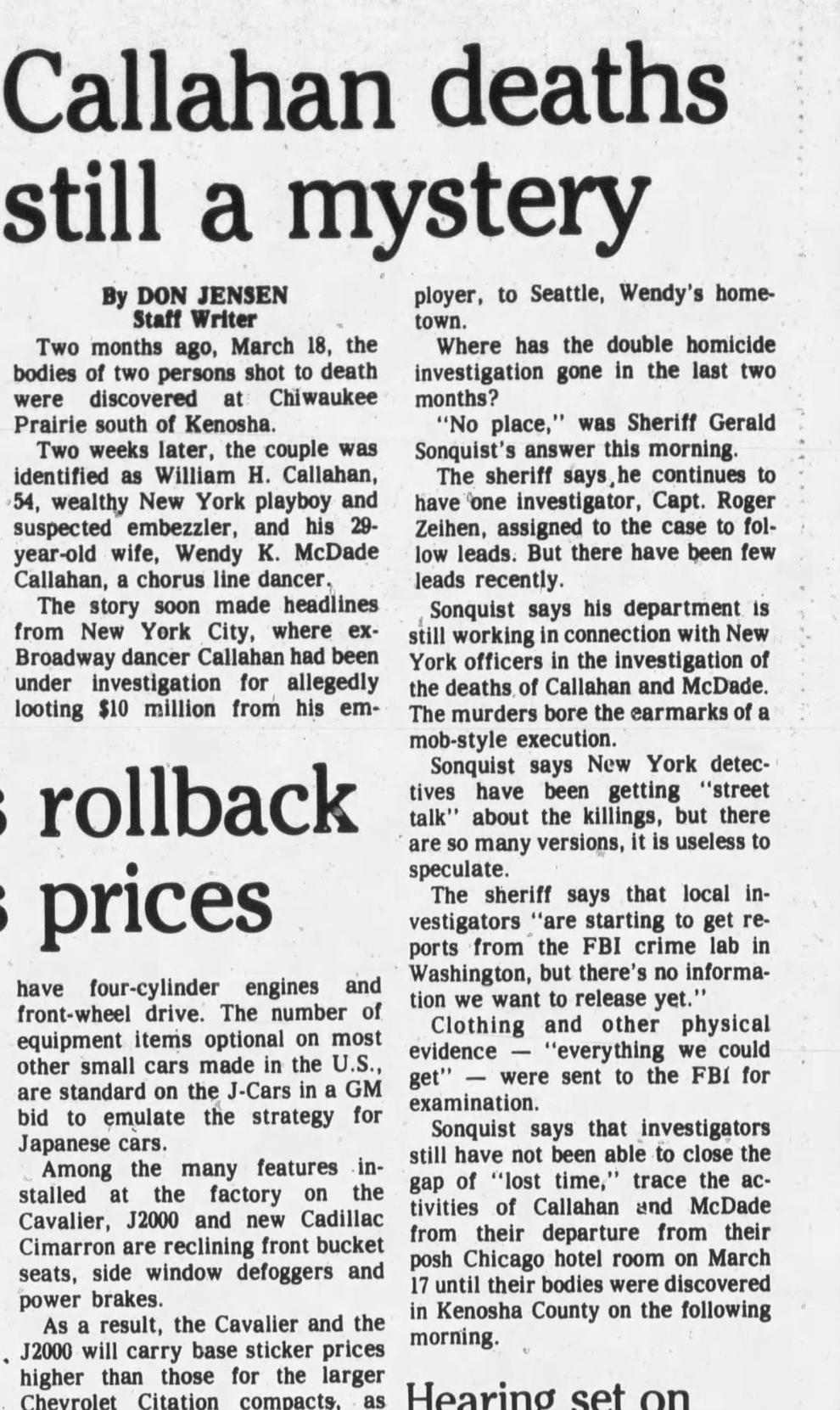 Sunday News (Kenosha, Wisconsin) · 5 Jul 1981, Sun · Page 16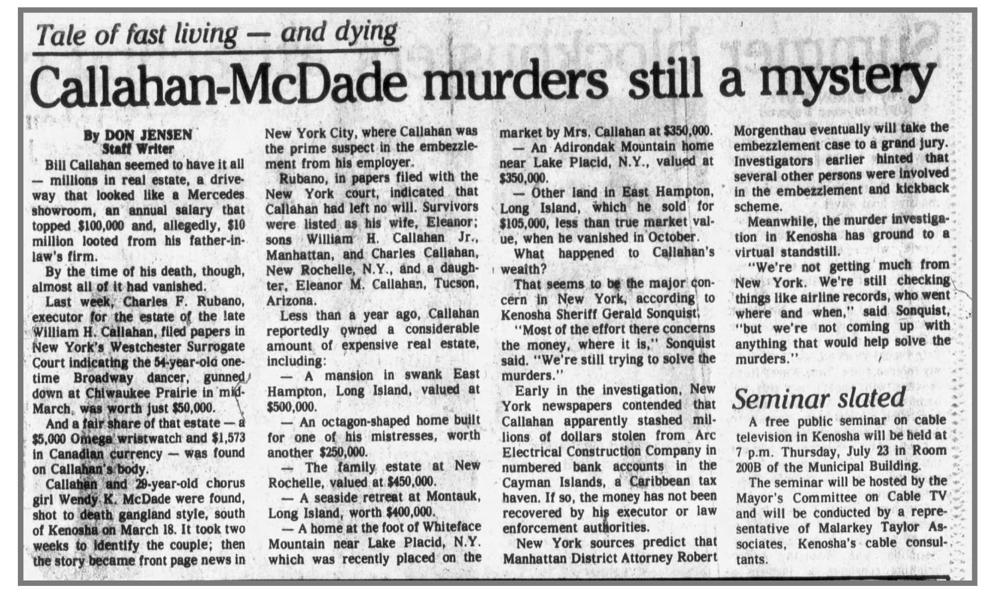 Kenosha News (Kenosha, Wisconsin) · 2 Sep 1981, Wed · Page 1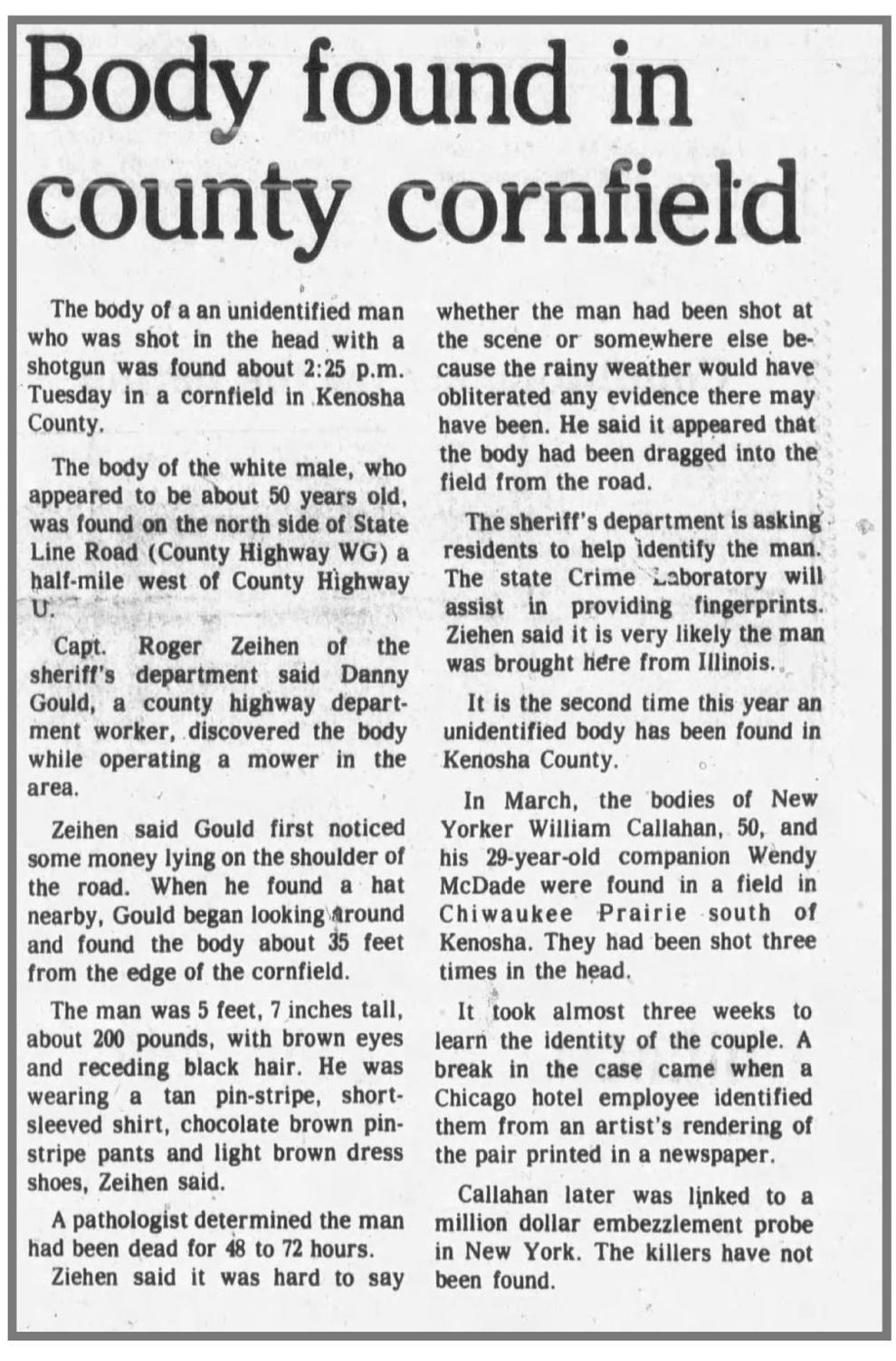 Kenosha News - Thursday, Dec. 31, 1981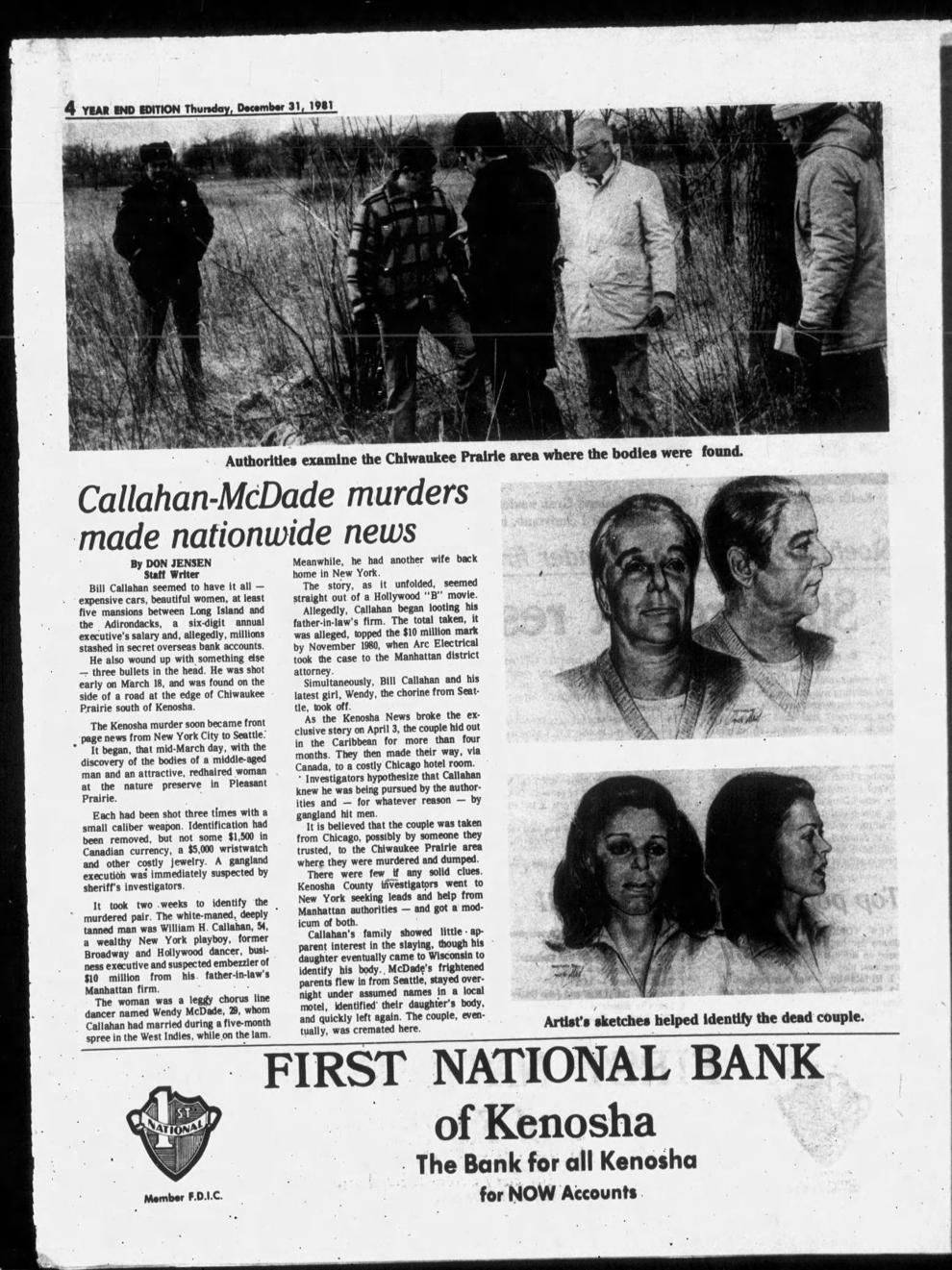 Kenosha News (Kenosha, Wisconsin) · 16 Jan 1986, Thu · Page 6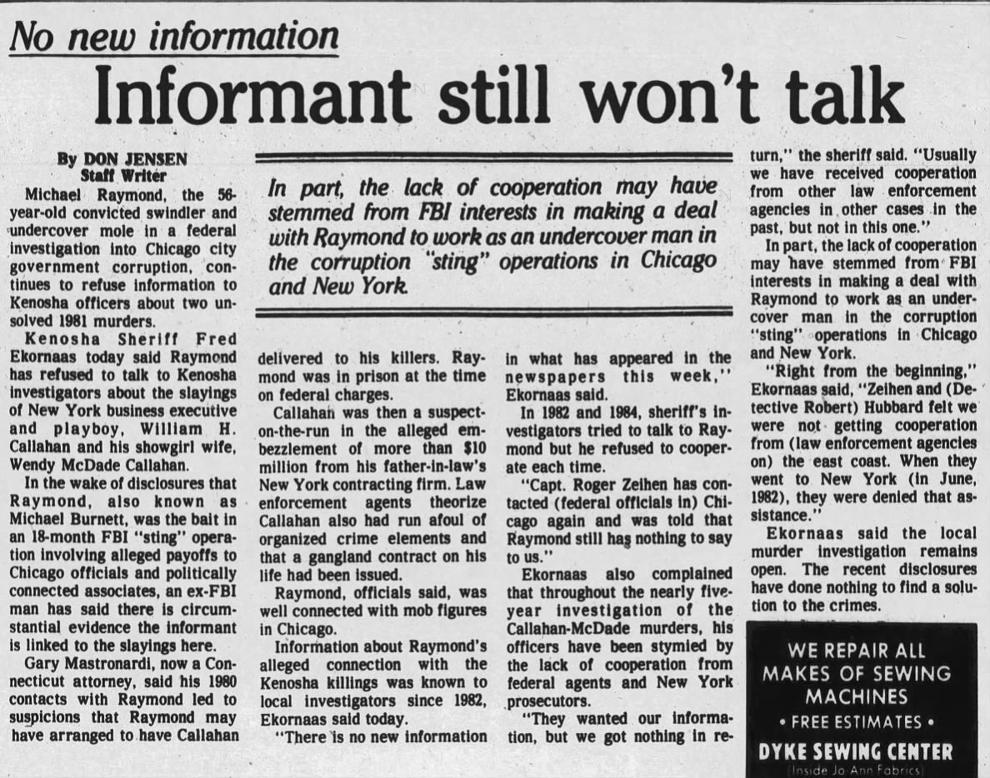 Kenosha News Courier (Kenosha, Wisconsin) · 22 Jan 1986, Wed · Page 8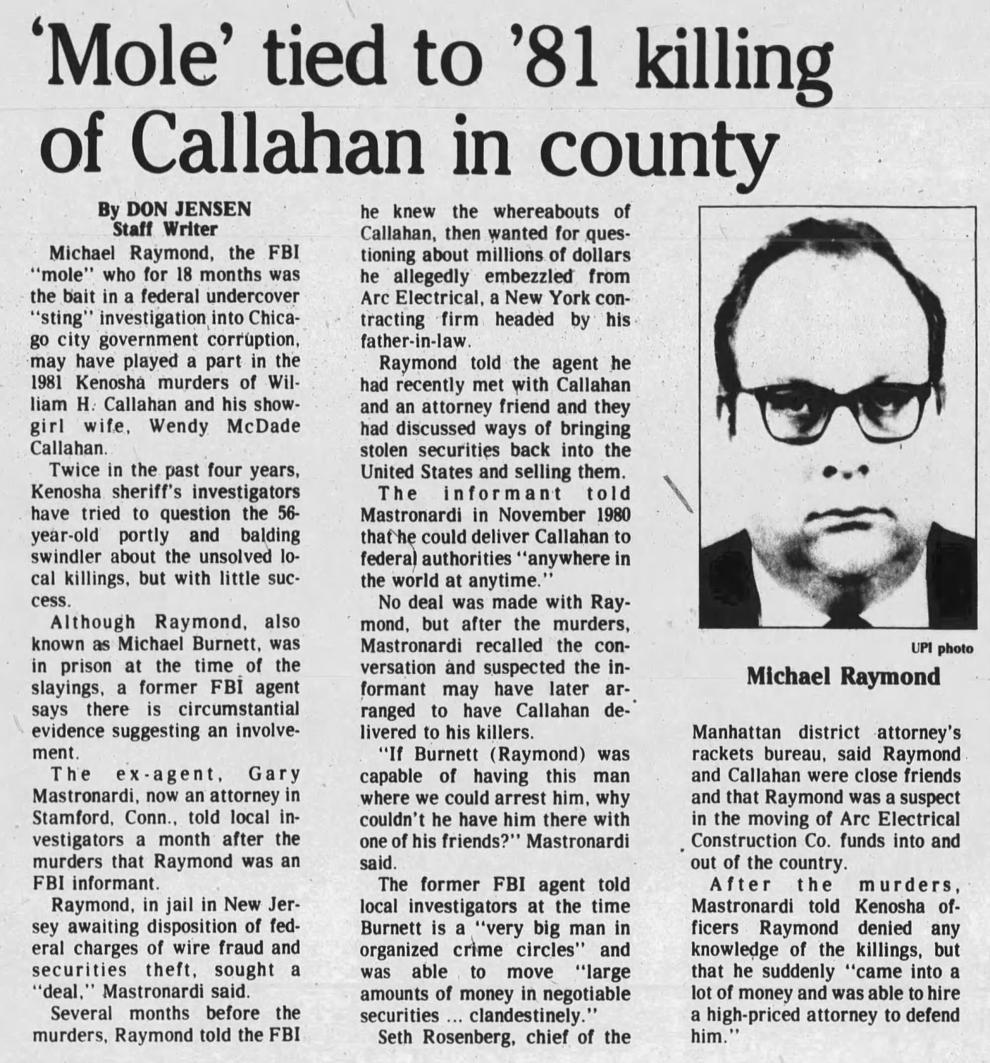 Kenosha News (Kenosha, Wisconsin) · 21 Apr 1990, Sat · Page 45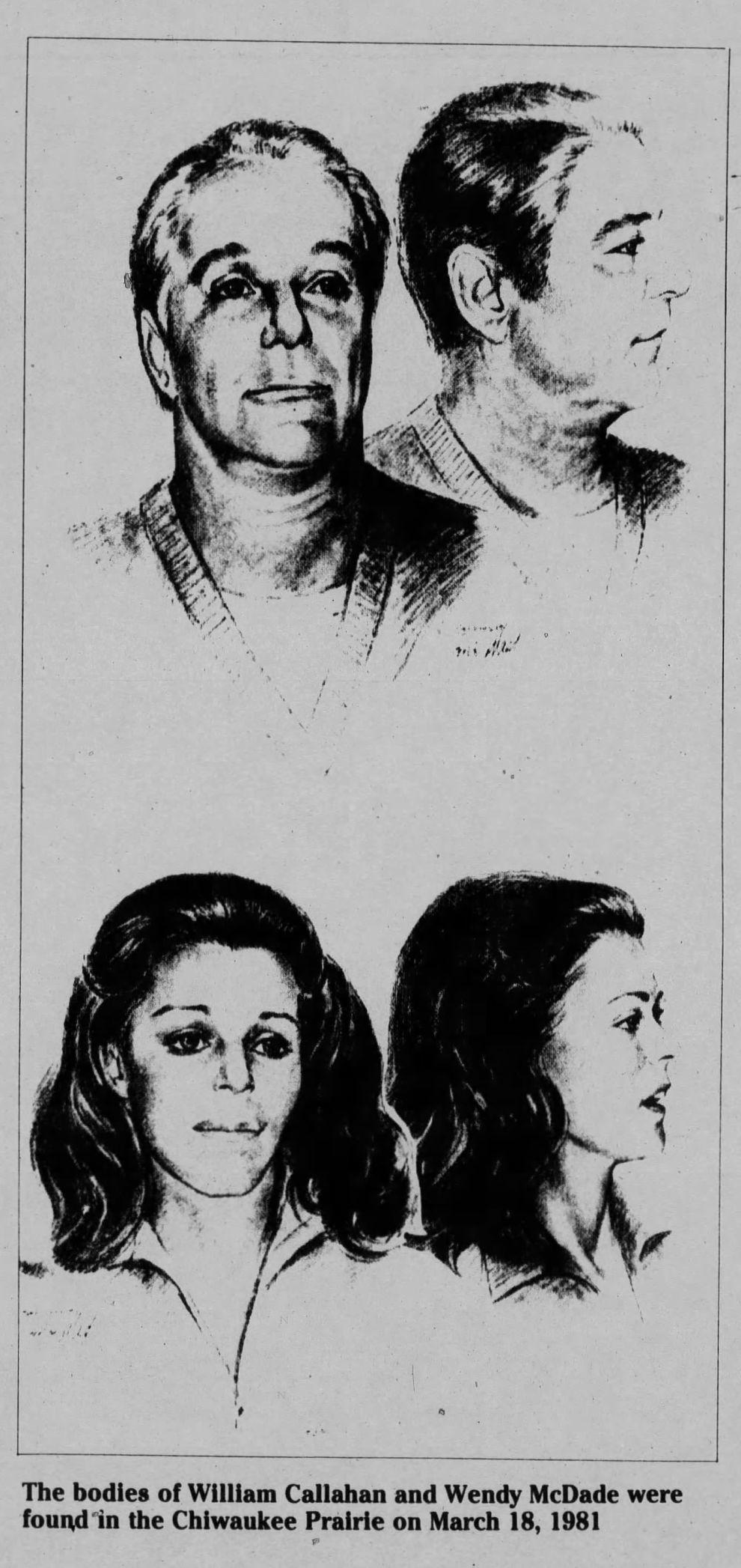 Kenosha News (Kenosha, Wisconsin) · 18 Mar 1991, Mon · Page 3

On this Day, Jan. 14, 1996 - Sunday News - Newspapers.com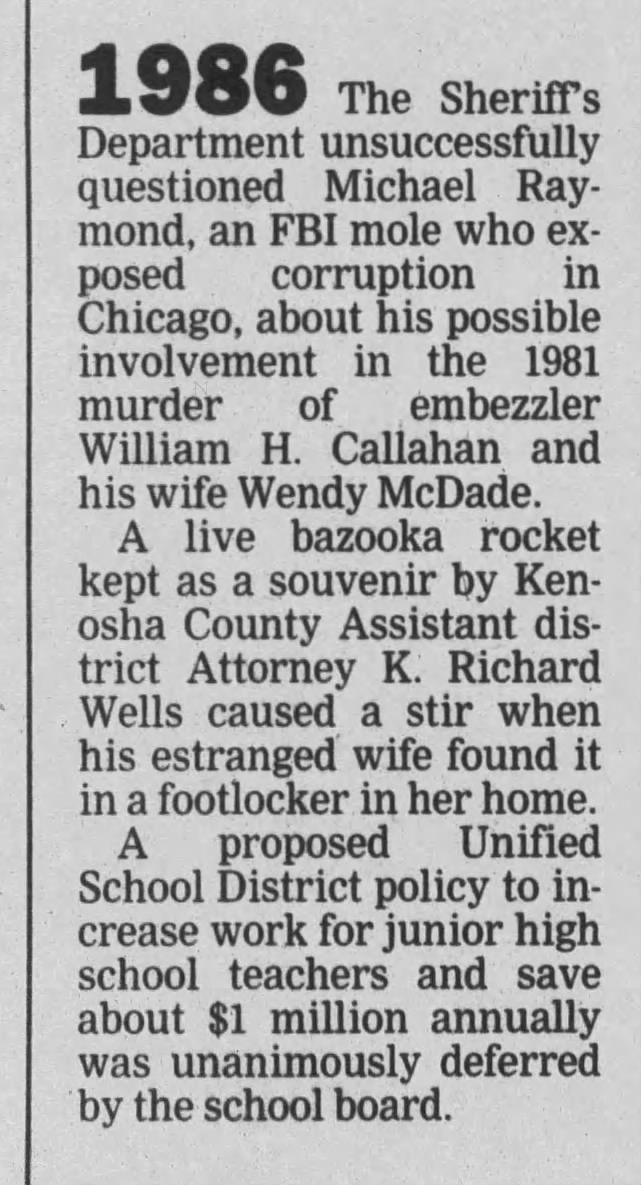 Kenosha News (Kenosha, Wisconsin) · 30 Jun 1997, Mon · Page 25