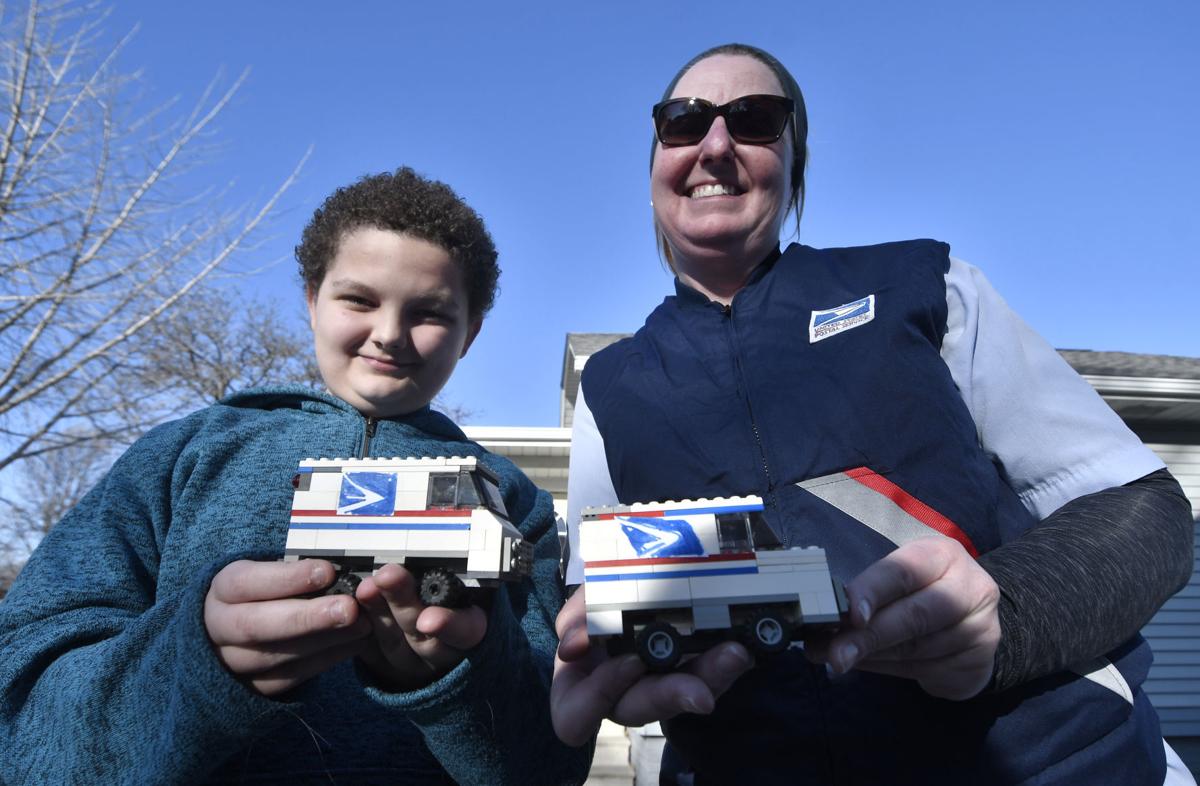 Kenosha's Mitchell Hoepner loves his Legos, and he's typically fine with others using them or having people view some of his elaborate, cubed creations.
Just be sure there's no little pieces missing when you're done with it.
The 12-year-old autistic boy recently showed off his impressive skills, kind heart and a unique bond in building a personalized, Lego mail truck and gifting it to Michelle Badham, an 18-year veteran United States Postal Service letter carrier. Hoepner, a home-schooled student, looks forward to Badham's near-daily visits and decided he'd leave her a special Christmas present to show his appreciation.
Badham, 43, has worked the same route — just west of 30th Avenue and south of 60th Street — for the past eight years.
"I've had a special place in my heart for this little boy for a long time," said Badham, a Kenosha resident. "To me, he's so adorable and so special and so kind and sweet. I saw the Lego mail truck sitting on the mailbox for me, and I know how much he likes his Legos. When I got home that night, I cried."
Sara Hoepner, Mitchell's mother, realizes the bond is a special one. For years, she's watched her son struggle with forming relationships and interacting with others at numerous Kenosha Unified elementary schools and a middle school. Mitchell was often bullied by other students for being different, according to Sara Hoepner.
"One year, he invited his whole elementary class to his birthday party and got no response," Badham said. "There was a sign on the door that said 'Due to no RSVPs, Mitchell's party is canceled.' Sara decided to throw a neighborhood party for him instead."
Mitchell said he got the idea for the Lego truck after watching a YouTube video. Not only did he build it, he personalized it with red and blue striping and colored the USPS logo on the side of the truck. There is a driver in the front seat, complete with a cup of coffee and packages in the back ready for delivery.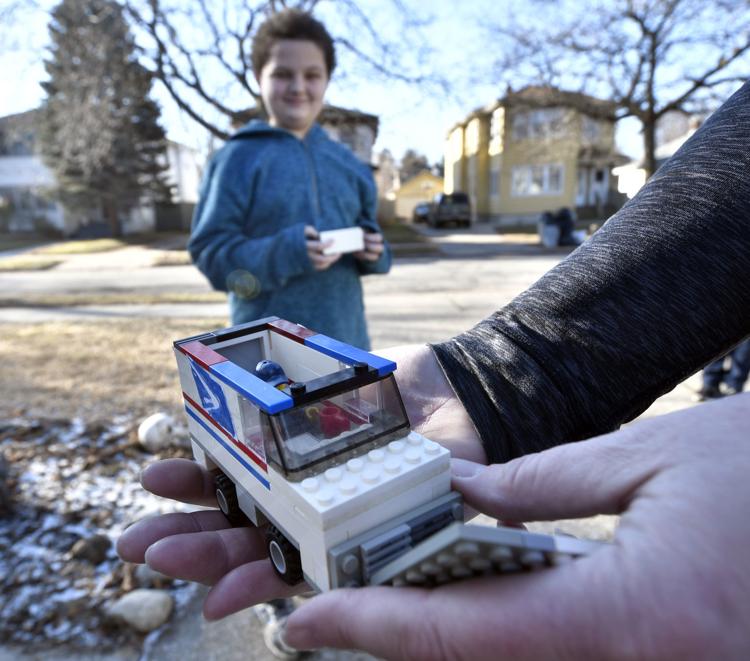 "I thought it would be cool to build one," said Mitchell Hoepner, who built a duplicate one for himself.
Mitchell Hoepner was just 4 years old when he first met Badham. The family once hosted a rummage sale at the house and offered lemonade for their visitors. Badham, of course, stopped at the stand for a cold beverage.
"She's always been so polite," Sara Hoepner said. "I told them to make sure they gave Michelle free lemonade that day. They were excited about that. Michelle didn't want to take it for free so she went back to her truck to get a quarter or something."
Sara and Mitchell Hoepner would walk through the neighborhood to meet up with Badham. Occasionally, they'd leave notes with sidewalk chalk in front of the house.
"It's nice to have someone who doesn't just hurry up and rush to get through their job," Sara Hoepner said. "She'll actually stop to say hello."
Local postmaster Jeannie McLaughlin supervises 101 routes. She said it's not unusual for her carriers to form meaningful relationships with their customers.
"It makes me proud," McLaughlin said. "I have excellent carriers. We have carriers across the nation that do wonderful things for their community, and you never hear about it. We only hear about the bad stuff. So it's nice to hear good things."
Get local news delivered to your inbox!
Subscribe to our Daily Headlines newsletter.