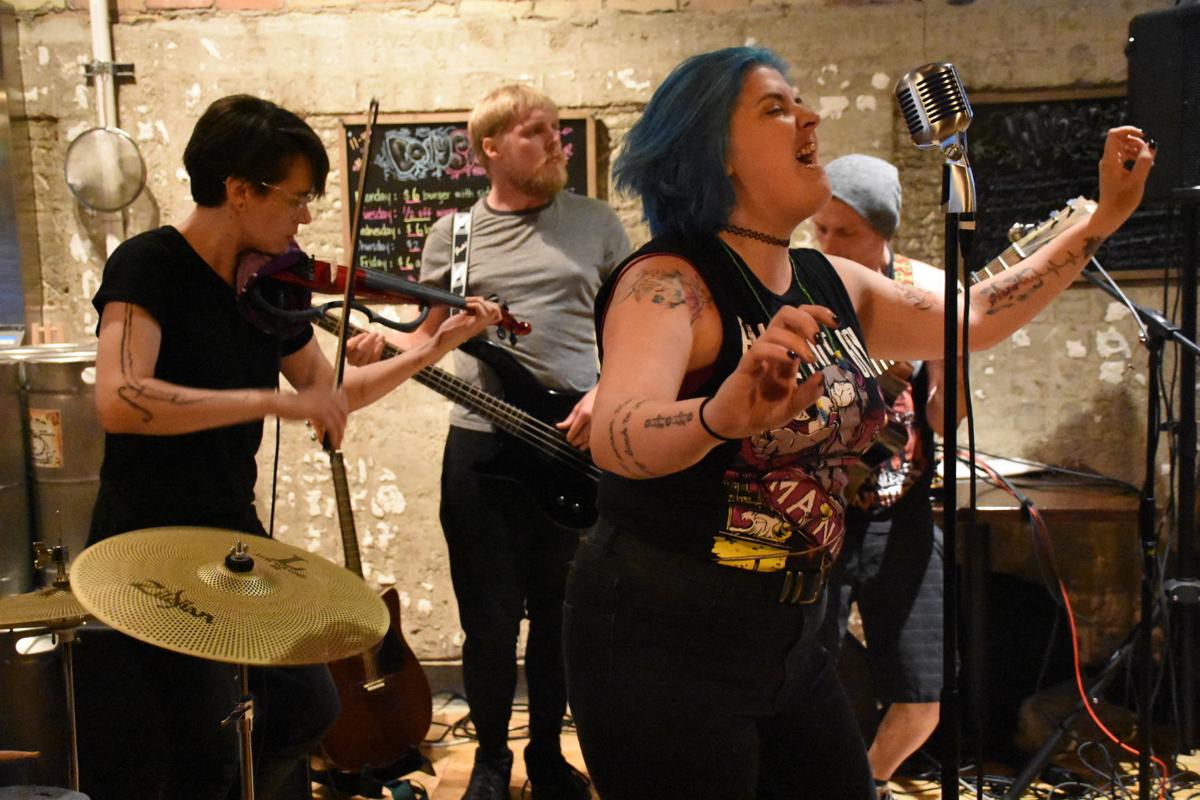 Editor's note: Because COVID-19 concerns can cause last-minute changes, please make sure to double check with the band or venue before heading out. Stay safe.
58 Below show
Auto American is back Saturday night with a show at 58 Below. The high-energy pop and rock band is comprised of artists who most live music lovers are familiar with in this area: Carly-Anne Coda, Randy Rude, Tom Capponi and Djura Ciric. With players like this, Auto American can put their touch on punk, pop, metal, grunge and even soul tunes. There will be a lot of hits that you are familiar with, served up by folks you have secretly admired from a distance for years.
Yes, now you can see them up close. No touching please. (We're still in a pandemic, so stay safe.)
Auto American will perform Saturday (April 10) at 58 Below, 504 58th St. Show time is 9 p.m.
Fusion show
Would you kindly come on over to Kenosha Fusion Saturday night for some live music? Would You Kindly? is an acoustic/electric indie rock band that is more than excited to play their first live show since November. You may have seen and heard vocalist Gina Marie and guitarist Paul Hoskins performing at local Open Mics. That foundation is raised up by drummer Jake Kleinhardt, bassist Daniel Harrison and violinist Megan Weaver.
The band entertains with a variety of hits and their own tunes from their upcoming debut record. Fusion bosses Aimee and Danny Crucianelli are asking folks to pony up a $7 cover charge and to social distance and wear a mask.
Would You Kindly? performs Saturday night (April 10) at Kenosha Fusion, 5014 Seventh Ave. Doors open at 8 p.m., with the music starting at 9 p.m.
Terry Peterson in the house
If you're a fan of topnotch guitar playing and get out a lot, you are probably familiar with Terry Peterson. If you haven't heard him yet, you have a few chances to catch him performing this weekend.
He's a great guy and can play anything. This weekend, he's playing Gypsy jazz and more straight-ahead jazz, with some rock thrown in.
The guitar virtuoso will perform with Chaine de gitane at Sazzy B tonight and at Union Park Tavern Friday night.
Since the man can go and go, you can also catch him performing with Triad Saturday night, also at Sazzy B.
Chaine de gitane plays Gypsy jazz music, featuring a lot of classic Django Reinhardt songs plus others of the genre. Peterson is joined in the band by fiddler Shawn Drake and upright bassist Benjamin Holt. My French is very bad, but "Chaine de gitane" is roughly translated as "quick turns of Gypsy." Triad blends traditional jazz with more contemporary pop music, hitting on everything from Wes Montgomery to Steely Dan, Hoagy to Hendrix. Great stuff. Peterson is joined in Triad by drummer Brian Ford and Bassist Benjamin Holt.
Chaine de gitane performs from 7:30 to 10:30 tonight (April 8) at Sazzy B, 5623 Sixth Ave., and Friday night (April 9) starting at 8:30 at Union Park Tavern, 4520 Eighth Ave. Triad performs Saturday night (April 10) at Sazzy B. The groups feature guitarist Terry Peterson.
Mostly Water show
When you think Duke's, you naturally think country music. Sure, there will probably be some of that Saturday night when Mostly Water performs, but there will be a lot more. Chris Boyden and Jenna Leigh front the hits/originals band backed by bassist Jay McGinnis and drummer Kevin Kosmeder. With male and female vocalists, Mostly Water can play a wide variety of songs by artists like The Animals, Tom Petty, Janis Joplin, Miranda Lambert, Led Zeppelin The Eagles and more. There's a $5 cover charge. Mostly Water is pretty solid.
Mostly Water will perform 7 to 11 Saturday night (April 10) at Duke's Country Saloon, 2324 18th St.
Rat Pack hits
"I've Got You Under My Skin," "My Way," "New York New York," "That's Life," "Everybody Loves Somebody," "That's Amoré," "Come Fly With Me" and "Ain't That A Kick in the Head." How's that, just for starters? When you bill yourself as a crooner, these are just some of the classics from which you can choose. Tim Dollmeyer's biggest challenge before hitting the Rustic Road Brewing Co. stage Saturday night is what to leave OFF his set list. If you enjoy Rat Pack-type songs, this is your jam.
Tim Dollmeyer will perform starting at 8 Saturday night (April 10) at Rustic Road Brewing Co., 5706 Sixth Ave.
That's it for this week. Bands, artists and venues, please send me your gig listings, event posts, bios, Facebook event invites or anything else you think might be useful to me to write you up. Email me at pjfineran@gmail.com.