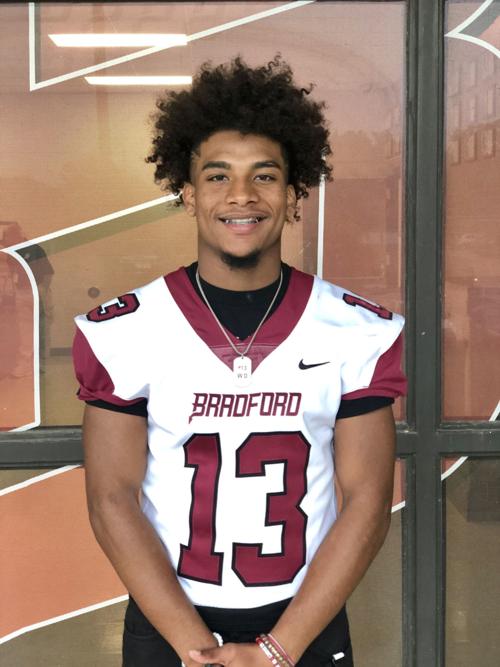 Parents: Marcus Fuller and Alice Fuller
Most memorable high school moment: When I won Prom King. Was one of the best feelings ever. Just having so many friends and teachers support me really made that night special. Me and my classmates/friends definitely made it a night to remember.
Most influential teacher: Kerrie Gardina, English teacher in grades 6-8; Mrs. Gardina challenged and pushed me to never settle, and for that I am grateful till this day I never settle. She also showed me how to be confident in myself. She helped me improve my English skills, also helped me become a better me. Mrs. Gardina was one of those teachers who went above and beyond for her students, treated me like one of her own kids. She was just so caring, always looked out for her students and pushed them to do great things. She always knew how to cheer me up, still to this day she checks up on me. Thank you, Mrs. Gardina, for leading by example and showing me how to do things the right way, helping me become more passionate about things, showing me I can be very successful if I just put my mind to it. I couldn't ask for a better English teacher; thank you, Mrs. Gardina.
School activities/clubs: Link Crew, stage crew, yearbook. African American Male Initiative (AAMI)
School athletics: Basketball, football, track
Honors, letters or awards: Mayor Youth Commission Award 2020, Semper Fidelis All-American 2019(out standing students who fight and win battles everyday.) 1st team All-Conference Football, Honorable Mention Basketball, Holy Rosary Award Nominee-athlete of the year,Prom King 2019, Community Service Distinction, AP Courses Distinction
Out-of-school activities/hobbies: Works at Finish Line and Geodis
College choices: Carthage College, North Park, Arizona State University, Kansas State
Intended major/field of study: Sports psychology
Role model: Shawnell Gross
Words that best describe my role model: Hard-working, passionate
What I hope to accomplish in my lifetime: In my lifetime, I would love for my dream of becoming a pro NFL player to come true. But I also hope to become successful and just be able to give back to my community. I want to be able to help young athletes understand the impact an injury can have on the mental health of an individual as well as the physical. My life has been significantly impacted by mentors that took the time to help me develop into the young man I am today. One day I would love to be a role model and mentor to young males in my community.
What does receiving the Mahone Fund scholarship mean to you? Receiving this scholarship means so much to me knowing all my hard work for the past few years is finally paying off and not just getting overlooked. I want to thank the Mahone Fund for giving me a scholarship to further my education.
Concerned about COVID-19?
Sign up now to get the most recent coronavirus headlines and other important local and national news sent to your email inbox daily.