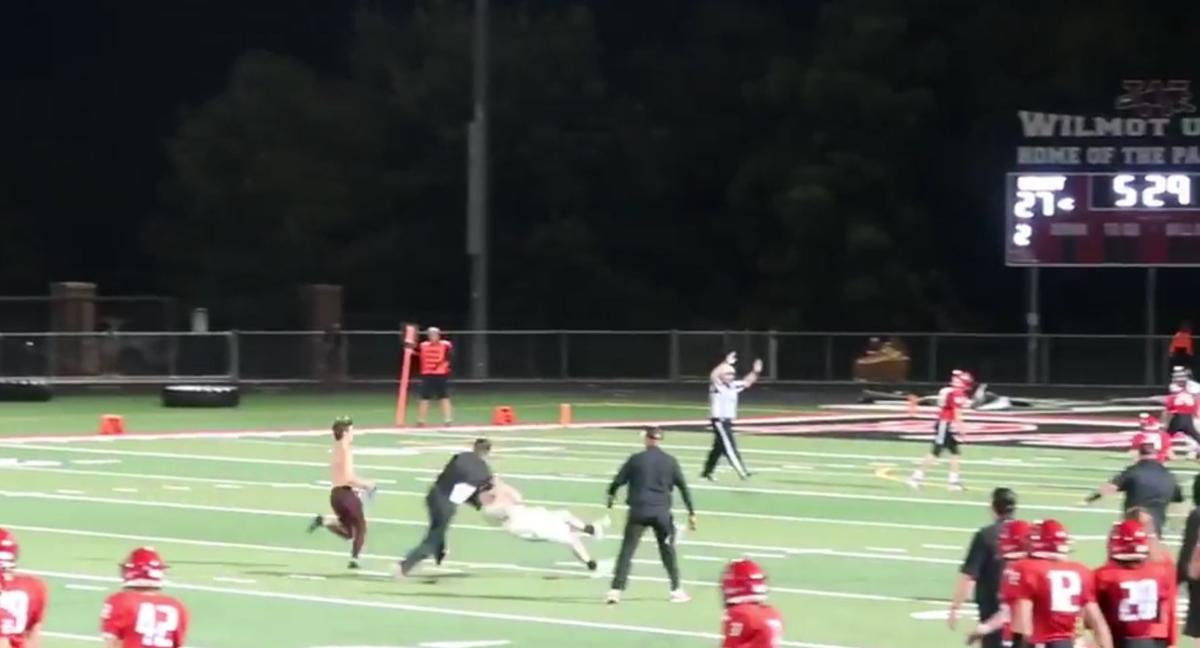 The mother of a teen who said her son was "clotheslined" by a football coach as he ran across Frank Bucci Field during the Sept. 6 varsity football game at Wilmot Union High School wants the coach fired.
"I would like to see him fired, but I don't think that will happen," Rebecca Langel said. "Something needs to be done. I don't think he should get away with it."
Langel said what her son Mason, 16, a junior at Wilmot, did was wrong. She is not arguing the five-day suspension Mason served this week or the $200 disorderly conduct ticket he got as a result.
"I'm not saying what my kid did was right, but for the coach to do that is excessive," Langel said. "He could have killed my kid, or broken his neck. No one bothered to check and see if my son was OK."
Langel, who was not at the game, said she got a call from the school principal.
She said he told her Mason had run across the field, was in his office, would need to be picked up and would be ticketed.
"They never bothered to tell me he was clotheslined, knocked out and dragged off the field by the football coach," Langel said.
She said she learned about the coach's actions when a friend shared a video of the incident taken from the stands.
That video, which has now been shared via social media on sites such barstoolsports.com, shows Mason and another student being chased from one end of the field by a security guard to the other, while the game was underway. It shows Mason being knocked to the ground by assistant coach Ken Mulhollon, grabbed by his shirt and being walked off the field.
The second student was not subdued and ran off the field. Those close to the case said he too was suspended and ticketed.
Langel said her son has experienced symptoms associated with a concussion.
"I did end up taking him to the doctor," she said. "He has been having headaches, dizziness and blurring vision."
Wilmot High School Administrator Dan Kopp said he has seen the video and the incident is being reviewed. Kopp said the students "posed an unknown threat" when they ran onto the field during play.
"That threat was addressed," Kopp said.
Mulhollon, the former police chief in the town of Geneva, is a paraprofessional at the school in addition to being an assistant football coach.
Langel said he oversees her son's first-hour study hall.
"My son won't be in that study hall anymore," she said, adding she will request a class period reassignment for her son.