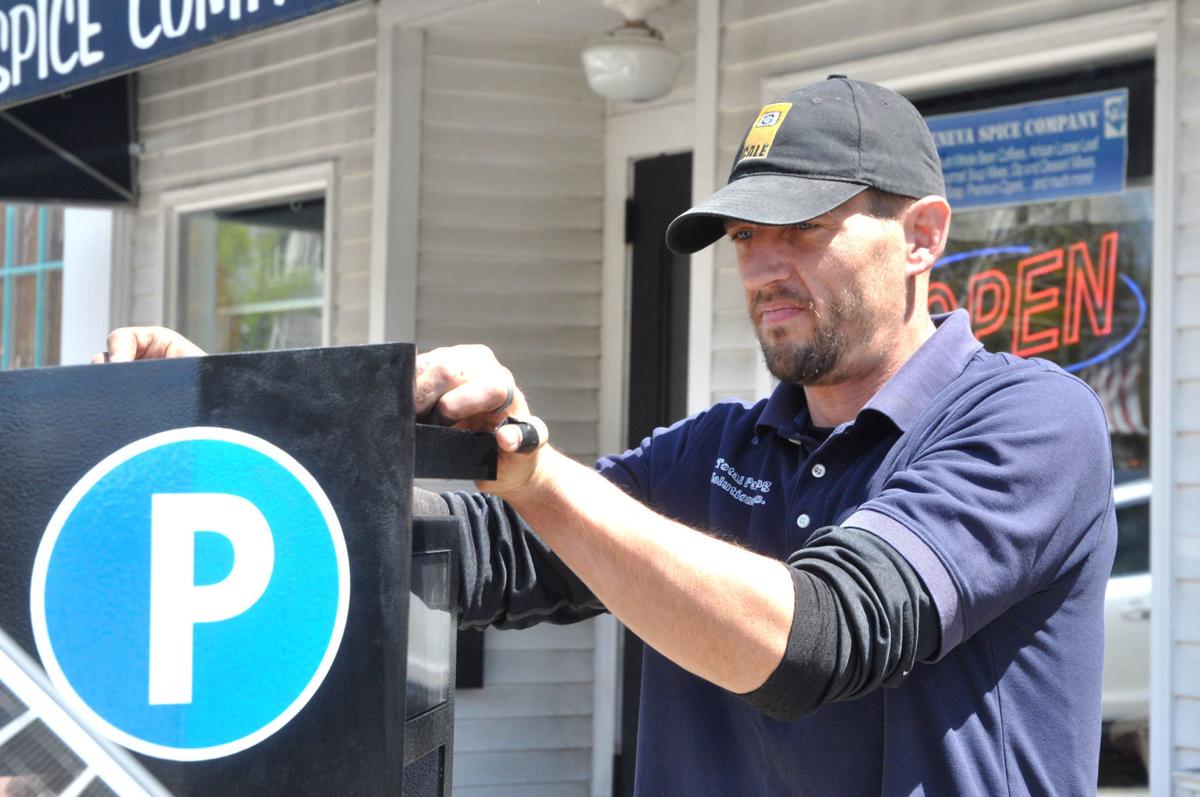 LAKE GENEVA — Parking a car in downtown Lake Geneva has become a whole new experience.
With the installation of a new fleet of parking kiosks, the numbered parking spaces no longer matter, and motorists cannot use dollar bills to feed the meter.
Instead, motorists must remember their license plate number, and they either must download an app on their cellphone or be prepared with a credit card or coins to pay for their parking.
Employees of the city's parking operations department and supplier Total Parking Solutions Inc. installed 50 new parking kiosks in mid-May throughout Lake Geneva's downtown shopping and tourism district.
The new touchscreen kiosks replace a nearly 10-year fleet of push-button models that were considered antiquated and costly.
Crews soon will remove the numerous posts for numbered parking spaces, as downtown visitors transition to the system of instead using their license plate numbers instead.
Seth Elder, the city's parking operations manager, said he believes people will find the new parking meters easier to use, and city workers will find them easier to maintain.
"These are like the Cadillac of parking meters," Elder said.
The Lake Geneva City Council agreed in January agreed to spend $330,000 to purchase the 50 new kiosks.
Mayor Charlene Klein said the new kiosks will make it more convenient for shoppers and others visitors to pay for for parking.
"I think these will have less issues and better technology than the previous ones," Klein said.
Parking costs $1 to $2 an hour in more than 1,000 downtown parking space between March and November. The system generates more than $1 million a year in revenue for the city.
Joseph Smith, president of operations for Total Parking Solutions of Downers Grove, Illinois, said he enjoyed working with Lake Geneva officials the past couple of years to improve the city's parking operation.
"We are excited and proud to be a part of an overdue upgrade of their parking system," Smith said.
Crews completed installation of the new kiosks during the week of May 10-17, just in time for what is usually the kickoff of the summer tourism season on Memorial Day weekend.
Elder said he was pleased to have the project completed after about two years of planning and discussioin.
"It's been a long process," he said. "But it feels like a significant accomplishment."
Rather than the old kiosks programmed to track the numbered parking spaces throughout downtown, the new touch-screen devices will allow people to enter their license plate number. Smith said the touch screens and license plate system is easier for motorist.
"We're confident that the new touch screens, more user-friendly pay stations will greatly improve the parking environment for both the city and the parking public," he said.
With no more numbered parking spaces, crews will soon remove the posts from their sidewalk locations on downtown streets.
"They guys in the public works department are excited about that for their lawn care and snow removal," Elder said.
Klein said removing the parking stall number posts will enhance the appearance of downtown.
"With the poles coming down, it will help improve the look of the downtown aesthetically," she said.
The new system will require visitors to pay for their parking with coins, with a credit card or by downloading an app. Unlike the old meters, the new devices are not equipped to accept dollar bills.
Because of the ongoing risks of the coronavirus pandemic, city officials are encouraging people to download the parking app on their cellphones rather than using the new touchscreens.
Elder said city workers are in the process of installing signs on the new kiosks and light poles to instruct people how to download the app.
As for the old fleet of 63 parking meters, they will be offered for purchase by other cities on a government auction website.
"If there isn't another municipality that has an interest in them after a prescribed length of time," Elder said, "we'll pull the electronics out of them and try to scrap them."
Get local news delivered to your inbox!
Subscribe to our Daily Headlines newsletter.