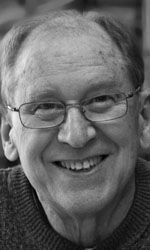 Every community has its leaders, influencers, and examples of gifted and giving people. The greater Kenosha County area has always had more than its share of these people. But, time is relentless, and the past year has seen a number of these exemplars left us.
The light of our community is dimmed by their loss. This is, by no means, a complete list of those people, but here are some of those giving and influential people our community has lost in the past 12 months.
Gary Kaddatz
Two-term trustee for the Village of Paddock Lake, Gary Kaddatz passed away Dec. 31, 2019 at age 68.
During his tenure, Kaddatz served as chairman of the Public Works Committee and the Police and Fire Committee.
Fellow trustee Barb Brenner said he helped make the public works department more efficient and called him "a follow-through guy."
Paddock Lake Administrator Tim Popanda said Kaddatz "was a joy to work with" and always came to the meetings prepared. If there was something he didn't know, he would ask ahead of time so he could make an informed decision.
He also worked for International Harvester, in Libertyville, Illinois, for many years, and drove truck for several companies. He was a member of the Teamsters Union Local 301.
His interests included hunting and fishing; he was also an avid motorcyclist and enjoyed bowling. He loved Wisconsin sports teams.
As a village trustee he was instrumental in public works, including the founding of Whitetail Ridge, a multi-family housing development in Paddock Lake.
Kaddatz "took his job very seriously and was an asset to the community," Popanda said.
Carson Rohde
Founding member and former president of the Scout Leaders Rescue Squad, Paul Carson Rohde died Dec. 31, 2019, in Kenosha. He was 85.
Rohde was born July 13, 1934, in Kenosha, to Paul and Jennie Rohde.
His early career included work for the City of Kenosha as a drafting engineer, a plant engineering draftsman for American Motors Corp. and MacWhyte and a tool designer for Simmons Co. He was also a welding engineer for AMC.
In the late 1950s he helped establish the Scout Leaders Rescue Squad, which he served for 55 years. He was also an instructor for the American Red Cross, Sea Scout Ship leader and one of Kenosha County's first registered emergency medical technicians.
He was also a member of the Lakeshore Chapter American Red Cross and was a member of the Kenosha County Emergency Medical Services Advisory Board.
Ralph Tenuta
Often called a pillar of the community, and known by his big personality and iconic smile, Ralph John Tenuta died Jan. 15 at age 87.
The son of John Tenuta, who founded Tenuta's Delicatessen Liquors and Wines, 3203 52nd St., in 1950, Ralph grew the family business, retiring 20 years ago.
Over the years he employed hundreds of Kenosha youth, became a prolific supporter of Kenosha's academic institutions and a role model to fellow businessmen.
He was named Chamber of Commerce Person of the Year, KABA Person of the Year and was past president of Rotary West.
Tenuta served as a Carthage College trustee for 25 years and received the 2006 Carthage Flame Award.
He was instrumental in establishing the University of Wisconsin-Parkside and served as president of the University of Wisconsin-Parkside Benevolent Foundation. In 2008 he received the UW-Parkside Lifetime Recognition Award.
He was also honored in 2015 as a Distinguished Bradford High School Alumni by the Bradford High School Alumni Association and also a trustee of the Greater Kenosha Area Foundation.
Violet Miller
Longtime resident and unofficial "mayor of Trevor" Violet "Vi" Miller, died Feb. 4 at age 94. She was born to John and Mabel Peacy on Oct. 27, 1925 in Ashland. On April 21, 1947, Vi married Lloyd B. "Red" Miller.
She began getting involved with the Trevor community when she and her husband moved there in 1951.
Miller served as "lunch lady" and head cook at Trevor Grade School for 20 years. She was the first unofficial Trevor Fire Department dispatcher, a local historian, and Boy Scouts volunteer.
Vi and Red were early members of the Trevor Social Club, which eventually became the Western Kenosha County Historical Society. They were instrumental in saving and having the original Twin Oaks School House moved to the Historical Society Grounds. On June 1, 2007, the grounds were named Miller Park of Trevor. In 2010, Vi was named the Remarkable Older American, an award given to her for "making a world of difference."
Ray Forgianni
Ray Forgianni, a founder of Kenosha HarborMarket and a former city planner who influenced the redevelopment of Kenosha's lakefront, died Sept. 26 at age 71 from complications of COVID-19.
Born in Kenosha, on April 23, 1949, he was the son of Raymond A. Forgianni Sr. and Josephine Forgianni. On June 30, 1973, he married Carole A. Chiappetta.
Forgianni was the City Planner and Director of City Development for the City of Kenosha for 33 years, retiring in 2006.
During his tenure, he helped lead redevelopment efforts of former factory sites including the redevelopment of the HarborPark area on the lakefront following the closing of the Chrysler assembly plant that once dominated the area. He also promoted projects he felt would improve life in the city, from preservation of historic buildings to development of bike paths. In 2003, based in part on ideas he developed while traveling in Europe, Forgianni helped found and develop HarborMarket, which has become one of the most popular features of summer in Kenosha. Forgianni served as president of the market's board until his death.
Ray was active in Wisconsin Women's Business Initiative Corporation (WWBIC), serving on its Southeast Advisory Committee for over two decades. In 2018, he was an award winner of Kenosha's 10 Exceptional People for his work in the community.
Lorraine Hollingsworth
Lorraine "Holly," Hollingsworth, a career maternity nurse, a lifelong community volunteer died May 31 at age 91.
Lorraine was born on Feb. 27, 1929, in Elma, Iowa, to Alfred and Ella Bachmann.
Hollingsworth was an obstetrical nurse and obstetrical supervisor at both Kenosha Memorial Hospital and St. Catherine's Hospital from 1953 until she retired in 1999.
Seeing a need in the community for care for prenatal mothers, in 1970 Hollingsworth offered "Holly's Childbirth Classes" that met at Grace Lutheran Church. She founded a nonprofit the organization, Pregnancy-Childbirth-Childcare-Parenting Inc. that provided prenatal education to families in Kenosha from 1980 to 1986. St. Catherine's Hospital eventually named her Maternal-Child Outreach Coordinator in 1987.
Hollingsworth was a volunteer member of the Kenosha Unified School District School-Aged Mother's program that started in 1970. She provided medical information to the expectant teenaged mothers enrolled in the Kenosha School System.
In 1979 she was named Kenosha Woman of the Year in 1979 for her volunteer work providing prenatal care to families and students in this program.
Most recently, Hollingsworth was sewing face masks for children who accompanied their parents to the Grace Lutheran Church food pantry and diaper pickup during the pandemic.
Hollingsworth also did community outreach at Grace Lutheran Church, serving at its food pantry and as a founding member of the Baby Moses project, dispensing advice and diapers to new mothers.
Phil Cayo
Phil Cayo was one of Silver Lake's first emergency medical technicians — serving the Silver Lake Rescue Squad for over 30 years — and was instrumental in establishing the Westosha Emergency Center in 1982.
On June 14, Philip "Phil" Cayo, 90, died at his Wilmot home.
He was a member and coach for the United States Army 416th Engineer Command, shooting near-perfect scores with standard issue military rifles at the 5th Army Matches.
Cayo was born Sept. 28, 1929, to William and Florence Cayo in Kenosha. He married Nancy Newman on June 11, 1955.
He served Silver Lake Fire Department as secretary-treasurer, a certified emergency medical technician and one of the founding members of the Silver Lake Rescue Squad.
In addition to public service to western Kenosha County, Cayo worked for and became vice president of Swatek Sales, a company that built gas stations in Silver Lake and Lake Geneva and was a building inspector for the western part of Kenosha County.
Nickolas Leon Trombley
Nickols Trombley had a career in law enforcement and a call to public service.
He was an officer with the Kenosha County Sheriff's Department for over 32 years and later a trustee on the Paddock Lake Village Board.
Trombley, of Paddock Lake, died July 25 at age 79.
He was born July 27, 1940, in Superior. On Aug. 3, 1963, Nickolas married Diane Evelyn Webster.
He served with the Sheriff's Department from June 1, 1965, until his retirement Jan. 19, 1996, beginning as a deputy and eventually being promoted to detective.
As as detective, Trombley worked with a special investigative unit for child support and welfare fraud and in general investigations.
Phil Jaeger
Following a decades-long run on the stages of Kenosha, and northern Illinois, community theater actor and director Phil Jaeger died Oct. 26 at age 72.
He was born on Aug. 20, 1948, in Cedar Rapids, Iowa, the son of Ray C. and Rose E. Jaeger.
For 30 years, Jaeger, late of Zion, Ill., was a staple with the Lakeside Players, as director, actor, play reader and member of the board. He also performed with Radio Girl Productions, the Racine Theater Guild, PM&L Theater in Antioch, Illinois, and the College of Lake County.
With the Fleeing Artists, he played Ebenezer Scrooge in "A Christmas Carol" last December at the Rhode Center for the Arts.
His directorial accomplishments with LSP included, "The Heidi Chronicles," "Holiday" and "The Rain Maker." He also directed the radio show "Dial M for Murder."
In addition to Kenosha's Lakeside Players, Jaeger performed with various other theaters and troupes. In Zion, he played Pontius Pilot in "The Passion Play."
Robert Schneider
Banker, attorney and community philanthropist, Robert Schneider, 79, died Nov. 30, following a battle with COVID-19 along with other pre-existing health issues
Schneider was born March 8, 1941, in Kenosha, the son of Elmer and Marion Schneider. On May 20, 1966, he married Sigrid Nye.
After a brief stint in law practice in Kenosha, Schneider worked in the trust departments at the First National Bank of Kenosha, McHenry State Bank, (Illinois), the American State Bank (Kenosha) and its successor, Heritage Bank and Citizens National Bank, Princeton, Illinois.
In Kenosha he served on the Kenosha County Board, was the chairman of the Southport Lakeshore Development Corporation and was director of the Kenosha Community Foundation for 12 years.
As director of the KCF, Schneider helped grow the charitable giving organization's assets by 350 percent with disbursement to a wide range of programs and projects.
With the Foundation Bob helped spearhead Fine Arts at First held at First United Methodist Church, Jazz Week at the University of Wisconsin-Parkside, the Fleeing Artists Theatre and the Kenosha Creative Space.
Robert Nelson
Businessman and community leader, Robert "Bob" Nelson, died Nov. 19 at age 92.
Founding president of Bane-Nelson, the family-owned Kenosha industrial and commercial contracting firm, Nelson was born in Kenosha, on Oct. 2, 1928, the son of George E. and Pearl L. Nelson Sr.
Nelson started his career with David Nelson & Son – Mayflower Moving & Storage Company. He, along with his brothers and a partner Horton Bane, formed Bane-Nelson Inc. in 1965 to service the industrial and commercial community of Kenosha, Southeastern Wisconsin, and Northern Illinois. He served as President of Bane-Nelson from 1965 until his passing.
He served as a board member of the Kenosha Manufacturer's Association and the Kenosha Area Business Alliance, president and founding member of the Tri-County Contractor's Association of Kenosha, Racine and Walworth Counties and was president of the Wisconsin Chapter of the Metal Building Dealers Association and of the Eastern Wisconsin Erector's Association.
His community service included United Way General Campaign chairperson in 1985, an honoree in 1987 at the Kenosha Civic Veterans Parade and a member of the Rotary Club of Kenosha for 47 years. He served on the boards of the Rotary Club and other non-profit organizations, including St. Joseph Catholic Academy, Boys and Girls Club and Serra Club.
Nelson was involved with Boy Scouts of America for 58 years. He served as president of the Southeast Wisconsin Council and received the highest awards in scouting — the Silver Beaver and Silver Antelope.
Nelson served in the Wisconsin National Guard for 12 years, attaining the rank of 1st lieutenant and was the commander of the 126th Field Artillery headquarters in Kenosha.
As a business leader, Nelson participated with the Employer Support of the Guard & Reserves, for which he served as a past area chair. He was as awarded the 2012-2013 ESGR Jack Weissgerber Award of Excellence and received the 2018 ESGR Lifetime Achievement Award" from the United States of America Department of Defense.
Cindy Fredericksen
Police officer and well known community photographer, Cynthia Grace (Oros) Fredericksen, passed away July 9 at age 60.
Fredericksen, who grew up in Twin Lakes, began her career in law enforcement in 1982 after earning an associate's degree in police science from Gateway Technical College. She rose through the ranks as a patrol officer to become a detective investigating sensitive crimes, including child abuse and domestic assaults, for 13 years before becoming a patrol supervisor. The last two years on the force, she served as administrative sergeant under then-Police Chief John Morrissey.
Morrissey credited Fredericksen with establishing the department's social media presence, one that adeptly displayed both the humorous and serious sides of policing.
Fredericksen met her husband Tom, a retired Kenosha Police detective, while they were both on the department. A Vietnam War veteran who suffered the effects of Agent Orange and whose legs had to be amputated due to diabetes, Fredericksen donated one of her kidneys to her husband more than 20 years ago.
An avid and skilled photographer, Fredericksen took photos of nature and other scenes in Kenosha, posting them on social media.
She also volunteered her time to take photos of Gateway's firefighting certification classes and live fire trainings.
Don Orth
Kenosha County Crime Stoppers chairman for more than 20 years, and a community fixture at the Kenosha News for over 30 years, Donald C. Orth died on Sept. 16 at age 84.
A U.S. Army veteran of service in Korea, Don was civic minded. He served on the boards of the Kenosha Library and the Boys and Girls Club and the Kenosha Civic Veterans Parade Committee.
He was such a staunch advocate for construction of the Northside Library that family jokingly referred to the project as "the Orth-side library."
A law enforcement booster, Don was involved with Crime Stoppers for more than 30 years. "Don raised more than $100,000 to be used for crime tips, and that led to the successful resolve of many crimes," said Kenosha County Executive Jim Kreuser.
When Orth stepped down from Crime Stoppers in 2017, he spoke of his passion for the organization. "'The goal of the program is to develop a community offensive against crime,'" he said. "'Our mission is to help solve crime and make communities safer.'"
Dr. Bob Bonn
The longtime athletic director at Carthage College died unexpectedly on June 26 at age 68.
Bonn, known to most in the community as "Doc Bonn," had an immensely successful run leading the Carthage Athletic Department from 1992 until his retirement in 2018.
The Red Men raised 117 banners during his tenure, each signifying a conference championship or a top-eight national finish. During that time, Carthage added four men's and five women's programs at the NCAA Division III level, completed more than $50 million in facility renovations and built a $3 million endowment.
Bonn was the National Association of Athletic Development Directors (NADD) president during the 2001-02 school year and in 2019 was honored with the organization's Lifetime Achievement Award.
"Bob's true legacy flourishes in the lives of thousands of Carthage graduates," said former Carthage President F. Gregory Campbell, who hired Bonn. "Yes, during his 26 years as athletic director, the number of teams virtually doubled and millions of dollars flowed into state-of-the-art facilities.
"But, most fundamentally, his student-athletes developed traits in competition that make them stronger and more resourceful adults today. Bob embraced that vision and personified NCAA Division III athletics at its best."
Eugene BilottiSkilled athlete, educator and public servant, Eugene Bilotti died Dec. 23 at age 87.
Friends and former colleagues recalled him as a deep thinking and a "Renaissance man."
Bilotti was born Nov. 10, 1933, to Eugenio and Maria Bilotti. On June 8, 1957, he married Arlene Pitts.
Bilotti starred in football at UW-La Crosse, where he was a member of the 1953 Wisconsin Intercollegiate Athletic Conference championship team. After college, he earned a master's degree in English from UW-Madison and another in Spanish in 1968.
He taught at Wilmot High School from 1957 to 1968, followed by a 31-year career as a professor in the English Department at Gateway Technical College until his retirement in 1999. He also taught Spanish literature at Carthage College and at the former Dominican College in Caledonia.
Bilotti enjoyed a 16-year term on the County Board. He served on every standing committee during that time and was chairman from 1988 to 1990.
He also served on the United States Military Academy Selection Board for Wisconsin from 1978 to 1988, was involved with the Kenosha County Department of Community Programs Board for Alcohol-Drug Abuse, Developmental Disabilities and Mental Health and was a charter member of the Kenosha City-County Joint Service Board from 1981 until May 1990. Bilotti was also on Kenosha Symphony Board plus a member of the Kenosha County Fair Board.
Kenosha News editors Rex Davenport, Mike Johnson and John Sloca contributed to this report.