At 2:30 a.m. Friday morning, Anne Benson woke up in a panic, worried about her business.
Benson, owner of Oliver's Bakery, 3526 Roosevelt Road, had recently found out that her application to the current Paycheck Protection Program had been declined and her bank had informed her that the situation probably wouldn't be changing in the near future.
"Last week I was in a panic because I had to cut (my employees') hours and was making barely enough to cover expenses," Benson said in an interview Monday morning. "I went to bed (Thursday) with that on my mind, thinking 'Oh my gosh what am I going to do?'"
Unable to fall back to sleep, Benson posted her concerns, on her personal Facebook page. Although she did not refer to the bakery by name, friends began reposting her message and the implication was that the bakery was in imminent danger of closing.
"I never mentioned Oliver's, I never said we were closing, I was just in fear of what was to come. I was worried about my employees, I was worried about my son, I was worried about my business," Benson said.
Her concerns hit a nerve with friends and bakery fans and the community. By the time she opened the bakery doors Friday morning, customers were lined up down the block to purchase bakery goods.
Throughout the day dozens of messages of concern popped up on Oliver's Facebook page and by the end of the day there were two Facebook crowd-funding pages dedicated to saving the bakery.
"Friday I came into work and it was like people just started coming in, 'Oh I saw Facebook, are you closing?'' Benson said. "I never said I was closing, I just said I was struggling, like every other small business in this town."
Oliver's Bakery fans came through in droves on Saturday as well, prompting Benson to post a photo of day-end empty bakery cases with a message of thanks to her loyal customers. "The love the city has shown me has been phenomenal."
A Kenosha institution
Oliver's has been a purveyor of pastries, bread and cakes since 1950. Benson has worked at the bakery for 42 years, taking ownership in 2013.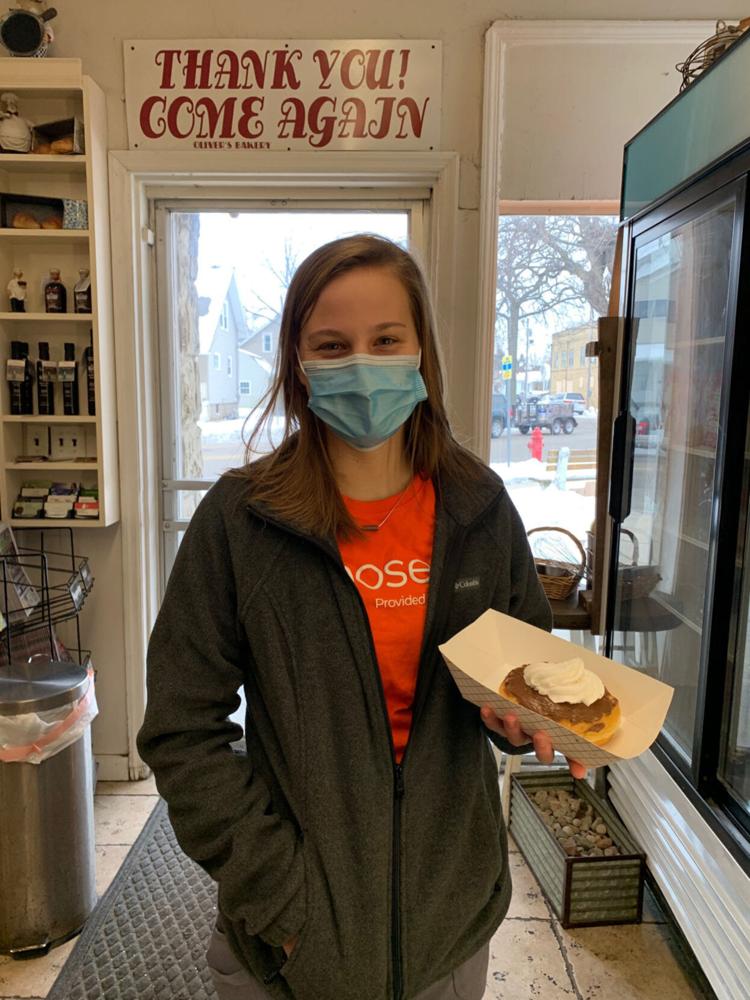 It has only been in the past few months that the outlook has been uncertain, she said. "Last January we were booming — we had just gained contracts from nursing homes and hospitals and I thought, 'This year is going to be amazing!" Benson said. Less than two months later, those contracts disappeared with the pandemic shutdown.
However, during the spring lockdown when other businesses had to close, Oliver's remained open. "What saved me was my fish and shrimp; other restaurants were closed so customers came here ... Kenosha stood by me and helped me get through last year," Benson said.
Although the first PPP loan helped keep the business afloat, she didn't qualify for the most recent PPP. "This time (businesses) had to show a 25% loss from 2019 to 2020. Mine was not 25% so I did not qualify."
"Am I in fear? Yes, I'm in fear especially without that (PPP) loan to get me through. I didn't know how I would do it because that's what saved me last year."
But given current conditions, even PPP is just a temporary fix, Benson said. The way forward, she says, is for the community to continue to support all of Kenosha's family-owned businesses. "If we let these go we'll end up with chains."
Benson hopes to continue to operate the bakery for a long time to come. "My son, Ben, has come into the business and wants to carry on the tradition.
A familiar story these days
Oliver's situation is far from unique, said Alexandria Binanti, executive director of Downtown Kenosha, Inc. on Monday.
"Those fears of closure expressed by Oliver's owners is not a unique story right now unfortunately. Risk of closure is very much a concern for nearly 30 percent of small businesses due to the COVID-19 pandemic."
The community outpouring of support is encouraging, Binanti added.
"It is heart warming to see the community rally together to support a long-standing small business. So much of Kenosha is built by local industry and small business families," Binanti said. "The call to help our small businesses is needed more than ever."
"I don't know what the future holds — I can't tell you if I'm going to be closed or I'm going to be open. All I know is I'm going to make every effort to remain a part of Kenosha — that's my thing. I don't want to lose this business, I don't want Kenosha to lose this business. I love my job, my son loves his job and we're just going to keep going and whatever's going to happen is going to happen."