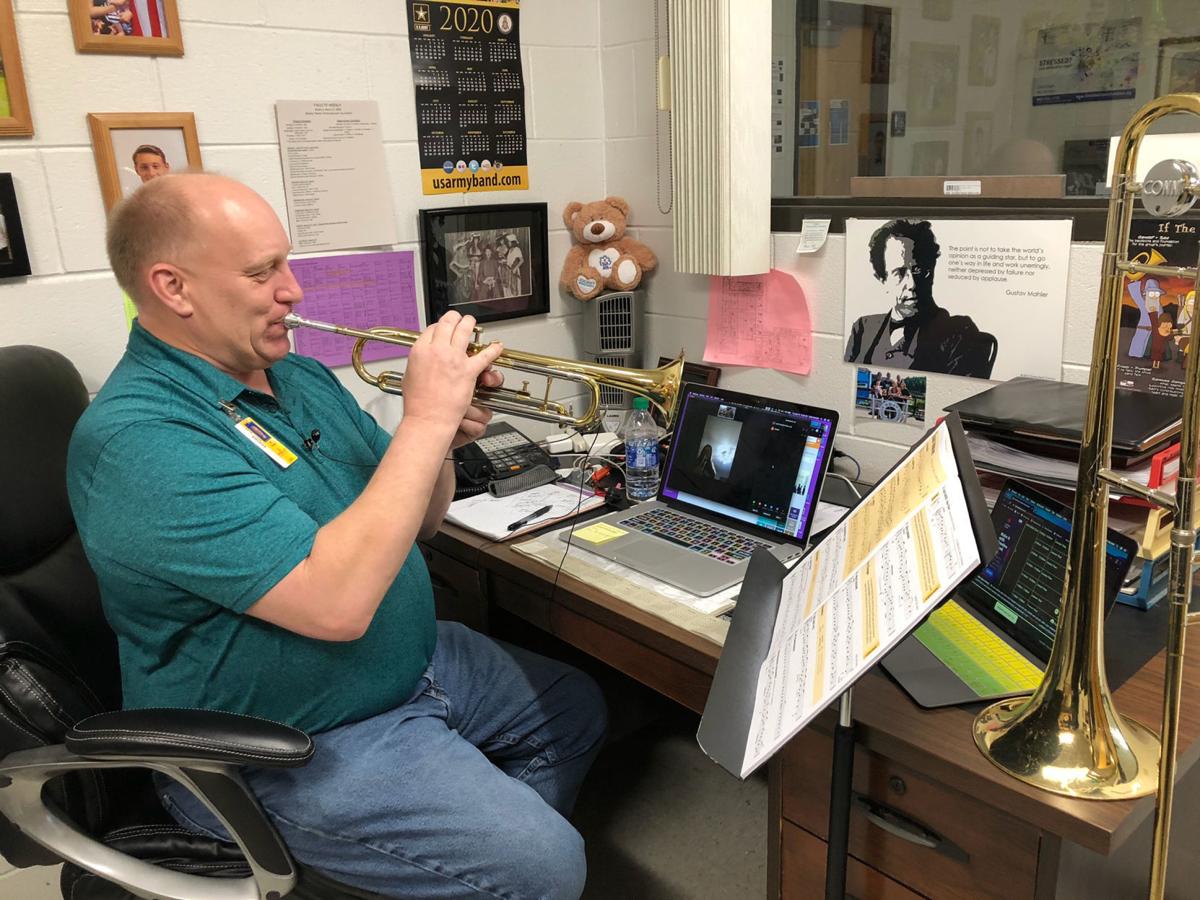 Occupation: Teacher & Band Instructor / Shoreland Lutheran High School
Current Residence: Kenosha
Tell us what you do to make a positive impact on the community: I enjoy teaching instrumental music to the students of Kenosha and its surrounding communities at Shoreland Lutheran High School and our network of elementary schools. After 35 years working as a teacher, and 46 years playing musical instruments, I am convinced that music education is one of the most important parts of a child's development. Sharing that love with the children of Kenosha is my biggest community contribution. I also play tuba in the churches and with the UW-Parkside Community Band, which allows me to "put my money where my mouth is," quite literally, by demonstrating how a music education builds lifetime skills. Playing music provides an enjoyable emotional release for me.
What do you appreciate the most about Kenosha County? The easy answer would be all the great pizza joints! But, in addition to enjoying pizza and tasting my way through Kenosha County's other great restaurants, I appreciate the love that our residents have for the arts, especially music. The outstanding music programs in our school systems and colleges cultivate talented performers for the many performance venues around Kenosha County.
Who inspires you, and why? Working as music instructor in Christian schools for my entire professional life, Jesus Christ is my biggest inspiration. His teachings guide everything I do as an instructor. I have also been blessed with some outstanding music educators that have guided my growth: Paul Kassulke and Paul Wendland in high school and Roger Hermanson in college. As fellow Christian educators, all of them continued to mentor me in my professional life. They taught me to focus on the positive and strive for excellence in music and in life.
Tell us about the greatest life lesson you have learned so far: The greatest life lesson is simple: have faith! Trust in God to handle the adventure He's given you in this thing called life. Sit back and enjoy the ride. He'll bless you with great moments and memories, and He'll guide you through the challenges – making you a better person for going through those tough times. Then, He'll take you to be with Him in heaven, not according to any plans you have made, but according to what He knows is best.
What is the last good book you read or movie you've seen, and what did you appreciate about it? My books tend to all be the same, so I'll go with a movie. I enjoyed "Knives Out," which played back at the end of 2019. The film features a talented ensemble cast that interacts well together. This clever whodunit wasn't all about special effects but, rather, hung together on that great cast and an intriguing plot. I liked it so much that I saw it again in the theater and a third time on a streaming service during the pandemic.
Where do you see yourself in 10 years? In 10 years I'll be 66 years old. Perhaps, I'll still be teaching music. It is and always has been a grand time. But, if I'm not teaching, I'd love to retire and volunteer my time to support my church's evangelism or mission builder programs.
What would others be surprised to learn about you? One of my favorite hobbies is working with stained glass.
What is the most adventurous thing you've done? The summer after my eighth grade, I traveled out west and visited Cedar Breaks National Monument in southern Utah. The canyon's sheer cliff dropped hundreds of feet to the canyon floor. A friend and I walked along the edge of the canyon, for about two miles out and back, with no railing or any protection. I'm sure any parent would've lost their mind at the folly of that journey, including my own – had they known!
If you could have dinner with any four other people (living or dead), whom would you invite and why? I would love to have dinner with Martin Luther and get his review on our church body in the 500 years since the Reformation. I would also invite my great, great grandpa, Josef Krizenesky, and find out what motivated him to leave his home near Prague in the country of Bohemia in 1863, to come to America in the midst of our Civil War. John Philip Sousa also would receive an invitation to discuss music and music education from his time to the present. I would also love to have dinner with my dad, Donald Wordell, just to talk with him again and tell him how much his life has taught me, especially since his passing almost 20 years ago. Imagine the fascinating conversations this eclectic group of people could have!
Tell us about your favorite teacher. Mrs. Jean Lamphear was my first-grade teacher back at Trinity Ev. Lutheran School in Brillion. She was amazing in the many ways she found to inspire me and my classmates to learn new things. Even after these 51 years have passed, I remember the way she taught us to correctly pronounce the letter "L." Mrs. Lamphear inspired us in science by taking the whole class to her house to watch an Apollo rocket liftoff. She also helped us memorize Bible passages and hymns to sing in church. I still remember those songs. She was the first person who made me want to become a teacher.
What is the best gift you've ever received, and what made it so special? The Lord has granted me a wonderful wife and five children who tolerate my crazy passion for teaching band. That is a most amazing gift I have received. But, if this question is about an object, I will always remember the fish cleaning knife my grandpa gave me when I was 10. It was the one he liked to use, and he would sometimes share it with me to clean fish with him. The present wasn't a big show, not all wrapped up or anything. He just gave it to me by the back door of his house, and he said I could have it "now that I was big enough to stand at the counter." I still have the knife, and it's a great memory of my Grandpa Krizenesky and our times together.
What would you do if you won $1 million? Hmm. That's a crazy thought, since I'm not one to enter contests. I suppose I'd have to split it up a bit. I'd want to share the money with my children, so they'd get some, and I'd give some to the schools I've taught at over the years. I guess I'd splurge a bit on something I've always wanted, a Ford Mustang. And, if I do that, I'd splurge on my wife's dream vehicle too. She's always wanted to have one of those open-air, convertible Jeeps. Then there's that dream of flying in an actual P-51 Mustang fighter plane from World War II. I saw an ad that said a person could pay something like $2,000 for a 30-minute ride. I'd probably pay way more than that to stay up a whole lot longer!