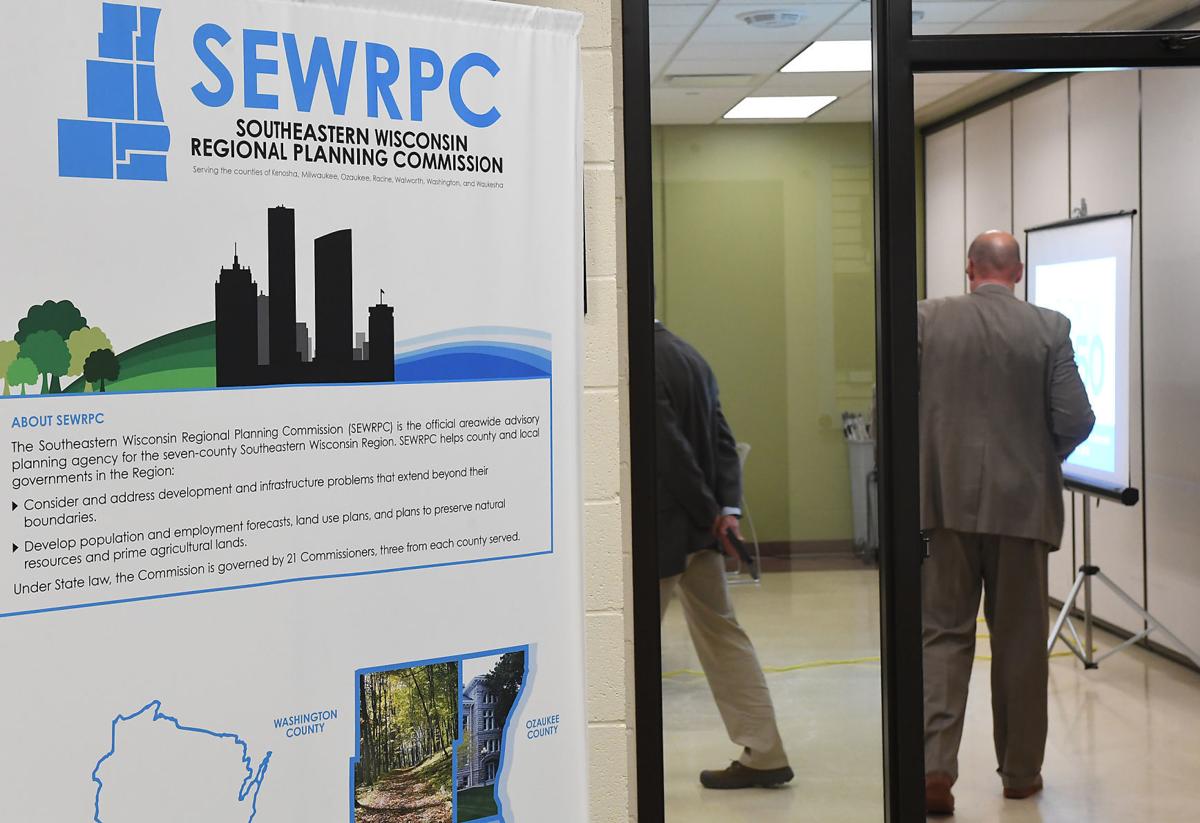 With the arrival of Foxconn to southeast Wisconsin, regional planners are working to update an advisory growth and development plan adopted just two years ago.
Foxconn wasn't yet on the radar when the Southeast Wisconsin Regional Planning Commission — whose seven-county region includes Milwaukee, Racine and Kenosha counties — finalized "Vision 2050," a long-range plan for land use development and transportation in the region.
With construction of the Taiwan-based electronics giant's mega plant now underway, along with major road projects related to it, the group is proposing to amend it.
An open house was held at the Boys & Girls Club in Kenosha Wednesday night, where Michael Hahn, SEWRPC executive director, and members of his staff, including Deputy Director Kevin Muhs and Christopher Hiebert, the nonprofit's chief transportation engineer, met with the public.
It was the fifth of six planned meetings about Vision 2050 and to discuss why it needs to be amended. Hahn hopes to have the commission adopt an updated version before year's end, recognizing the outsized efforts Foxconn brings to the mix.
More road widening
The Foxconn project anticipates bringing more people and jobs to the area than originally projected by Vision 2050.
Getting people to and from those jobs calls for greater transportation improvements, including widening some main county roads. The latter includes highways 11, 20 and KR.
The plan originally recommended expanding KR from two to four lanes from Sheridan Road to I-94. The amended plan calls for widening KR to six lanes from Highway H to I-94.
Muhs acknowledged that would "a big change under the amendment."
He said governments in Racine County are calling for the KR expansion. Kenosha County officials have not directly expressed agreement with enlarging the borderline road to that extent, but, Muhs said, "They haven't said 'no' either."
Funding limitations
Hahn said limitations in government funding at all levels ultimately will determine how much, or how little, of the planning will become fully realized in the next three decades.
He wants people to be aware of the importance underlying Vision 2050, as well as the proposed amendment to it.
"Over time, we hope that the benefit will be realized by decision makers, and it will be implemented. A lot of it will be dependent on state and federal funding," Hahn said. "The full plan provides a blueprint for transportation improvements and land use through 2050."
"As the region grows and develops, the need for what we're recommending should become apparent," Hahn added. "The plan recommendations will be beneficial to all residents of the region and will serve all residents of the region."
Limited attendance
Dennis Flath, Barb Meyocks and Chuck Powell, all of Kenosha, were among 16 members of the public who dropped by the open house.
Powell said he was surprised so few people showed up to learn more about the long-range vision embodied in the original plan and the proposed amendment. A local landlord, Powell said he planned to share what he learned at an upcoming Kenosha Landlords Association meeting.
From his perspective, Powell said, the recommendations "probably make sense" with a view to planning ahead for the changes to come.
Flath and Meyocks, both retired high school science teachers, wanted to learn more about planning related to the Foxconn project.
"I think there's great potential here, but I'm concerned about the environmental impacts — primarily impacts on land and water usage. And people are being displaced," Flath said. "I'm not anti-progress, but I'd like to see some good oversight in the plan and how it's implemented."
Public transit options
Meyocks expressed similar sentiments and pointed out the report itself notes significant gaps regarding public transit plans.
"I'm always concerned about what's going to happen with the environment with all the construction at the Foxconn site and all the infrastructure for it," Meyocks said. "If we're going to see Foxconn as this big employer, there has to be more attention paid to public transit to get people to the jobs."
Vision 2050 shows three potential bus routes to the site, one from downtown Milwaukee that would run as far south as the Pleasant Prairie outlet stores.
Having ridden the Milwaukee route, she questioned whether it could get people to and from Foxconn without enduring the numerous, time-consuming stops along the way.
Under the amendment, a second would run from downtown Racine to the site in Mount Pleasant, then west to Burlington. A third would run north from Kenosha into Racine.
Muhs said the routes likely would be operated by a private bus line subsidized by government funding.
The Southeast Wisconsin Regional Planning Commission is inviting public comment on a proposed amendment to its Vision 250 long-range plan to guide growth and development with the coming of Foxconn to the seven-county area.
SEWRPC will hold a sixth and final public open house for that purpose from 5-7 p.m. today at the Corinne Reid-Owens Transit Center, 1421 State St., in Racine. People may provide their comments in person to a court reporter at the meeting.
Anyone interested in submitting comments via email, U.S. mail, fax or online may do so through Sept. 30 by way of the following:
Mail — W2339 M1812 Rockwood Dr.
Get local news delivered to your inbox!
Subscribe to our Daily Headlines newsletter.