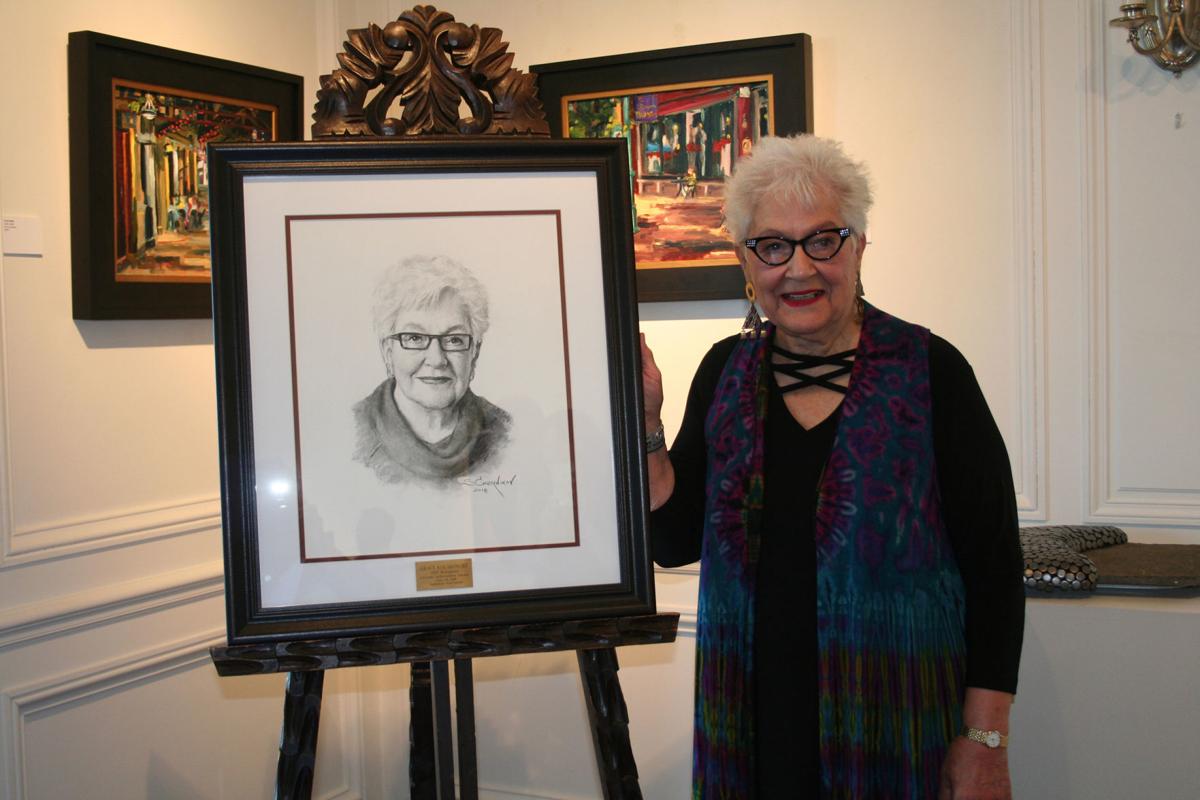 Kenoshan Grace Remitz-Kolakowski considers herself an amateur artist, though she loves to paint.
She also deeply loves the arts, making her the perfect recipient of the 2017 Lifetime Achievement Award presented Sunday at the Anderson Arts Center.
"She is a fierce warrior on a mission," said Flora Doody, Anderson's special events coordinator. "She is the first honoree I had the pleasure of working with. Daniel Burnham, the designer of Simmons Library, said, 'Make no little plans.' That's our Grace."
At age 88, Remitz-Kolakowski has a range of accomplishments, from 42 years of teaching, 21 years of service as a Franciscan nun, to leaving the convent, traveling the world and volunteering.
She helped found and endowed the Kenosha Performing Arts Center, near singlehandedly catalogued the clothing collection at the Historical Museum, has volunteered at the Anderson Arts Center and developed the tour at the Kemper Center. Her information was so detailed, that it's still used with Kemper docents today.
She and her late husband landscaped the Kenosha Lighthouse and helped get it designated as federal landmark. For the past three years, she's also continued to tutor two students at Harvey School. And that's only the start.
"She's a very special lady," said Lee Arneson, who nominated her friend for the award. "I had tickets for the Performing Arts Center in Milwaukee, and I met her when I needed a partner.
"The last play we saw was 'The Sound of Music,'" Arneson said. He recalled that Grace, seeing Maria leaving the convent with her suitcase, said to her, 'That was me. That was all I had.'"
Those in and around Kenosha know Remitz-Kolakowski for her giving attitude, her extensive perennial garden and love of the arts, and her gung-ho attitude.
Presenting her with a city proclamation, Mayor John Antaramian, said, "Grace is one of those people who give forward. It's more important the things she's done to help people and organizations."
Ed Kubicki, Kemper Center director and Kenosha County Board supervisor, also presented a proclamation on behalf of Kenosha County Executive Jim Kreuser, noting Remitz-Kolakowski's service and naming Sunday as Grace Kolakowski Day.
Even Larry Haskin, one of Remitz-Kolakowski's former students, never forgot the influence the former Sister Bernita had on him as his eighth-grade teacher and principal at St. Mary's School in South Milwaukee in 1965.
"Our school had about 90 kids in eighth grade in two different classes," recalled Haskin, of Oak Creek. "She was the boss. Every successful organization, the success comes from the top down and from the leadership. She was a great role model and teacher."
Family members also praised her leadership and her desire to stay close with everyone, even taking on the organization of big family reunions.
"Grace has always been a leader," said nephew Joe Remitz, who was reading a cousin's speech who couldn't make the event after hitting a deer (but was fine.)
Niece Jackie Newman of Onalaska, who has Bernita as her middle name, said she always remembered her aunt's influence in her life.
"My first real memory of her was maybe at 6 or 7 and I remember watching her come in her habit," she said. "When she raised her arms it was like a cape. You'd be engulfed in that habit. She became my Mary Tyler Moore. She was a woman that made an impression on me and my family."
Remitz-Kolakowski, who has been taking art classes at the Kenosha Public Museum, (her watercolors are now being shown at Kenosha Fusion), appreciated all the accolades, but said the best part was having so many special people in her life.
"My life has been blessed, blessed by all the people I have known or met," she said.