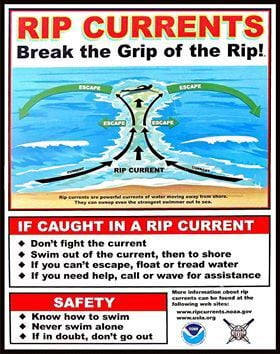 According to the Great Lakes Surf Rescue Project, there have been 662 drownings in the Great Lakes since 2010.
On average, almost half of Great Lakes drownings happen in Lake Michigan.
We must educate ourselves and respect its power in order to enjoy it safely. Please read and share this important information from GLSRP as each of the situations described below occur on Kenosha's lakefront.
The Great Lakes Surf Rescue Project wants everyone to know about the dangerous currents that can exist on the Great Lakes, including rip currents, structural currents and outlet curents.
These dangerous currents happen in concert when there are winds and waves.
Rip currents
Rip currents can occur at any beach with breaking waves.
Waves push water over sandbars toward shore and then that water has to go back out. Water seeks the path of least resistance. When a cut in a sandbar appears, water starts to flow out, pulling more sand with it, creating a deeper channel in the sandbar.
Rip currents initially pull away from shore, but may curl and pull parallel to shore once it's past the sandbar.
There are also several other dangerous currents that may combine with rip currents — structural rips, outlet currents and offshore winds.
Structural currents
Structural currents may occur at fixed locations such as groins, jetties, piers or other man-made structures where water can be funneled out to sea in a narrow channel.
In coastal areas with structures, structural currents may result when longshore currents running parallel to the shore are deflected offshore by the structure.
Looking at all of the 256 incidents on Lake Michigan from 2002-2011, 66 percent of the cases occurred on a beach with a shoreline structure. That is why it is important not to swim along piers or break walls, because even during seemingly benign conditions structural currents can still exist.
Outlet currents
A current of water that flows into the Great Lakes from a river, creek, or boat channel.
Offshore winds
An offshore wind is a wind blowing from the land toward the water. Offshore winds can be deceptive and dangerous on the Great Lakes. Deceptive because the water may appear flat and calm at the shoreline, but the farther you get from shore, the offshore winds' strength increases dramatically.
The winds can be especially dangerous for people on rafts, kayaks, standup paddleboards or other floatation devices because the floatation device may get caught in the wind, act like a sail, and be taken far offshore with its occupant.
Offshore winds can also be dangerous if the person is blown out to open water and the person falls off the flotation device and becomes separated. In strong offshore winds, a person can't swim fast enough to catch the device caught in the wind.
Upwelling
Upwelling is a process by which offshore winds push warm surface water away from shore, allowing cold lake water to rise up to the surface from beneath. Upwelling on Lake Michigan can often surprise beachgoers who arrive at the beach to find very cold water.
The onset of upwelling can occur quickly, with lake temperatures falling 20 to 30 degrees. This is very important because cold water shock can cause a person to have a hyperventilating gasp reflex inhalation of water and thus drown (especially if jumping off a pier).
The YMCA has gathered a group of water safety experts and concerned citizens to bring awareness to water safety in our community. This safety around water initiative meets monthly, and our next meeting is scheduled for 1 p.m. July 30. Meetings are held at the Kenosha YMCA, 7101 53rd St.