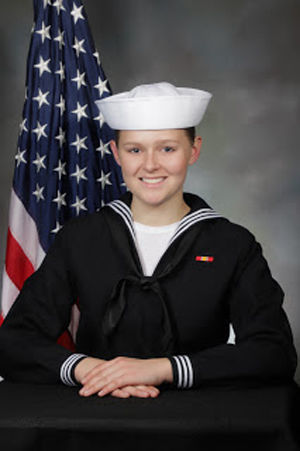 Seaman Recruit Alexis Brooks, of Salem, graduated as the top Sailor from Recruit Training Command, Division 011, earning the Military Excellence Award on Friday.
Brooks said winning the MEA was a turning point in her boot camp experience.
"At first, I was having some doubts about choosing the Navy as a career because I was not too confident in my skills and I was missing some parts of being a civilian," Brooks said. "However, when I found out about the MEA, I knew that the military was the perfect life decision for me because I was able to be successful this early in my career."
The Navy Club of the United States Military Excellence Award is the top award presented to the No. 1 recruit of their graduating training group.
The MEA is awarded to the recruit that best exemplifies the qualities of enthusiasm, devotion to duty, military bearing and teamwork. The award placed Brooks at the pinnacle of today's newest sailors; she was awarded a flag letter of commendation for her achievements.
Brooks, 18, is a 2019 graduate of Wilmot High School. She was a member of the National Honor Society, student government, orchestra and mountain biking team. Brooks earned a Wisconsin Academic Excellence Award by finishing with a top-three grade point average in her graduating class.
Brooks said she was inspired to join the Navy by sailors she met while growing up.
"I wanted to be like my childhood heroes," Brooks said. "Growing up near Great Lakes, I always saw new sailors at the mall. I went up to them to thank them for their service, knowing I wanted to be like them one day. As I got older, I realized there were tons of opportunities in joining the Navy such as traveling the world, receiving a good education, a reliable career and much more."
Brooks said the biggest challenge she overcame was being away from family.
"Coming to boot camp at age 17 has been my first time away from my family for more than a week," Brooks said. "The way I overcame this was by putting my goals and future in front of my emotions and keeping my eyes on the prize of graduating and becoming a sailor, knowing my family will be there at the end."
Brooks credited her Recruit Division commanders — Chief Electrician's Mate Sean Wilkinson, Aviation Boatswain's Mate (Handling) 1st Class Thomas Biejansky, and Aviation Boatswain's Mate (Equipment) Paris Leonard — for their leadership and guidance.
"Petty Officer Biejansky pushed me the most throughout boot camp," Brooks said. "He put me in a leadership position very early and then put me in charge of the whole division as Recruit Chief Petty Officer," she said. "He has continued to push me to my limits and has helped me realize that if I really want something, I have to keep pushing and do everything I can until I reach my goal, no matter my age. Initially, I was trying to lay low and stay unnoticed throughout boot camp. However, thanks to Petty Officer Biejansky, I was able to display my leadership and push my way to the top."
Boot camp is approximately eight weeks and all enlistees into the U.S. Navy begin their careers at the command. Training includes physical fitness, seamanship, firearms, firefighting and shipboard damage control along with lessons in Navy heritage and core values, teamwork and discipline.
More than 35,000 recruits are trained annually at RTC and begin their Navy careers.
Brooks is assigned the rate of machinist's mate (nuclear).
After graduation, Brooks will attend Nuclear Machinist's Mate "A" School in Charleston, S.C. She will then go to Nuclear Propulsion School and finally Prototype School.
Machinist's Mate duties in nuclear propulsion plants include operating reactor control, propulsion and power generation systems.
Brooks will be able to choose between serving on an aircraft carrier and volunteering for submarine duty.
Get local news delivered to your inbox!
Subscribe to our Daily Headlines newsletter.