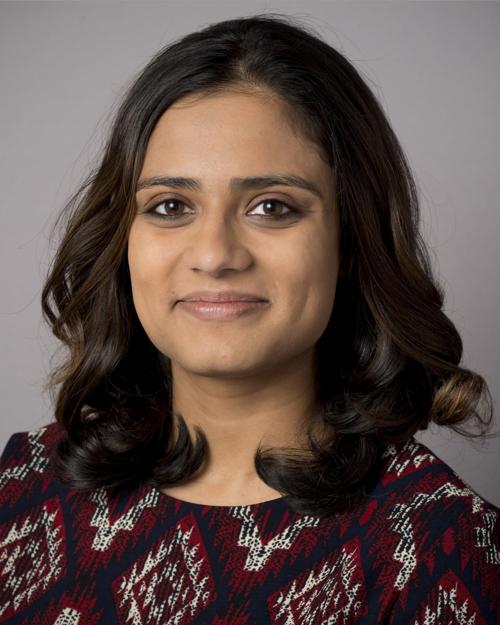 Asma Kadri-Keeler has had a busy two years since returning to Wisconsin.
The 28-year-old Kenosha native, who graduated magna cum laude with a law degree from American University in Washington D.C., returned to the state after working as a clerk for a circuit court judge in Virginia and later having been hired by the American Civil Liberties Union in Milwaukee, where she has been a staff attorney since 2017. She also holds two bachelor's degrees — one in international studies, the other in communications — from Loyola University in Chicago.
Since coming back, she has been working to affect change as it relates to social justice, particularly issues focused on women's rights and gender equity. One case she worked on brought to light harassment involving her alma mater — Tremper High School, where a cheerleading award ceremony, held off site, recognized squad members for the biggest butt, biggest breasts and "string bean."
The incident led to the American Civil Liberties Union filing a complaint and calling for corrective action from Kenosha Unified about the event, which the group said promoted a culture of sexual harassment and body shaming of young women. The district has since instituted policies banning any mock awards, and instituting a new approval process for awards events before they can be held. District administration and staff have also undergone mandatory training on bullying, harassment and hate.
Amid the case — which drew local, national and international attention — Kadri-Keeler, who currently lives in Kenosha, also gave birth to her first child, a daughter, and she has had her hands full since, she said.
Last month, she added yet another advocacy charge as Wisconsin's ambassador to the United State of Women, a group originally founded under President Barack Obama's administration with the Council for Women and Girls and pioneered by then-First Lady Michelle Obama. The organization has since continued its work as an independent, nonprofit group.
Q: What is the United State of Women and how did you become involved?
A: I actually heard about this program when it was through the White House. They did this incredible summit that brought together corporate stakeholders, nonprofit stakeholders, community members to bring organizing across the country on gender equity issues. The first summit itself (held in 2016) was hugely successful. I've always taken an interest in sex discrimination from the legal point of view, and I wanted to explore what opportunities there were to get involved from the organizing side. So, this particular group really focuses on community-based organizing and the way you can tackle sex discrimination through people power.
The group put out a call for ambassadors and previously the state of Wisconsin has not had an ambassador. I thought it would be good for Wisconsin to use this organization as a resource, primarily so we can network with a larger group of people who are working on gender equity issues. My role as an ambassador would be to leverage the power that already exists in the state and bring people together.
Q: Why did you want to work for the ACLU?
A: When I was looking for a job after I graduated, I wasn't quite ready to do international work full time. I wanted to do something more domestic, and the ACLU is really, in my view, the U.S. version of human rights work. We don't really have strong human rights laws in this state, but we have strong civil rights laws, so I thought that was a good way to start exploring domestic human rights issues and build up the legal practice focused on that. I had always followed the organization's work. I really believe in its mission. When this opportunity opened up, the timing really worked out. My parents live in Kenosha. I'm still very attached to being home. So, I applied and I was offered the position and here I am.
Q: What are you working on now?
A: Wisconsin has a really big problem with incarceration rates, and we are trying to cut our incarceration rates in half. One of the things we're doing is we've filed a lawsuit against the state of Wisconsin and the secretary of the Department of Corrections on behalf of five people who have been incarcerated as juveniles. So, they've been in prison now for over half of their life. Our position in this lawsuit is that it's a violation of the 8th Amendment (which protects Americans from excessive punishment).
Q: Why did you want to become an attorney?
A: I've had an interest in advocacy — and I think my parents would tell you — from the day I could walk and talk. I've always been really interested in helping other people and using any sort of skill I could figure out I knew how to do to do that. When I was at home (I was sticking up) for either one of my siblings. When it was at school, I gravitated toward student government programs. I really found a liking for the underdog at school.
I remember being at Tremper and the band kids were nerds and the band kids got picked on and I was in band. I found myself in a lot of situations in school feeling like I wanted to stick up for my group and for people who were like me who were unlike the majority. I think that's kind of where a lot of this started.
Q: What have you become involved with since moving back to Kenosha?
A: I was at the HarborMarket three weeks ago and I came across the Kenosha Women's Network table and I started talking with the women and met up with them at one of their weekly events. They've got a good network of women. They're very welcoming. It seems to me a really good space to share ideas, to get positive feedback. As a person returning to Kenosha, in a professional capacity, I've been impressed with that group.
Q: How has Kenosha shaped you?
A: I think one of the most important things that has come out of my growing up in Kenosha is the lack of diversity. Going to school where I did and the classmates that I had, I'm pretty sure I was the only Indian person in my class. And, maybe, I can count on one hand the amount of Muslim kids in class. So, being the odd person out has really shaped the work that I do now. I think it has given me perspective on helping people who most need it. I also think it has given me perspective on how to take my education, my privilege and be a part of communities without being alienating. And, Kenosha gave that to me because, otherwise, I don't think I would have that perspective. I learned firsthand what it was like to be on the outside looking in.