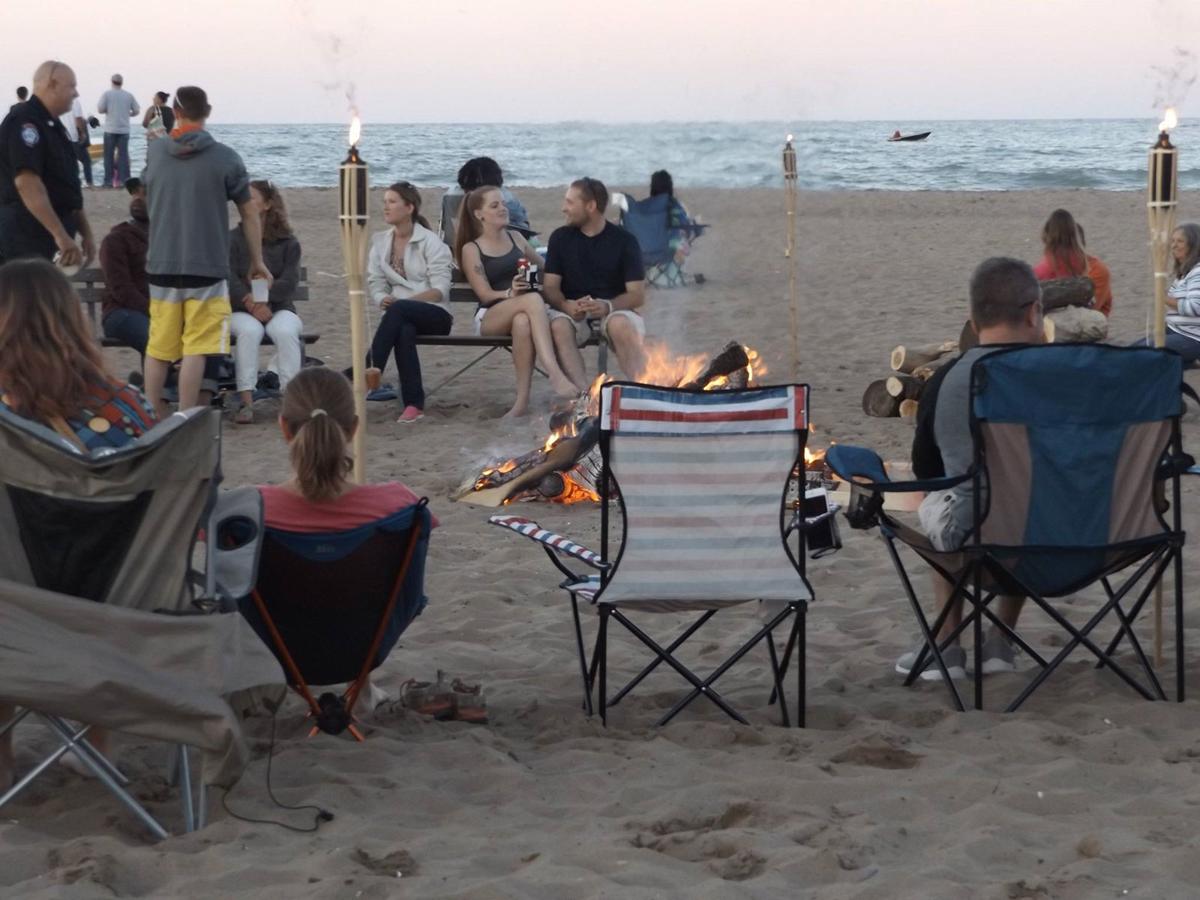 When you work at a newspaper, you hear all sorts of complaints, from the mundane ("my street isn't plowed yet") to the more exotic ("aliens are blocking my cable TV signal again").
But one of the most idiotic complaints I've heard recently came from within our own newsroom.
When the Downtown Kenosha Pop-Up Beer Garden first popped up in 2017 on Simmons Island Beach, I headed there, along with thousands of my friends, to check out this new event.
What I found was a happy crowd enjoying live music, bonfires, drum circles and food and drinks.
In short, a beach party (as billed).
Back at work on Monday morning, I asked one of our reporters for his reaction.
I was surprised when he said it was terrible.
"What do you mean?" I asked. "The weather was great; the people seemed to have a good time."
That's right, his friends had given the beach party a thumbs-down due to the presence of a beach. At a beach party.
Let that serve as a public service announcement, folks: There will be sand again this weekend for the third coming of DKI's Pop-Up Beer Garden.
Luckily, the sand on Simmons Island Beach is soft and well groomed. I still don't like it getting into my shoes, however, so I wear a beat-up pair of sport sandals and remember to dump them out before getting into my car to go home.
When I told beach party organizer Alexandria Binanti Robinson about this complaint, she laughed and said the threat of sandy feet definitely won't dampen her enjoyment of the Pop-Up Beer Garden.
"I'm a barefoot girl," she said, "and I try to live in flip-flops as much as possible. I love being barefoot and love being at the beach with my kids all the time."
The third annual beach party started Thursday evening with its Food Truck takeover and returns to Simmons Island today through Sunday before taking a break and returning Aug. 15-18.
Robinson said she's most looking forward to the bonfires on Saturday night and the artisan markets ("I'm going to spend all my money there").
Her only concern is weather, though even that's not really a worry.
"I'm blindly confident the weather will be perfect, and I'm not checking the forecasts," she said.
If you head to Simmons Island, remember that into every life, a little sand must fall. Especially if you go to the beach. That's why they invented sandals.
Ahoy, ye bayonets!
The Tall Ships Festival made quite an impression on downtown Kenosha, drawing thousands to the lakefront, inspiring countless social media posts and photos — seriously, I saw gorgeous shots of the vessels taken at sunrise, sunset and every moment in between — and even featuring a wandering cat named Fiji who is a fan of open mic nights.
But my favorite story from the festival involves the USS Minnesota Naval Encampment, a group of re-enactors who set up camp outside the Civil War Museum Aug. 3 and 4.
While they were busy schooling visitors in old-timey naval traditions and trying to stay cool in those wool uniforms, they were robbed. Yes, robbed. Someone walked off with a knapsack containing a re-enactor's money and car keys. (Yeah, yeah, we get it; there's irony in a re-enactor having car keys, but you don't expect them to get to Kenosha by horseback, do you?)
Here's where it gets interesting: Because of the Tall Ships Festival, some of our lakefront streets were converted to one-way routes, and the re-enactor saw the keys snatcher driving around the museum in his car.
Before you could say "send in the cavalry!" the re-enactors had chased down and stopped the car. When police arrived, they found the re-enactors surrounding the would-be thief, with their swords drawn.
I'd say the perpetrator learned a few valuable lessons:
Don't rob people who may be carrying bayonets.
Check your exit route before jumping into a stolen vehicle.
Learn your history: There's a reason car-jacking wasn't invented until the 20th century. (See above: Bayonets!)