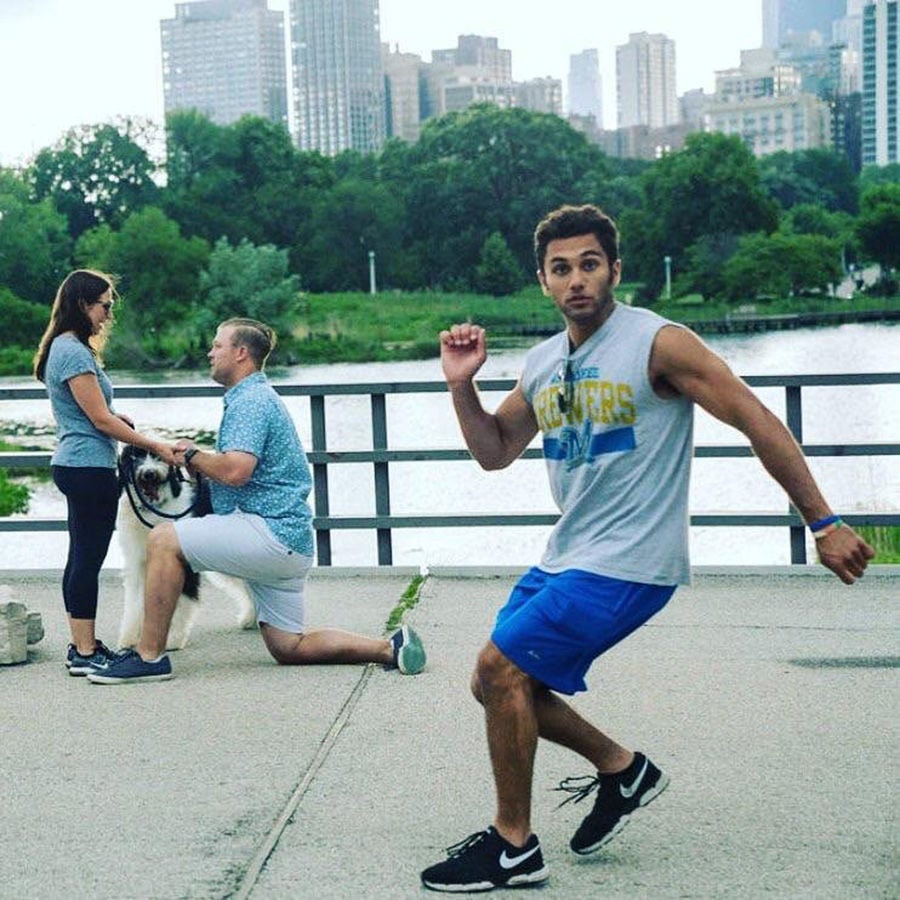 Tony Martin was at Chicago's Lincoln Park Zoo in late June celebrating the birthday of the girlfriend of one of his friends when it started to rain.
The group, attempting to seek shelter began running across a bridge. But while the other three people in his group hung back, Martin, 19, of Somers, has become part of a wedding proposal that is taking social media by storm.
Martin, a 2018 graduate of Bradford High School, and one-time star quarterback of the school's football team, has caused a stir as the "wedding proposal photo-bomber jogging guy," with his photo appearing on Chicago television and more recently on the national scene on "Good Morning America."
On the national morning news show, the couple who was hilariously and unintentionally interrupted by the easygoing jokester has even requested that he attend their wedding in August 2020 and other significant life events going forward. On previous news programs, however, he was not identified.
Until now. The Kenosha News caught up with Martin Monday afternoon for some coffee at a local pancake house where he was more than happy to make himself known, thanks to some encouraging from his sister, Angela.
Martin, a little sheepish at first, admitted he didn't mean to get in the way of Patrick "Boomer" Twardak's and Brooke Osborne's most special moment, as captured by their photographer.
"It happened by accident," he said of the June 30 encounter. "It started raining so we just tried to find some shelter and I'm walking across, like this bridge, and I see this man get down on a knee. And, I thought, 'Oh, that's pretty cool.' I didn't even know that there was a guy to my left that was gonna take a picture of it."
So, Martin, dressed in a Milwaukee Brewers cut-off T-shirt and blue shorts, kept his casual gait until his fate intersected with the future married couple. Unbeknownst to him, his friends had stopped in their tracks, but not Martin.
"All of the sudden, I looked to my left, and 'Oh, snap,'" he said, his deer-in-the-headlights image preserved for posterity. "That's when I struck that pose to get out of the way. I wasn't even running, actually. Everyone thinks I was jogging."
Martin was really trying to just backtrack, or "hop back," and get out of the way, he said.
"After it happened, I was thinking, 'I wonder if he got me in the photo, in the frame?' Apparently, he did, so, yeah, that happened," he said.
Martin, who is studying criminal justice and political science at the University of Wisconsin-Parkside and plans to be an attorney, said he didn't give it a second thought afterward until the following day when the photo "went everywhere."
On July 1, Martin went from being a college student and part-time home improvement store employee, to the star of dozens of creative memes.
"My sisters were like. 'Look, you're all over the internet,'" he said, referring to the texts he received.
The photos of the photo-bombed proposal were initially discovered on Reddit by his sisters. Later, they showed up on Twitter, Instagram and other social media, then Chicago media and Good Morning America, he said.
Friends, family and people at work have been blowing up his phone over the last week.
"It's a funny joke. I never thought I'd be a meme. I've seen some pretty funny ones too," said Martin.
Some of the most creative memes include him with Big Foot, in the Beatles famous Abbey Road album cover (they're walking toward him), mixing it up with all the Avengers, wearing Michael Jackson's hat, and then, there's the one of Martin in a Jurassic Park-like setting.
"I saw one of me where I'm coming out of this portal, I guess, and there's a bunch of dinosaurs," he said. "People are pretty creative. The comments on Reddit and other social media, it's pretty interesting to say the least."
Martin said several commenters thought the original photos were fake.
"They thought, like, my friends just put me into that wedding proposal shot," he said. "My parents even thought it was fake until I explained it to them."
Nope. Not fake. He's got at least six witnesses who'll vouch for him, including his friends.
"I thank them for that, because if not for them, that would've never happened," he said.
Martin said he's also fascinated at the rumors that have come out of social media, including one that has him "already booked" on "Ellen."
"OK, I don't know how they found that out," he said. (Note: He's not booked on "Ellen").
Locally, Martin's recognizability in the photo hasn't really gone beyond his friends and family and a few acquaintances.
"I have yet to have someone who doesn't even know me come up to me … but, I feel that might be coming soon," he added.
One of his friends who was walking alongside him that day was Michael Thomey, who could've easily been part of the unintentional photo-bomb, had it not been for Thomey's girlfriend, who tugged on his shirt before he could enter the realm of Martin's meme. The fourth friend tried calling out to Martin. Thomey heard the other friend and called out to Martin, too, but by then it was too late.
"Tony just kept going and the whole thing happened," Thomey said.
Thomey said he wasn't at all envious of not sharing the limelight with Martin.
"With just Tony in it, it's more unique," he said.
"I think it's hilarious how it literally became a meme," Thomey said. "Yeah. He's a meme now. Not many people can say they're a meme. It's just funny how it blew up."
Martin said the 15 seconds, or week, of fame hasn't really fazed him.
"I took it as really funny. I wasn't mad at it. And, I'm glad that the man and woman who are getting married are pretty good sports about it too," he said. "So that's cool."
In fact, according to Martin, a cousin of the couple has been acting as a sort of intermediary on Twitter sharing information about their August 2020 wedding, which Martin confirmed he has been invited to.
"The couple said they want me to photo-bomb all their (major) life events," he said.
"They said they don't want me to wear the (Brewers shirt) to the wedding," he said. Apparently, the groom is a Cubs fan.
Martin, however, said he might have to bring it as proof of who he is. He added he plans to preserve the shirt.
"It's a pretty iconic shirt now," he said.
Get local news delivered to your inbox!
Subscribe to our Daily Headlines newsletter.