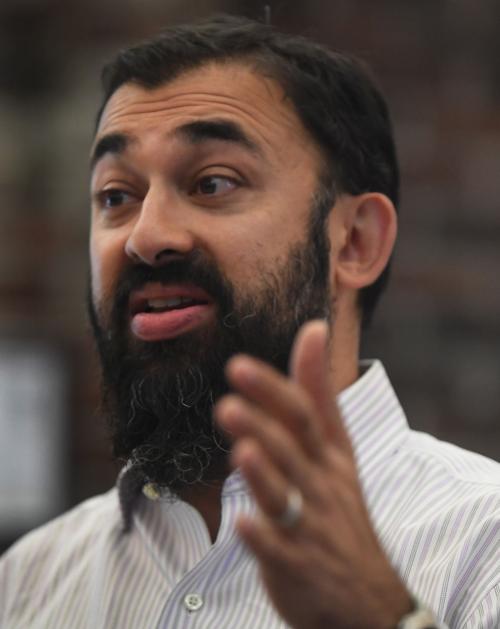 A lawsuit against Wisconsin's legislative redistricting process will soon go before the justices of the U.S. Supreme Court.
Federal judges ruled last fall that the boundaries of districts Wisconsin lawmakers had drawn in 2011 were so heavily skewed toward Republicans that they violated the U.S. Constitution. Earlier this summer, the Supreme Court agreed to hear arguments on the case.
Sachin Chedda, the director of the Fair Elections Project, was in Kenosha Thursday night as the featured speaker in a forum about the ongoing litigation.
"Our expectation is that our vote is going to count," he said. "That expectation wasn't met."
Gerrymandering — the act of manipulating legislative district maps in favor for one party over the other — is the culprit, Chedda said.
"In order to attack the problem we need to understand how it happened," Chedda said, and started explaining how legislatures "crack" and "pack" districts in one political party's favor.
"Cracking" happens when the the districts are drawn to dilute the voting power of the opposing party's support across many districts, scattering them across the map so they don't have enough numbers to elect the representative that reflects their views.
"Packing" happens when a concentrated part of the opposing party's voting power goes into one district to reduce the voting power in other districts, Chedda said.
The result, he said, is the district map decides what's going to happen before Election Day due to manipulated districts.
He spoke of the 2012 election, when former President Barack Obama won re-election.
Nationally, the Democratic Party received 170,000 more assembly votes than the Republican Party. Republicans still won more seats in the legislature that year, Chedda said, and the way the district maps have been drawn is how they did it.
He showed numerous examples of oddly-shaped districts, with skinny lines connecting dissimilar areas.
"That's why we're suffering a lawsuit in Wisconsin," he said.
The U.S. Supreme Court is slated to hear arguments in Wisconsin's redistricting lawsuit on Oct. 3.
If those opposing the current boundaries are successful, Chedda predicts 40 more lawsuits from states across the U.S. will be filed combating gerrymandering.
Forward Kenosha and the local chapter of Organized For Action, two groups that advocate for progressive change, brought Chedda to Kenosha to educate and update the public on the redistricting litigation.
Jodi Muerhoff, a representative of Forward Kenosha, felt the event was a success and educated community members about the issue. A live stream of the forum can be found at www.forwardkenosha.org.