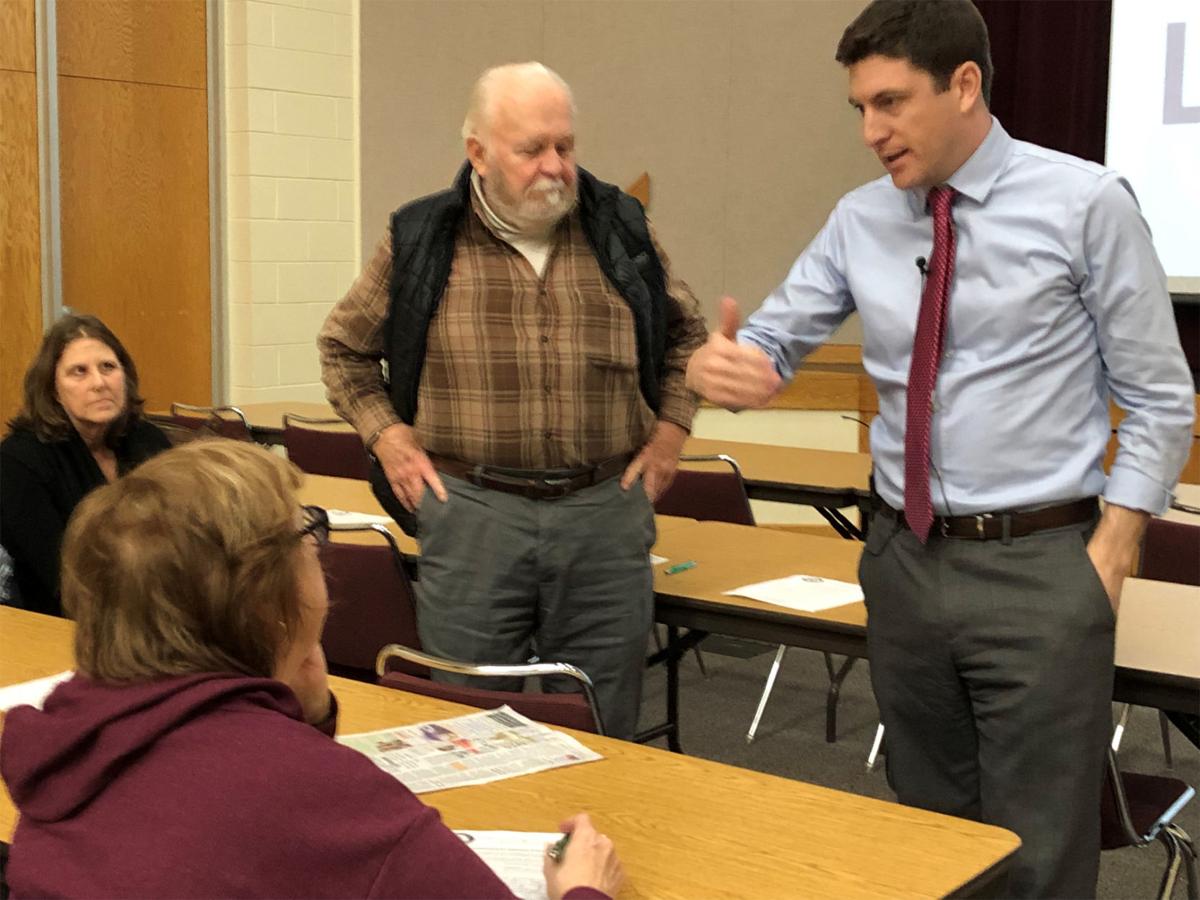 BRISTOL — Newly seated U.S. Rep. Bryan Steil, defended the boarder wall, vowed to protect Social Security and Medicare, and pledged his support for free trade when he met with Kenosha County constituents Monday.
Steil, who held six listening sessions throughout the First Congressional District, told those who attended the one in Kenosha County that he was there to hear from them.
"My goal is to be as accessible as I can," Steil said. "I love hearing what people's thoughts are on policies."
He acknowledged when he didn't now enough about an issue raised by one of the crowd at the Kenosha County Center and thanked them for "flagging" it for him.
"I'm new at this," Steil said. "I'm one month in, so I'm learning. What I want to be is your voice in Washington. To do that, I need to listen."
That is the response Carol McEntegeart, of Paddock Lake, was hoping to hear.
"I'm glad he is having these listening sessions," McEntegeart said, adding she believes former Rep. Paul Ryan had lost touch with constituents.
She attended to ask Steil "to introduce and support gun control and mental health measures."
Opportunity
for Gateway
Steil said he thinks there is an opportunity for Gateway Technical College to bring more training programs directly into area high schools "to make sure people have the skills they need to take advantage of the jobs of the future" along the I-94 corridor in Kenosha and Racine counties.
"I think there is a real opportunity to do that," Steil said. "Sometimes the federal government gets in the way."
Also a priority, he said, is making healthcare more affordable and more accessible.
"I don't support Medicare for all," Steil said in response to a question from the floor.
With regard to trade, Steil wants to"lower the tariffs and barriers so we can take our goods we are manufacturing here in Kenosha County, or in southeastern Wisconsin, and goods we are growing on our farms right here in our home communities, and be able to trade them freely and fairly and reciprocally across the globe."
He said getting new agreements in place with the European Union, Mexico, and Canada is the best way to start. Then, along with its allies, America can "take on China."
Wants progress on avoiding shutdown
He said he is "not content" with the progress, or lack thereof, toward ensuring the government will not shut again February 15.
"I think we should be there, locked up in a room, until we reach a resolution," Steil said, adding elected representatives should also not be paid until an agreement is reached.
On the other hand, the Coast Guard should be paid, he said in response to a comment from the audience, adding he has co-sponsored a bi-partisan bill to specifically address this issue.
"To my knowledge that is the first time ever in American history that a branch of the United States military did not receive a paycheck from the federal government," Steil said. "That is offensive."
Strong feelings about border wall
He said he supports President Donald Trump's request for $5.7 billion for "a physical barrier on the southern border."
"I think that is an appropriate request," he said, to the agreement of some constituents in attendance, like Rich Wagner, of Racine, who said he attended because he is relying on Steil to be "his voice in Congress."
He said he will "respectfully disagree" with Howard Moon, of Kenosha, who said the wall is a gimmick, is not a reasonable solution and "has become a symbol of subborness."
"If you have the wall on one side, the only thing it's going to promote is the building of tunnels," Moon said. "The peril that is being identified by our leadership is erroneous in both number and scope. To many of us, that is offensive."
Moon said he favors achieving border secutiry though technology and personnel.
Steil said 287 miles of wall is being proposed along a border that is more than 2,000 miles long.
"It is providing a permanent physical structure in specific locations per the request of Homeland Security," Steil said. "I do think it is an important piece of a broader proposal. That doesn't lessen the necessity to have manpower and technology."
Global warming, cybersecurity issues
Moon and Steil did agree on the importance of recognizing the impact of global warming.
"To me global warming is real," Steil said.
Also related to national security, Steil agrees with a constituent who was seeking assurance that the issue of cyber-security is not being ignored.
"The threat you identified is real," Steil said. "It is an area that our military, though their budget, is actively working on. Yes, we're on it. "
He said the risk is not the havoc created by 13-year-olds in their parent's basements, it's the "nation-state actors."
"They are actively engaging in a state-coordinated manner," Steil said.
School security
Kathleen Paap, of Bristol, also asked Steil to make school security a top issue.
"I can't tell you how angry I get when I hear of another school shooting and I'm tired of thoughts and prayers" Paap said. "I would like to see some common sense gun laws put in place."
Paap said this would be a better use of the $5.7 billion dollars than using it to build a wall.
Steil said he looks forward to holding more listening sessions in the district. He encouraged constituents do provide written questions and comments and to subscribe to his newsletter on his website, steil.house.gov.
His Kenosha Constituent Service Center can be reached at 262-654-1901.