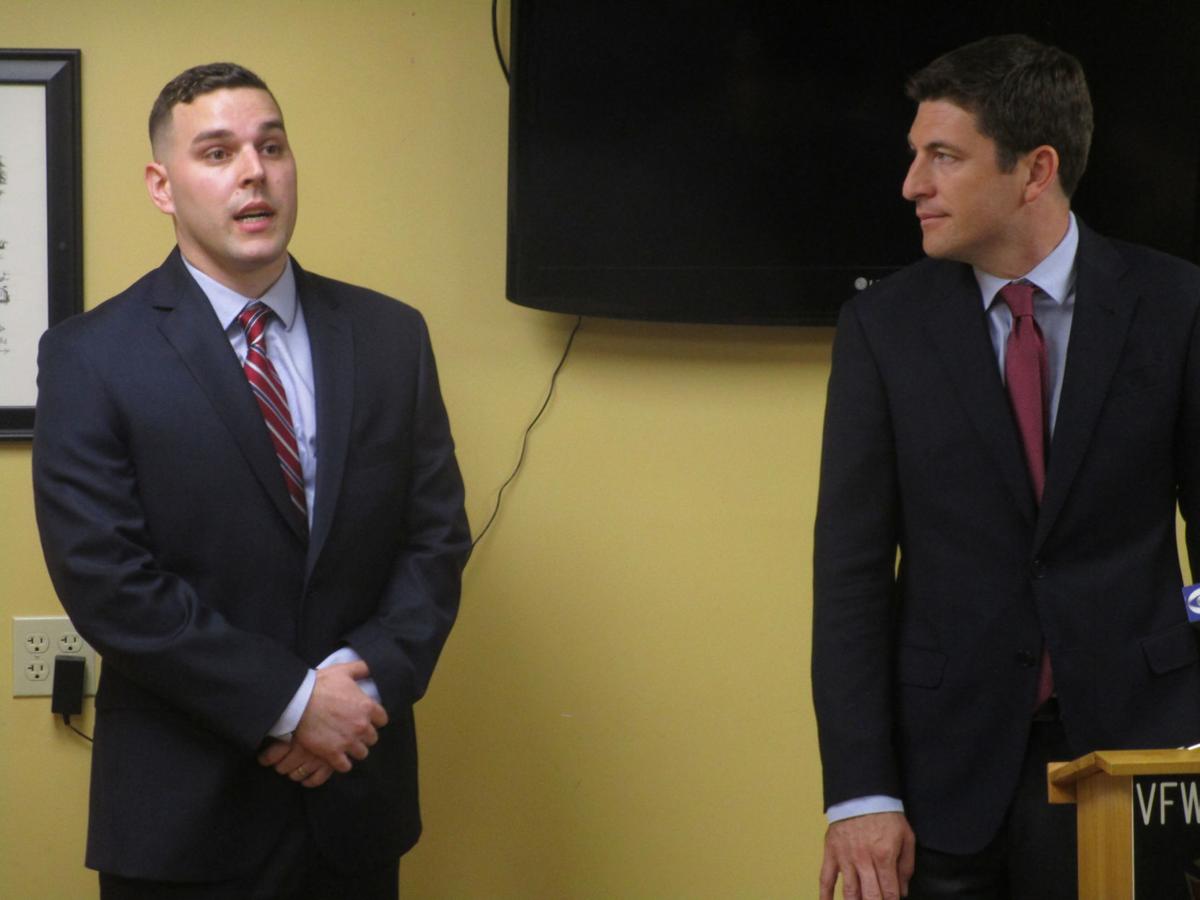 MOUNT PLEASANT — An effort from U.S. Rep. Bryan Steil's office aimed at bridging gaps between local military veterans and Washington, D.C., lawmakers came into sharper focus Friday.
Steil, R-Janesville, officially named Ryan Vishaway the director of veterans and military affairs within his office. Vishaway's appointment was made possible through Wounded Warrior, a two-year fellowship program Steil first announced in March.
Vishaway has already been on the job, Steil said, but he made the Army veteran's appointment official with two stops at back-to-back news conferences Friday, one being at VFW Post 10301 within Angry Bros. Pub in Mount Pleasant.
"He's going to be my eyes and ears and boots on the grounds," Steil said of Vishaway's role within his office. "He knows what it's like to be a veteran and serve our country. We're going to have a single point of contact."
Vishaway currently lives in Walworth County with his wife, one child and twins due later this summer. He was enlisted into the Army in 2014 as an infantryman with the 10th Mountain Division 1st Brigade Combat team, 1st Battalion 32nd Infantry.
He held the positions of rifleman, grenadier, SAW gunner and team leader within the Army before being honorably discharged in 2017.
At Friday's news conference, Vishaway said he sought the opportunity within Steil's office so he could advocate for veterans' rights within the realm of politics.
"It gets me into direct contact with government agencies," Vishaway said of the opportunity. "I'm honored and humbled to be here today."
When he first announced the creation of the director of veterans and military affairs position within his office this spring, Steil laid out a number of perceived benefits for the role, including outreach to the veterans community.
On Friday, Steil reiterated the sentiments and said he believed it was important to have a person with Vishaway's professional and life experience in the fold to serve as a liaison.
"You could bring in anybody, but I think there's a real benefit in veterans talking to veterans," Steil said. "I think there's something there about a veteran talking to a fellow veteran."
Steil and Vishaway each said they were particularly concerned with the suicide rate for veterans. Steil said a person such as Vishaway could offer expertise in assisting with mental health concerns within the veterans community.
"I think there's a real opportunity to tackle that problem," Steil said. "One (suicide death) is too many."
Federal funds will cover the cost of the position, Steil said. The program is made available as a means of employing a wounded or disabled veteran within the U.S. House of Representatives.
Veterans within Steil's 1st Congressional District can contact Vishaway for assistance by calling him at 262-654-1901. Appointments can be made to meet directly with Vishaway or speak to him by phone.
Get local news delivered to your inbox!
Subscribe to our Daily Headlines newsletter.