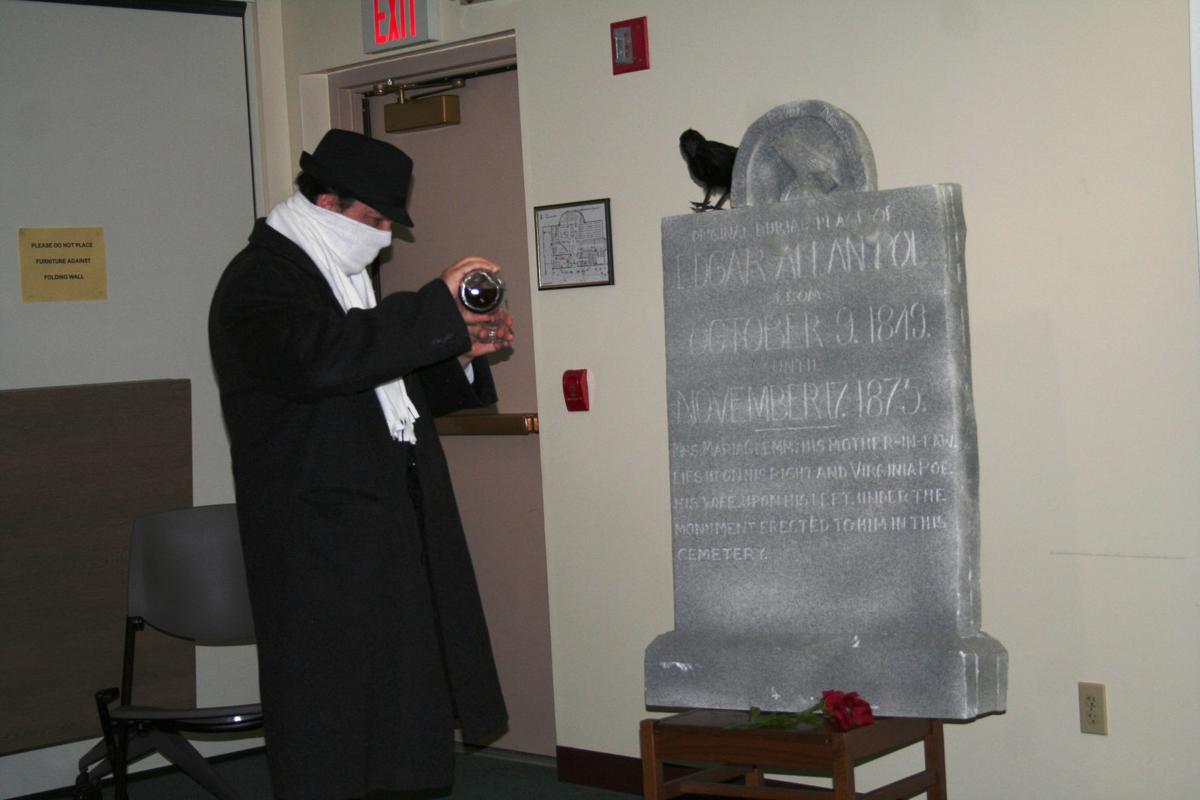 A special mystery guest, chilling background music and some unique details of the life of author Edgar Allan Poe captivated a roomful of listeners Thursday night at the Northside Library's monthly "Old Weird America" series hosted by historian Cathy Polovina.
The poet and author known for that famous line, "Once upon a midnight dreary," from his classic gothic poem, "The Raven," was not only haunted by that work in life, but haunted by a mysterious visitor after death.
Starting in the 1930s, the "Poe Toaster" brought a bottle of cognac and left three roses (one each for Poe, his wife and his mother-in-law) at the gravesite on the anniversary of Poe's Jan. 19 birthday.
Poe, known today as the father of the first detective story, "The Murders of the Rue Morgue," published in 1841, became a minor celebrity in his time, but a poor one.
"He barely eked out a living," Polovina said. "After 'The Raven' was published in 1845 — he earned a whopping $9 — he was constantly asked to recite the poem at literary functions and on the street."
The famous, "Nevermore," she continued, "caught the imagination of the public, kind of like the macarena."
The poem even inspired several parodies called "The Craven," "The Turkey" and "The Mammoth Squash."
Perpetual problems
But it didn't end his perpetual money woes and problems exacerbated by his quirks, including mean-spirited reviews of other writers' works.
"Some say he was a 'one-drink drunk'", Polovina said. "He had a quick temper and sensitivity to criticism. His reviews accused people of plagiarism and picked fights. He was dubbed 'The Tomahawk Man' for his nasty attacks."
Then there was his continual consorting with married female poets, earning him a beating from one poetess' brother. Poe had married his 13-year-old cousin when he was 27 and lived with her and his mother-in-law. She died of consumption at age 24 in 1847.
His odd behaviors continued, especially after his wife's death. In need of funds to support himself and his mother-in-law, Poe proposed to wealthy widow Sarah Helen Whitman in 1848. She accepted on the condition he quit drinking.
"He showed up drunk on her doorstep, and she broke off the engagement," Polovina said.
Mysterious death
Mystery still surrounds Poe's death in 1849 after he was found wandering Baltimore's streets incoherent, wet and dirty.
Polovina said one theory is he became a "cooping" victim, where a person was kidnapped, drugged or made inebriated, and taken to vote in various polling places wearing different clothes.
"Poe, as poor as he was, was always a natty dresser with a clean collar and tidy suit," she said.
After going in and out of a coma, Poe died five days later at age 40 of what was described as a "brain fever."
Oddly, his chief rival was his literary executor and later wrote a scathing biography of Poe.
'Poe Toaster'
One enduring tribute, re-enacted by local actor and librarian Ed Godula, was the legend of the mysterious "Poe Toaster."
The ritual supposedly continued to 2009. Poe's home, later the Poe Museum, closed in 2012. The local historical society and Poe Baltimore reopened the museum in 2016 and held auditions for new "Poe Toasters" to continue the tradition.
For local Poe enthusiasts, hearing the history of their favorite author made him even more real.
"I just find him an interesting person," said Kenoshan Annette Pelt.
"We just love this guy," said Roberta Moczulweski. "We used to get records out of the library as kids."
"We've been Poe fanatics since we were kids," added friend June Jensen. "There was nobody else like him."