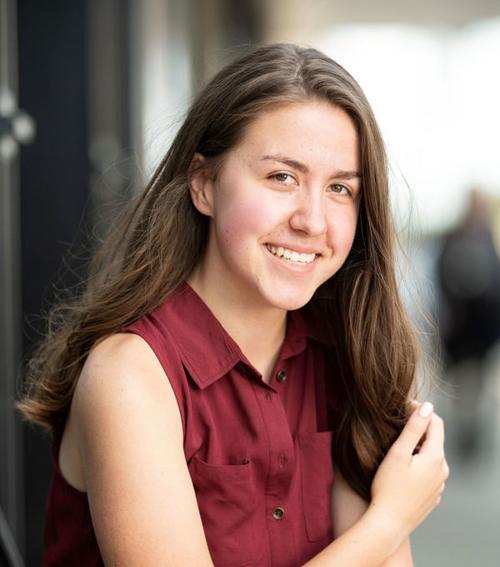 Parents: Thomas and Jennifer Venable of Pleasant Prairie
Most memorable high school moment: There are so many, but one in particular happened senior year. To get to my check and connect I have to take this set of stairs that are a tad bit steep. For three years I joked about tripping on them and then the one day my friend that I usually walk with after that class wasn't there, I was walking too fast and fell, or rather slid, down the stairs during passing period. I quickly got up and reassured those around me that I was okay and laughed at myself. Then over a period of about two weeks, I tripped on the stairs twice more and have the scratches on my phone to prove it.
Most influential teacher: Erin Bosovich of AP BC Calculus; Math has always been one of my strongest subjects and has come to me easily, until calculus, however, Mrs. Bosovich wants to see her students succeed and will not hesitate to ensure we understand what is being taught. She has taught me to speak with more specificity which has benefited myself in classes other than calculus. Her dedication has greatly increased my knowledge of math and ingrained in me a sense of diligence towards any subject.
School activities/clubs: National Honor Society, peer helpers/tutors, Renaissance Club, student government
School offices held: Parliamentarian of Student Government; Historian of NHS
Honors, letters or awards: Renaissance Premier Status for 7 semesters; at least one art piece submitted to the annual KUSD district wide art show my freshman, sophomore, and junior years of high school; Honor Roll all four years of high school; Salutatorian
Out-of-school activities/hobbies: Art; cooking; baking; volunteering; hanging out with friends
College choice: Loyola University in Chicago
Intended major/field of study: Environmental Science
Three words that best describe my role models: Loving, humorous, clever
What I hope to accomplish in my lifetime: I want to make an impact on the world. I'm not quite sure how I want to go about it, but my focus will be on the environment. Lately, through my art I've focused on the amount of waste we produce, but I also love the city so I'm also interested in urban planning and other issues associated with the environment in metropolitan areas. I've had interest in areas from politics to design, but would ultimately like to reside in Chicago.
Get local news delivered to your inbox!
Subscribe to our Daily Headlines newsletter.