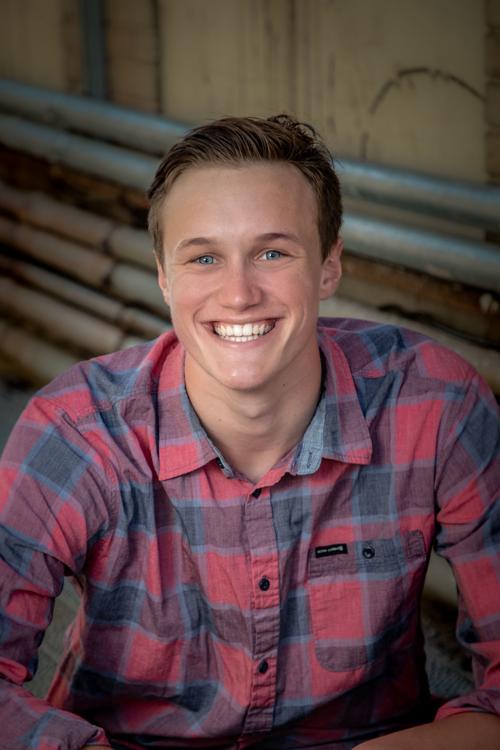 Parents: Dave and Kris Klimisch of Pleasant Prairie
Most memorable high school moment: I have had many memorable moments throughout high school, but I would have to say the one that comes out on top is placing 3rd in the 2018 State Boys Volleyball Tournament. I remember being at the tournament in 2016 as a freshman, and watching the team lose to Marquette. The faces on the Seniors after the match were difficult to look at, and all I can think about at that moment was "At least we made it to state 2 years in a row, and we will be back next year". However, the next year we lost to Tremper in the Sectional Semi-Final, so we did not advance to the State Tournament. Nevertheless, 2018 was the year our team wanted it more than ever to make it to Wisconsin Lutheran. The 2018 season was a season full of team and individual record setting, and the trend advanced into the postseason. After beating St. Catherines in the Sectional final 3-1, we advanced to the State Tournament for the 3rd time in school history. We got our seeding at we played Middleton, who we lost to earlier in the year. However, we were not going down without a fight. With a plethora of students who made the drive to Milwaukee, and a crowd full of parents, we began playing on the court where we lost 2 years prior.
The match was extremely close throughout its entirety, and it went to a deciding 5th set. We had good conditioning practice for when it came to 5th sets, so we knew how to start and finish strongly..Our coach kept us calm and reminded us just to go out and play the sport we all know and love. And that's what we did. We had the lead 14-8, in the fifth set, and we were receiving the serve. We got the serve up, and began playing a 30 second rally. The ball came back to our side, and we then had the chance to finish the match. I remember Carson Skalbeck setting the ball high into the air and saw the ball coming in my direction. I knew that I was going to have to swing if I wanted a chance at winning, and that's what I did. I swung the ball and our team watched as their block touched the ball, and waited for the ball to land out of bounds to confirm our advancement into the State Semi-Finals. This moment, evidently, protrudes in my mind because of the hard work the team put into not only that game, but the season in general in order to achieve a common goal among the team!
Most influential teacher: Janet Carpino in Honors Pre-Calculus; I have had many amazing teachers throughout High School, such as Ms. Philips, Ms. Day, and Mr. Metzler, so choosing my most influential teacher came difficult for me. However, Ms. Carpino is my most influential teacher. She embodies the qualities a teacher should have, in my opinion. Everytime I walked into her class, she greeted me by my name, and she did the same for every student that entered her class. Furthermore, Ms. Carpino makes sure that every student in her class understands the topic being taught prior to moving on.
She does this by talking one-on-one with her students on how they did on the test, and how they are doing on the topic at hand. As a result of these gestures, Ms. Carpino makes herself very approachable. In my experience, many students have felt comfortable enough to walk up to her desk and ask her a question and not feel silly for asking the question. Moreover, Ms. Carpino obtains a great sense of humor. She has a way of making students laugh in her classroom or walking by her room. Whenever I was having a bad day, I would always genuinely smile when I entered Ms. Carpino's classroom. For all these qualities that characterize Ms. Carpino, she enabled me to enjoy Pre-Calculus, and to enjoy math in general. She sparked an interest in Math in me my Junior year, and I still go to her this year for help, to talk about AP Calculus, or to talk about life. For all you do Ms. Carpino, thank you!
School activities/clubs: Choir/madrigals, Family Career & Community Leaders, Link Crew, National Honor Society, peer helpers/tutors. Senior/Junior Class Planning Committee, Women's Rights and Empowerment,
School athletics: Volleyball
Honors, letters or awards: AP/Honor Classes; All-County Honor Roll; 2 time All-Conference Volleyball First Team: 2 time All-Conference Volleyball Player of the Year; Indian Trail High School Holy Rosary Athlete of the Year Nominee; First Team All State; All Conference Scholar Athlete; 2 time All-Wisconsin Volleyball Team; Selected for Early Acceptance into Lake Erie College of Osteopathic Medicine (LECOM) Medical School; Selected into Benedictine's Scholars Program.
Out-of-school activities/hobbies: Club volleyball; Church Youth Group; Sunday School Teacher; hang out with friends and family; workout; eat Peanut Butter;
College choice: Benedictine University in Lisle, Ill.
Intended major/field of study: Health Sciences with a double minor in Nutrition and Medical Spanish with an emphasis on the Pre-Medical track
Role model: My sister, Sara
Three words that best describe my role model: Hilarious, diligent, confident
What I hope to accomplish in my lifetime: In my lifetime, I hope to become a Physician in the US Navy. I want combine my passions for helping people and the sciences into a career that requires both. Along the same lines, I want to travel around the world so that I can experience different cultures and ways of life. Being in the Navy will allow me to engage in a career that involves my passions, and will allow me to fulfill that career worldwide.
Get local news delivered to your inbox!
Subscribe to our Daily Headlines newsletter.