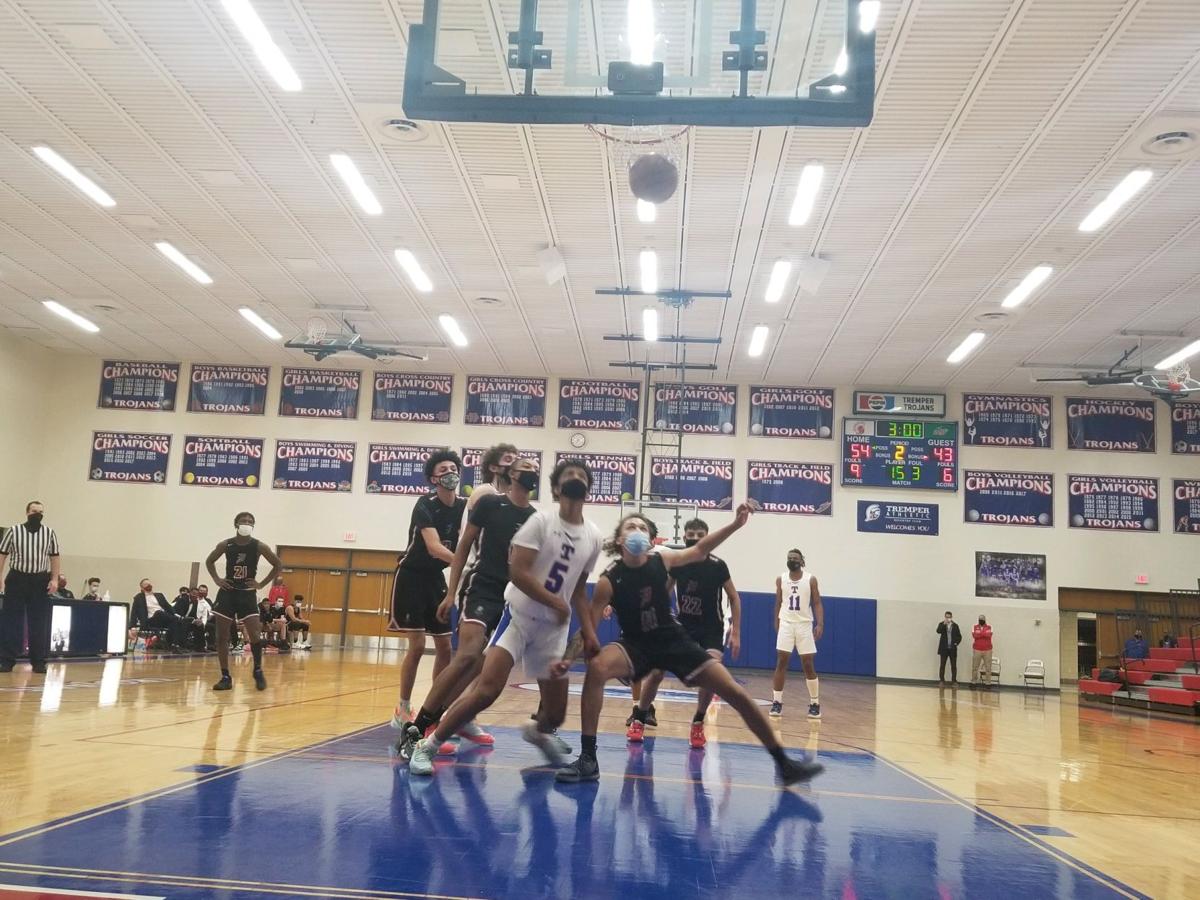 You could hear a pin drop at Tremper on Tuesday night.
After more than a week of practice, the Bradford and Tremper boys basketball teams finally got to play a competitive game, their first since the Kenosha Unified School District approved a return to athletics for practices on Jan. 4 and for competition on Monday.
The Trojans came away with a 64-53 victory, and even though no fans are yet being allowed at KUSD athletic events, at least an actual game was played.
"I'm excited about it," KUSD Athletic Director Bryan Mogensen said. "It's nice to see the kids out playing. I think they've been champing at the bit to get out and get something positive going. I just want to see kids smiling and happy and take their minds off all the negative going on right now.
"I can't commend our ADs and coaches enough. It's been endless meetings and countless emails and never-ending updates."
Tremper head coach Brandon Morris made his debut with the Trojans after two seasons as the head man at St. Joseph. He witnessed a balanced attack.
Trey Cardona led the Trojans with 19 points, Will Starks scored 17 and Jake Korbakes added 11. Tremper pounded Bradford inside and converted on 20-of-29 free-throw attempts.
Tremper led by as many as 20 points in the first half before taking a 34-23 halftime lead.
The Trojans stormed out of the locker room for the second half with a 6-0 run to go up 40-23 and cruised the rest of the second half.
Jalen Carlino led all scorers with 26 points for Bradford, including three 3-pointers, and the Red Devils showed some life with 5 minutes to play.
But the Trojans knocked down two free throws with 3 minutes left to build a 55-45 lead, and the game was never close the rest of the way.
Morris acknowledged all of the uncertainty has been a challenge, but he felt good about the victory.
"Coming off the suspension of play, and we literally came back after the (holiday) break last Monday, had a few practices and you already have a game with your crosstown rival," said Morris, who once worked as an assistant under Bradford head coach Greg Leech.
"The hardest challenge has been not enough person-to-person contact. Not being able to speak with the parents, come in the building and interact ... we did FaceTime, Zoom calls, but it's not the same. Relationships are important, and I value that. Especially with these young men and their families.
"Tonight's big lead had a little to do with luck. Our big fella, Torin Byrnes, did a great job down low. They just did an all-around good job as a team, and that's what we're most proud of."
Winter sports were put on hold for KUSD from Nov. 30 through Jan. 4, when teams were allowed to resume practicing.
Girls
Bradford 60, Tremper 46
Nevaeh Thomas got her sophomore campaign off to terrific start for the Red Devils in their season-opening Southeast Conference win at the Bradford Fieldhouse.
Thomas scored a game-high 29 points, making 14 field goals and a free throw, to go with four rebounds, three assists and three steals. Thomas was a first-team All-SEC selection as a freshman.
Jordyn Brown also had a strong game for Bradford, totaling eight points, 11 rebounds and eight assists, while Syderah Farmer scored 14 points.
Aliana Brown led the Trojans with 14 points, Madison Kasianowicz scored 10 and Brooke Clements added seven.
For more on all of Tuesday night's high school basketball action, visit kenoshanews.com/sports on Wednesday and pick up Thursday's print edition of the News.
Kenosha News sports editor Mike Johnson contributed to this report.