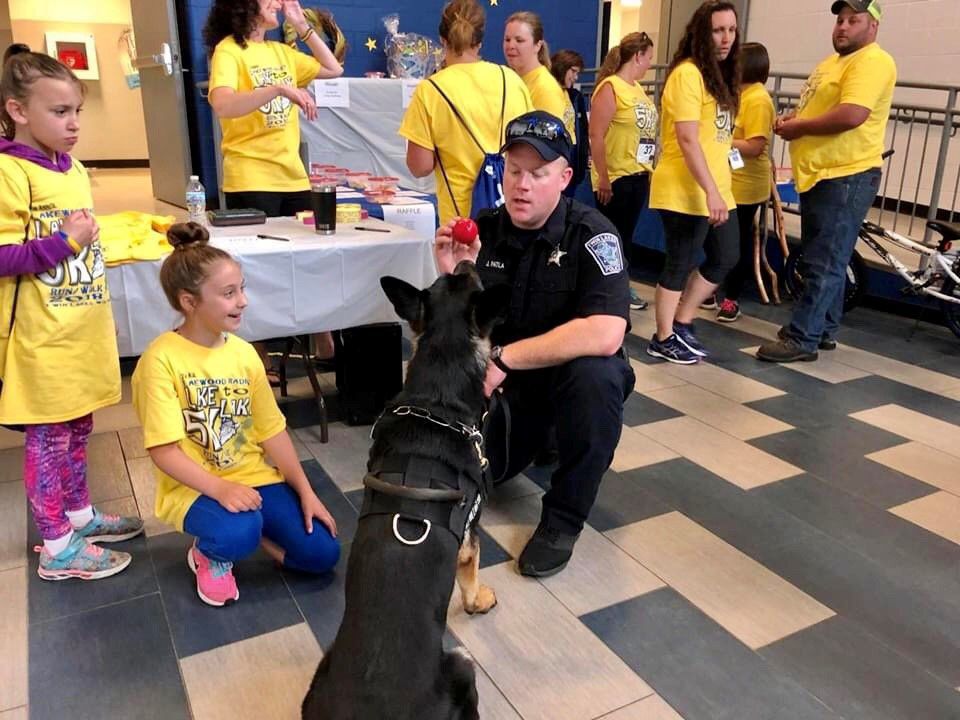 Barring an unforeseen change, outgoing Twin Lakes Police Officer Joe Patla will need to turn over his K9 partner Rex, a four-year-old German shepherd, to the department Thursday.
Rex has lived with Patla since 2017, when Patla started the K9 program at the department. The cost of purchasing Rex and training both Rex and Patla was $14,000. The entire cost was covered by donations from the community.
Patla, who has accepted a position elsewhere, is leaving the K9 program with a budget balance of $26,000. He asked the Village Board, to no avail, to allow him to purchase Rex for $6,000. He also offered to stay on part time with Rex until a new K9 and handler could be trained. Patla's last day is July 2.
"Rex is like my kid," Patla said. "We spend almost 24 hours a day with him and he sleeps on the floor next to my bed."
Following a closed session meeting Tuesday, the Village Board voted 5-1 to reject Patla's offer and instead retrain Rex with a new officer at Steinig Tal Kennel in Campbellsport. Trustee Jeremy Knoll cast the sole dissenting vote. Trustee Kevin Fitzgerald abstained for a reason not revealed in open session.
"It's a bad situation for everyone," Village President Howard Skinner said Wednesday. "The Village Board made the best decision it could with all of the facts in front of it."
When word that Patla's request was denied got out, the community turned to social media. An eleventh-hour petition by the public Wednesday to keep the pair together garnered more than 5,000 signatures within hours. Later in the day, a campaign to solicit donations to fully fund the cost of a new K9 and the required training had begun.
Police Chief Adam Grosz released a statement about the severance late Wednesday morning.
"There is a lot of emotion," Grosz said. "The community is upset. Nobody in the village of Twin Lakes wanted to see K9 Officer Rex separated from Officer Patla."
According to the media release, the decision on how to proceed was bound by an agreement reached with the Police Officers' Union when the K9 program began.
The agreement says the K9 handler must serve a six-year term. If the handler chooses to leave prior to the retirement of the K9, it remains the property of the village of Twin Lakes. Had Rex and Patla retired, the contract would have allowed Patla to take ownership of Rex.
Residents contributing to the online fundraiser hope the Villlage Board will reconsider selling Rex to Patla if the public can fully fund a replacement.
Patla, who notified the department June 15 of his decision to resign and take a position elsewhere, said he was not allowed to speak during the closed session meeting Tuesday. He presented in advance the options he felt would "provide a more stable, long-term, cost effective, and reasonable solution" that would ensure no lapse in service and secure the future of the K9 program.
"With my offer to purchase Rex for $6,000, the village can purchase a new dog and training for $9,000," Patla said. "This is just $5,500 more than the cost to try and retrain Rex. A very small number with a significantly higher chance of success for the future of the K9 program."
Patla, who has 17 years of training with police dogs, said Rex has emotions and will certainly be affected by the sudden separation and removal from his home, which could change his demeanor.
"Rex will never be the same dog if you proceed with the forced removal," Patla wrote. "There is a chance he can shut down and not perform due to how strong our bond is. Again, Rex will have no idea why I'm not around and it will cause a significant amount of stress."
Patla added that, if the retraining does not work, the village is out $3,500 and the $6,000 he is offering to purchase Rex.
Grosz said the department "conducted extensive research" into what would be best for the K9 department, for Rex and for the village of Twin Lakes. He said trainers who have worked with Rex said he has many years of service left to give.
"It is not uncommon for a police K9 to be reassigned to a new handler for a variety of reasons," Grosz said. "There was no concern by any expert K9 trainer that K9 Rex would suffer any emotional trauma by being assigned to a new handler with the Twin Lakes Police Department."
According to the statement, quite the opposite may be true as these dogs are "bred to be working animals, not pets."
Get local news delivered to your inbox!
Subscribe to our Daily Headlines newsletter.