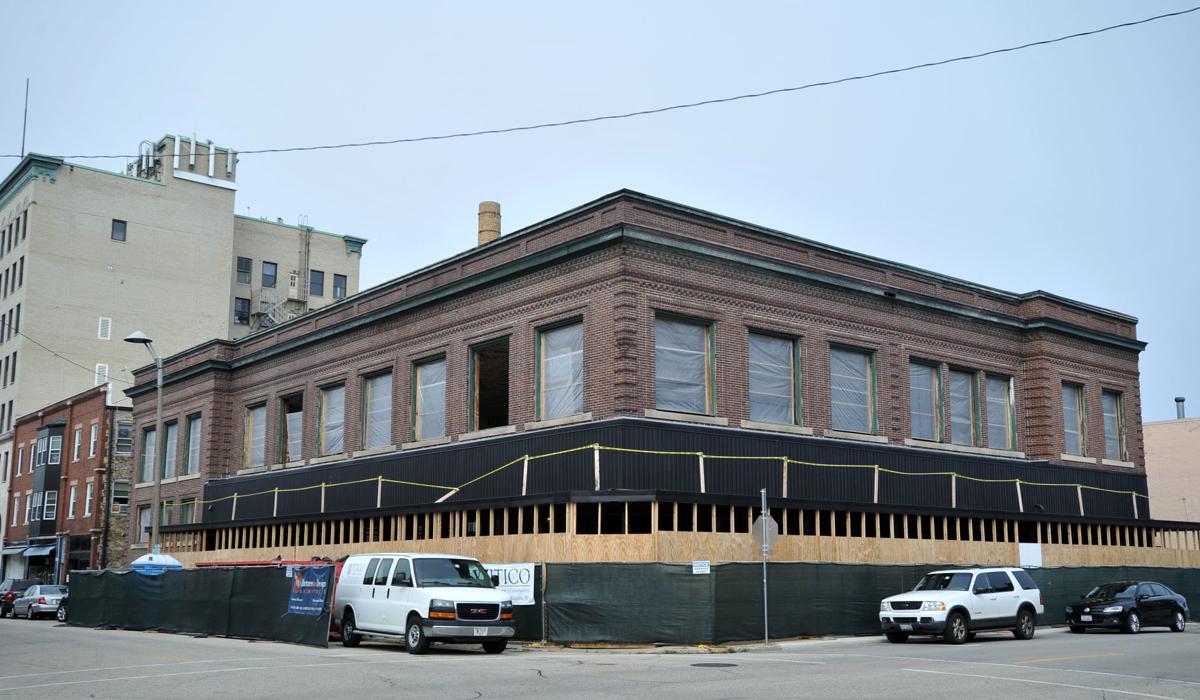 There's a new tenant coming to The Barden.
Culinary Infusion, owner of Kenosha's Circa on Seventh, announced plans this week to add its third banquet facility, Upper East, at one of downtown Kenosha's most historic buildings.
The venue will occupy the second floor of the former Barden's Department Store, located on the northeast corner of Seventh Avenue and 58th Street.
Public Craft Brewing Co., 716 58th St., is relocating its brew pub to the first floor of the nearly 22,000-square-foot commercial building.
Last January, the 1911 building was purchased by Witico Development Corp. from the city of Kenosha for $1 with conditions of a $3.5 million redevelopment. The project budget has since grown to about $4.5 million due to additional work required for historic preservation, according to Witico CEO Mike Wimmer.
Fave Five: Reporter Jeffrey Zampanti
As the year draws to a close, the Kenosha News is taking a look back on 2019 and sharing the favorite five stories that each of our reporters has written this year.
These are the Five Five stories of Kenosha News reporter Jeffrey Zampanti. 
The project is expected to be complete this summer.
"We've considered ourselves privileged to have been chosen by the city to be the curator and future custodian of such an iconic and fondly-remembered structure," Wimmer said. "Our guys on-site have been amazed at all the folks who've dropped by and shared their special Barden memories.
"Now, we have the privilege of working with two highly regarded and well-established downtown operators to bring vitality back to what has recently been a fairly quiet stretch of 58th Street and to take this stately structure into its new future."
The second floor of the building was long planned for a wedding-banquet venue. It wasn't until this week a lease agreement was made between Witico and Culinary Infusion, which also operates The Covenant at Murray Mansion in Racine.
Upper East, named in reference to its location in the historic downtown area, will accommodate up to 300 guests for weddings, social events and corporate gatherings.
"We fell in love with the property five years ago," said Kathy Meyer, president at Culinary Infusion. "We're turning away so many events at The Covenant, which is very comparable in size to the new venue. We've had such success with Circa on Seventh. We feel there is a need (for a third venue)."
The finished space will offer a first-floor suite for the bride and bridesmaids to have hair and makeup done, with a lounge area and private restroom. An original staircase and tin ceilings on the second floor is reminiscent of the era when the property was originally built.
"The abundance of expansive windows on the second floor lends itself to a very urban feel," said Hanni Gould, chief operating officer at Culinary Infusion.
Future brides have already begun touring the facility, according to Meyer.
"This is engagement season," said Meyer, a Kenosha native. "If you want to get married this year, most venues are already booked up."
Public Craft Brewing Co. is located one block west of its future address and is in dire need of expansion, according to Public founder Matt Geary. The new location will feature a 15-barrel brewing system — nearly quadruple Public's current brewing capacity — and a full kitchen and live entertainment venue.
Geary said the plan is to be open in time for Kenosha's annual Craft Beer Week in May 2020.
"We're thrilled to be creating the destination craft beer experience I've always wanted for Public and Kenosha," Geary said. "Our current location will always be remembered as the place where Public began, but we've outgrown it. We get more excited every day to see our future taking shape just up the street."
The Barden, a city landmark, qualified for historic landmark status and is soon expected to be listed on the National Register and State Register of Historic Places. Landmark status qualifies the rehabilitation project for historic preservation tax credits.