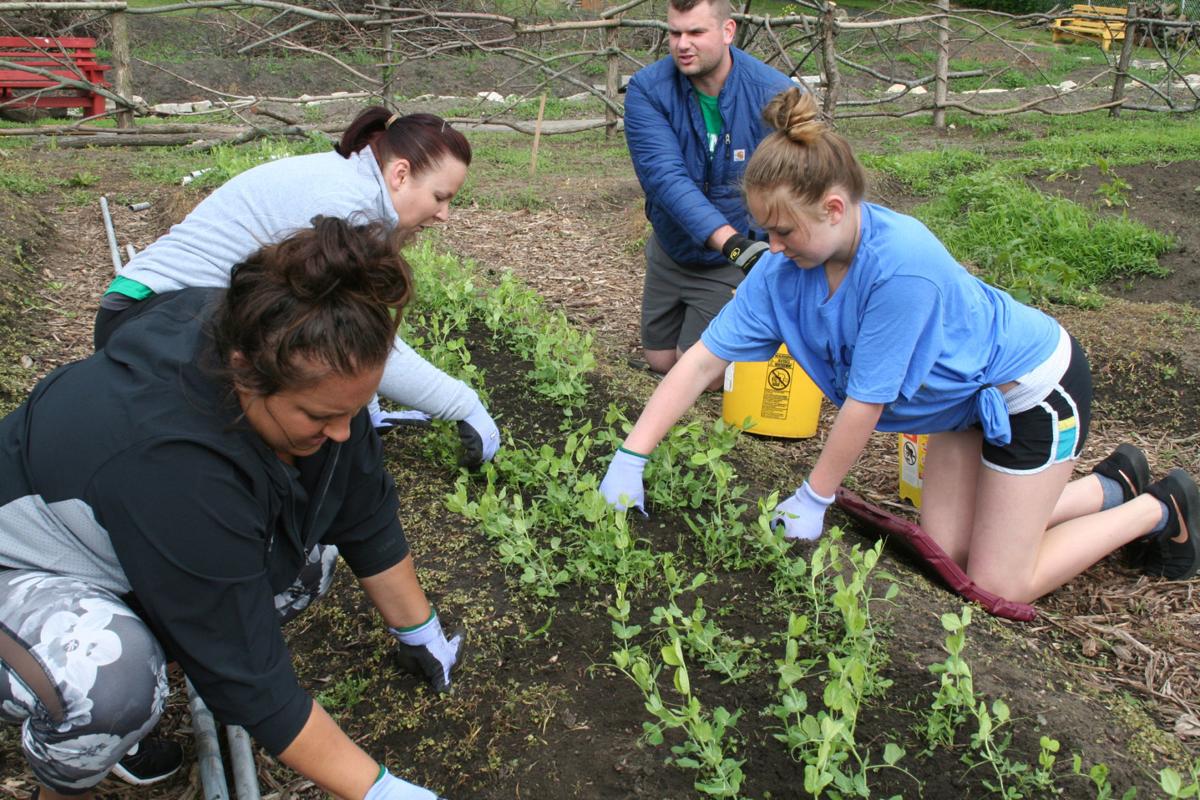 BRISTOL — Volunteers from Uline in Pleasant Prairie and from the community found Saturday a great day to work in the blossoming Healing Garden at the Westosha Senior Community Center on Highway C.
That is, if you can call weed pulling great.
But the lack of mud and cooler temperatures had members of the Illinois branch of the Uline Community Outreach group based in Kenosha smiling and ready to dig in, despite the mosquitoes.
"I feel like, if we're in the community working, we should know what's going on in the community," said Tyler James of Franklin.
Helping out at the senior center's garden was one of the monthly volunteer projects Uline employees chose for the year.
"My parents always volunteered when I was a kid," said Natalie Karner of Winthrop Harbor, Ill. "I like to follow suit."
"And it feels good," said Mary Przytula of Palatine, Ill. Even her daughter, Alyssa Jelley, didn't mind being there, though Przytula said, "She wasn't happy about me getting her up at 7 a.m.."
The best part was seeing the results.
The garden's been transformed in only a couple weeks. Rows of cabbages, onions, squash, tomatoes and other vegetables were doing well and looked even better once handfuls of weeds were gone. Purple and white irises bloomed, along with pink roses. Rows of snap peas were growing tall.
Some of the vegetables may make their way inside the center for meals, but will also be sold at later farmers markets to help fund the garden and continue its progress.
Seeing a little boy coming in for a visit with his mother is what the garden is about, said garden organizer Patrick Hull. "That's the healing part of the garden, to see families connected," he said. "It's giving 60-, 70-, 80-year-olds a place to connect, to play games."
Hull, who was working on fencing in the chicken coop, hoped to have 24 Rhode Island Reds, Easter Egg chickens and one rooster on site in the next week.
Plus, his wife, Jennifer, also the center director, said it was time.
He's also hoping that a proposal for a local Scout to build a clay cob pizza oven for his Eagle Scout project will be approved.
An artist fair is also in the works, possibly for this month, with Salem Lakes painter Sharon Schultz excited about having her first ever exhibition with a couple other local artists.
Schultz also praised the garden's progress and couldn't help but chip in with weed pulling after meeting Bristol volunteer Linda Hisaw.
"I met Linda and found her alone in the garden," Schultz said. "I saw the need for more help, so I stayed. I'm so excited about what Patrick's doing here. I've lived here 24 years and never met so many people as coming here."
Salem Lakes resident Delia Degner was another who started volunteering in the garden a couple weeks ago after hearing they needed help. She brought along friend Bob Townsend of Libertyville, Ill., who was tilling where an arbor and more vegetables will go.
"I like to garden and I like to work with older people," she said. "After my mother passed, I wanted to help out the older people."
Even board member Barbara Skillings of Trevor didn't mind getting her hands dirty pulling weeds and praised the garden's progress. "When we got Jennifer, we got two for one," she said. "When Patrick first shared his ideas, I didn't think it was ever going to happen. It's wonderful."
Get local news delivered to your inbox!
Subscribe to our Daily Headlines newsletter.