"It was peaceful. That was all that matters," Kejuan Goldsmith, a Racine-native protest leader, said after marching concluded at around 9:30 p.m. Tuesday night.
But it was all over in a couple of hours. Supporters of Blake, angry at the decision by District Attorney Michael Graveley not to charge Kenosha Police Officer Rusten Sheskey, took to the streets to express their anger, but they did so without any of the trouble that followed Blake's Aug. 23 shooting.
The shooting had immediately sparked protests that went on for several nights at the end of August. Some of them turned violent, with some protesters burning businesses and members of self-styled militias answering a call on social media to travel to the city. Prosecutors have charged 17-year-old Kyle Rittenhouse of Antioch, Ill., with shooting three people, killing two of them, with an assault-style weapon during one of the demonstrations. Rittenhouse pleaded not guilty Tuesday afternoon.
As of Wednesday afternoon, there were no reports of violence, damage or injuries.
Shortly after 8 p.m. Tuesday, a caravan of about 30 cars with horns honking and roughly 50 marchers worked its way through the residential areas near Library Park and Allendale. Marchers were yelling "Wake up Kenosha" as they made their way down the normally quiet area. If law enforcement had a presence in the area, they were not making it obvious, with police vehicles rarely being seen as the demonstrators passed through residential neighborhoods.
At about 8:45 p.m., a group of about 60 protesters had assembled outside the Kenosha County Administration Building at 10th Avenue and 56th Street, across the street from the Kenosha Dinosaur Museum.
"Does this look like a violent assembly to you? Because you all look pretty stupid right now," a woman taunted National Guard troops standing guard outside the nearby courthouse, which on Monday was surrounded by protective chain link fence.
Penelope Bailey, an Oshkosh resident who has been involved in the protests since Blake was shot on Aug. 23, said the police and Guard's presence, combined with businesses being boarded up already, portended the decision that the officer would not be charged.
"That right there let us know, A. what the decision was going to be; B. that we were going to be disappointed; and C. they basically assumed that an entire race of people were going to be so upset that they were going to cause unrest and destruction," she said. "What they fail to realize is that unrest isn't caused until you try and breach our rights to gather and protest."
Other chanters shouted, "Seven shots in the back. No, that ain't right." Some confronted National Guard troops and police who stood guard outside the Dinosaur Discovery Museum, 5608 10th Ave.
Graveley at his press conference Tuesday afternoon confirmed that Blake had been hit by seven bullets — four in his back and three on his left side — when he was shot Aug. 23 by Sheskey as police tried to take him into custody during a domestic dispute call.
Like Bailey, Goldsmith said that having 500 National Guardsmen in Kenosha prior to protests even beginning was "excessive," but that he was glad protesters could say their piece without retaliation.
"Our point is to make people question ... They (the National Guard) are just doing their job," Goldsmith said. "We don't think each of them are racist, but they're part of a racist system."
Goldsmith said the reason no violence or damage was reported was because law enforcement didn't escalate tensions further by not trying to halt protesters, box them in or use tear gas to force them to disperse.
The marchers shared fears that "Proud Boys" or other agitator groups may have been in Kenosha, too. And although other smaller groups of people were seen near downtown Tuesday night, there were no confrontations.
At about 9:15 p.m., protesters marched away from the courthouse down Sheridan Road to the Collective barbershop on 13th Avenue and 52nd Street. As they cleared the Courthouse, National Guard troops that had been stationed outside went inside the building.
Madison Taft of Kenosha, who attended the protest, called Graveley's decision "ridiculous."
"There is no reason that this man (Sheskey) should not have been charged for, at least, excessive force," she said. "I would like to say that I was shocked (about the decision), but I knew it was coming. I would like to say I was angry, but that's not the right word. I was so let down by our justice system."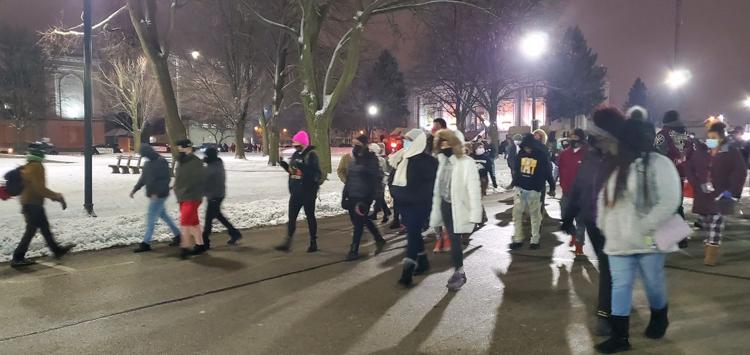 By around 9:30 p.m., everything was over. Those taking part in the protest dispersed, leaving in their cars.
There were no immediate reports of damage to property in and around the area.
Taft said she and others who have been at demonstrations would continue to protest peacefully.
"We do not want to incite violence. We don't want the riots to start again," she said. "We want to be seen as a community working together as a collective to better our justice system and to better our city."