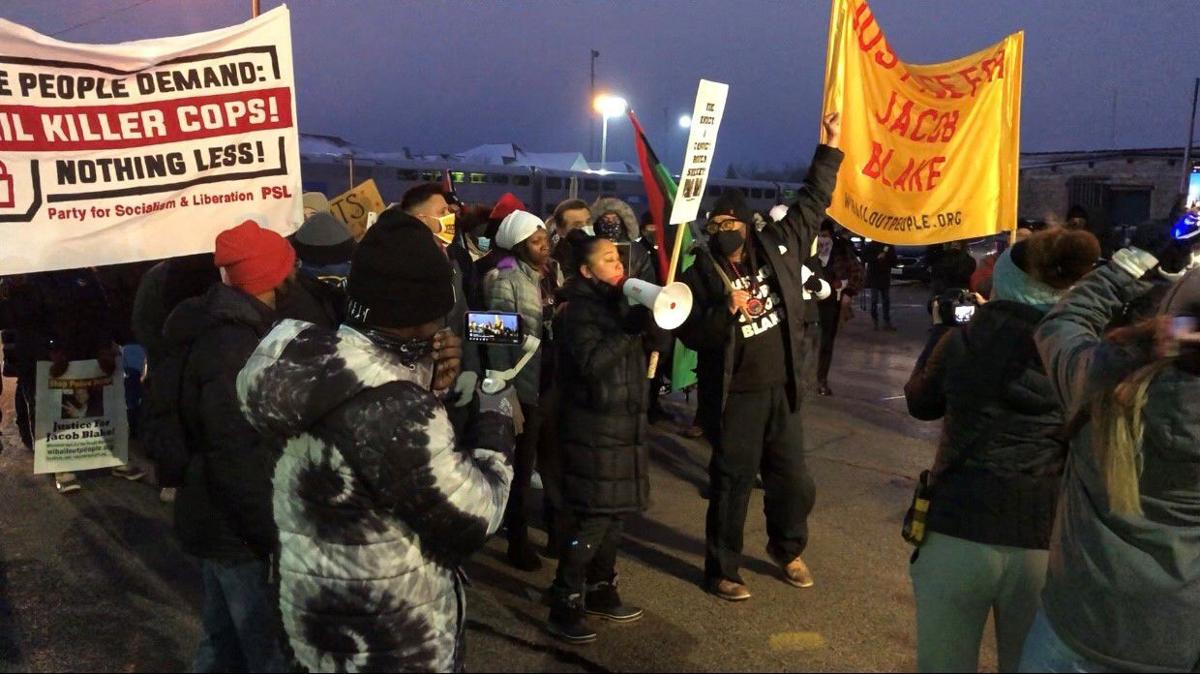 The family of Jacob Blake was joined by leaders of the Black community and other activists Monday night in calling for Kenosha Police Officer Rusten Sheskey to be charged and the community to "get loud," but remain non-violent.
A press conference and march were held Monday ahead of an announcement by Kenosha County District Attorney Michael Gravely, expected imminently, regarding the investigation into the shooting of Blake by Sheskey during an arrest attempt on Aug. 23. The incident sparked nearly a week of protests and civil unrest. The rioting resulted in millions of dollars of damage and two men were killed in a shooting during the unrest. 
"We want to send out the message that no matter what the decision is we are seeking non-violence," Tanya McLean, executive director of Leaders of Kenosha, said. "We want everyone to come out, make as much noise as you want, but we don't want any destruction of property or businesses. We don't want anyone harmed."
The press conference preceded a march from The Collective barber shop on 52nd Street to Civic Park, where speakers called for broader changes nationwide with regard to how incidents of police brutality and violence are investigated.
Some who spoke said they are expecting the decision to favor Sheskey, given recent decisions in other communities. Officers have been cleared in Racine, Mount Pleasant and Wauwatosa in shooting deaths of young Black men over the course of the last several years. However, attendees said they have not been informed of when the decision will be announced or what the decision will be.
City officials have said the decision is expected this week or next. In preparation, fencing was erected Monday in front of the Kenosha County Courthouse and nearby streets were closed.
"There has been no communication with any of the organizers," McLean said. "No one has said anything to the family about what the decision will be."
Blake's uncle, Justin Blake, said he feels the announcement was prolonged until the weather was frigid in an effort to keep people from coming together and called it another example of "systemic racism."
"Sheskey needs to be fired, indicted, have his day in court and be convicted," Justin Blake said. "Until we get that as a Blake family, we're not leaving Kenosha, Wisconsin. The Blake family, one day, will get justice."
Jacob Blake update
Justin Blake said he met with Jacob recently. He said his nephew is "mentally on top of the world."
Blake, paralyzed from the waist down after being shot in the back, is "working hard in therapy." He is being treated at an undisclosed rehabilitation facility in Illinois, family has said.
"He's our new hero," Justin Blake said. "If anybody can walk again one day, it'll be my nephew."
Jacob Blake Sr. said the story of Blake and others like him need to be carried to the nation's Capital.
"Let's stand up and make some noise," Blake, Sr., said. "Let's be heard around the world. We're not going to stop in Kenosha. This has to be a federally heard thing, not just for my son, but for everyone who's suffered police brutality."