As one of the iconic female athletes of modern times, it may have been easy, if not expected, for three-time Olympic gold medalist Jackie Joyner-Kersee to forget her roots when her athletic career was complete.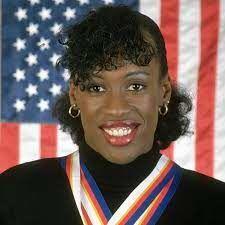 But that's not what she's about.
Joyner-Kersee, in Kenosha for this weekend's Carthage College Homecoming and Family Weekend, said returning to her roots always was in the plan.
That's home, and that's where her influence is most needed.
"Relationships are everything," Joyner-Kersee said after she spoke Thursday in the Niemann Theater on the Kenosha campus. "I always knew that it was very important for me to go back and try to build a community center. It was important that they be able to touch me and talk to me, not just see me on television or reading about me in the newspaper.
"I tell our young people I want you to make your own imprints."
Being able to connect with the young people in her native East St. Louis, Ill., and not only share her story, but offer advice when asked, will hopefully spur on this generation to consider doing the same thing as they reach adulthood, she said.
"I give them hope that this can be done," Joyner-Kersee said. "I want them to be able to come back into the community. You have to always be able to come back home."
Joyner-Kersee, who was scheduled to deliver the keynote address at the 150 Years of Carthage Women's closing celebration Friday, spoke to a small group of media for several minutes after a session with the college's Diversity and Inclusion Committee on Thursday.
Along with the center that she runs in her hometown, Joyner-Kersey also helped establish Athletes for Hope in 2007, which is geared toward helping athletes contribute to their communities and charitable causes.
That desire to give back was ingrained in Joyner-Kersee at a young age, she said, because she's always known it took many to help her rise to the heights she did as an athlete.
It takes a village, as they say.
"I was surrounded by people who saw the potential in me that I did not know I had," she said. "I had the passion for something that eventually allowed me to pick my school of choice (UCLA) and make the Olympic team.
"Through working with those coaches and parents, it taught me about volunteerism. As I continued to evolve and grow, I always knew it was important for me to be back in the community, eventually have a center and hopefully have an impact to inspire others to be the best they can be."
Not without struggles
While the polished version of Joyner-Kersee, the one millions watched have Olympic success with numerous national and world records in the 1980s and 1990s, was the one many will remember, she said her journey wasn't without similar struggles that many young people face.
During her time at UCLA, her mother died unexpectedly, and Joyner-Kersee also had to overcome asthma, but she continued to stay the course.
"Sometimes, we don't know the challenges we're going to be faced with," she said. "Your faith is tested. You're tested as an individual, but I think the testing is part of your character.
"For me, losing my mom unexpectedly as a freshman in college, dealing with being an asthmatic, but never losing sight with wanting to really, not so much being good, but to make my parents proud. Whatever goals I had set for myself, how could we, because there were others who helped me get there, see those goals become a reality?"
And that was a key part of the message she planned to deliver on campus, especially to the student-athlete population currently at Carthage.
It's easy to highlight and enjoy success, Joyner-Kersee said, but it's how a person deals with adversity that goes a long way in describing their character.
"Everyone wants to see the gold medals, but my story is really about what I learned from not being triumphant, going off to school, dealing with the challenges, dealing with being homesick and being so far away, but never giving up, never allowing that feeling of dismay or emptiness to get the best of me," she said.
"That's the motivation, and hopefully, that's the inspiration that I can give to the students, to continue to believe and work hard. Even when you think you have to work hard, you have to work harder."